M A I N N E W S
Sonia to meet Karunanidhi for poll pact
Anita Katyal
Tribune News Service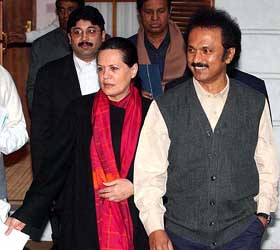 Congress President Sonia Gandhi with Mr M.K. Stalin, son of DMK chief M. Karunanidhi, after their meeting at her residence in New Delhi on Saturday. — PTI photo
New Delhi, January 17
Congress President Sonia Gandhi will call on DMK president M. Karunanidhi in Chennai shortly to finalise their electoral alliance for Tamil Nadu.
This was confirmed by Ms Gandhi who told mediapersons today that she would be travelling to Chennai to meet Mr Karunanidhi personally "at the earliest opportunity."
Meanwhile, the process of alliance-building, kickstarted by Ms Gandhi, gained momentum today when a three-member DMK delegation called on her to discuss their proposed tie-up for the coming Lok Sabha elections.
Expressing satisfaction over today's deliberations, Ms Gandhi remarked, "it is only going to be a forward movement from now on."
The three DMK leaders, who had an hour-long meeting with the Congress President and Dr Manmohan Singh included DMK deputy general secretary M.K.Stalin, former minister T.R.Baalu and Dayanidhi Maran, son of late Union minister Murasoli Maran.
Ms Gandhi told waiting mediapersons after the meeting that their discussions had focussed on the local political situation in Tamil Nadu and the general situation vis-a-vis alliances. Describing the talks as preliminary in nature, she said both sides would meet again within two or three days after discussing matters within their respective parties.
Stating that the Congress is determined to ensure that this alliance is a success, Dr Manmohan Singh said though there was some discussion today on seat-sharing, the issue of common minimum programme or a joint campaign did not figure in the discussions. Today's meeting, he said, was a continuation of the talks he held with the DMK president earlier this month.
Mr Stalin, however, maintained that there was no talk of seat sharing today, adding that they had conveyed their point of view to the Congress and will now take it up with their president.
Today's discussions are significant as the Congress and the DMK are joining hands after a gap of two decades. The fact that the DMK leaders met at Ms. Gandhi's residence as the two parties have been at loggerheads after an adverse mention about the DMK in the interim report of the Jain Commission, which probed Rajiv Gandhi's assassination.