In Her World today
THE TRIBUNE MAGAZINES
On alternate Mondays

On Sundays

On Saturdays

IN PASSING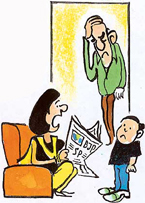 Congress is with NCP, BSP is close to Cong, Cong is pally with CPI, CPI is an ally of SP. Now tell me who is with whom?

by Sandeep Joshi
(Click to enlarge)
Sangma to launch forum tomorrow
Guwahati, January 17
Protesting against NCP President Sharad Pawar firming up an electoral alliance with Congress President Sonia Gandhi, former Lok Sabha Speaker P. A. Sangma today formally announced his break-up with the Nationalist Congress Party.
Sonia to meet Karunanidhi for poll pact
New Delhi, January 17
Congress President Sonia Gandhi will call on DMK president M. Karunanidhi in Chennai shortly to finalise their electoral alliance for Tamil Nadu.
Mulayam cautions Cong against tie-up
with BSP


Meets Vajpayee, Advani
New Delhi, January 17
Uttar Pradesh Chief Minister Mulayam Singh Yadav today met Prime Minister Atal Bihari Vajpayee demanding permission for sanctioning power plants with up to 3000 MW capacity.


In video: Mulayam supports BJP's stand on Ayodhya. (28k, 56k)

Cabinet expansion next week, says Amarinder
Rules out change in PPCC leadership


Malerkotla, January 17
The Chief Minister, Capt Amarinder Singh, said today that he would meet the Congress President, Ms Sonia Gandhi, in the next week to discuss about the expansion of his Council of Ministers. He said expansion would be done next week.

Sidhu gets bail in case under Arms Act


Chandigarh, January 17
Former Punjab Public Service Commission Chairman Ravinder Pal Singh Sidhu may be released from Patiala jail tomorrow after spending about 22 months in jail.



Aishwarya voted most attractive woman
London, January 17


Bollywood actress Aishwarya Rai has been voted the most attractive woman in the world in an international online poll conducted by the "Hello" magazine. Rai (30), who received some 33 per cent of the votes in the poll conducted by www.hellomagazine.com to select the most attractive face of 2003, beat upcoming actress Keira Knightley and Oscar winners Nicole Kidman and Catherine Zeta-Jones to notch the top spot.
2 top Hizb militants shot
January 17, 2004
Ceiling on FDI in petroleum, banking sectors up
January 16, 2004
Teachers not entitled to gratuity: SC
January 15, 2004
Indo-US relations set for a new high
January 14, 2004

Let new govt be in place by April, says PM
January 13, 2004

LS poll may be in March or May
January 12, 2004

Decision on LS poll by Jan 14, says Mahajan
January 11, 2004
Government doles out more concessions
January 10, 2004
Pre-poll tax sops target middle class
January 9, 2004