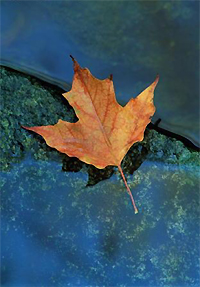 Rites of passage
Ashwini Bhatnagar
THE murmur was audible even at a distance. It was, of course, faint but it drew the attention of those who had the ear for it. The gentle sound also marked the path of the flow of the water that had carved out the passage of the brook. The slightly tilted slope of the valley floor helped the flow along as it bounced over rocks, turned around the boulders and caressed the green of the grass alongside. A wide maple leaf danced to the gurgling sound, riding the crest of the merrily lapping stream. Drops of water on the leaf's surface sparkled with life as the afternoon sun caught its eye. This was perhaps the rite of its passage: a celebration when it lit up as the sun's rays touched it, and gloom when it came under a shade.
MOOD UPBEAT
How to shed winter lethargy
In the same way as you might go for a quick carbohydrate fix when you are drooping, you can choose the healthier option of stimulating your stomach energy. This can be achieved, writes Barefoot Doctor, by eating ginger and doing a two-minute exercise which accelerates your tempo.
IF YOU'D been following your natural inclinations you would have gone into hibernation a couple of months back and not come out of it yet. As it is, however, our world doesn't run on natural inclinations and, to survive, your presence is generally required on a day-to-day and night-to-night basis, not just at your place of work, but in your social world, too.