TRAVEL
Travelling back to Tipuís times
Ravi Ranjan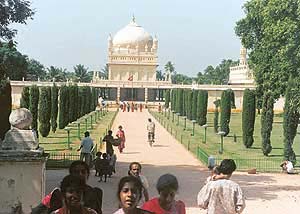 Tipuís palace, Dariya Daulat Bagh
SITUATED on the Mysore-Bangalore road, about 16 km from Mysore and more than 100 km from Bangalore in Karnataka, Srirangapatanam (City of Lord Ranga) was Tipu Sultanís capital. For the last so many years, this place has continued to interest a sizable number of tourists and historians who come to see what was once Tipuís stronghold.
Among ruins of the rule, stand Tipuís mausoleum and Tipuís summer palace ó some of the more interesting sites to visit before entering the crowded Sandalwood City, Mysore. Around 1750, Hyder Ali and then his son Tipu ruled over a large area of the Deccan (South India), but later it was annexed by the British who used deceitful strategies with the help of traitors.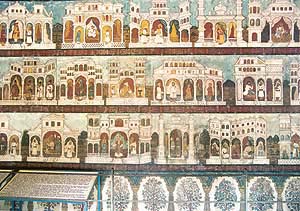 Paintings on museum walls.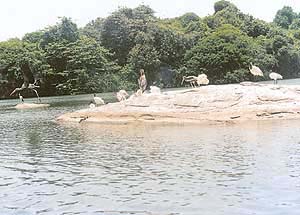 The Srirangathitto bird sanctuary.
Flanked by the two branches of river Cauvery, this capital of Tipu has a magnificent fort. Britishers demolished much of the fort and its extensive ramparts in battle but parts of it can be seen even today. The dungeons where Tipu held many a British soldier as his prisoner is still intact. People still remember that chapter of Indian history when Tipu wrote a letter to Napolean Bonaparte seeking his military assistance to drive away the English from the country. Though Napolean expressed his desire to meet Tipu and plan out a strategy, he could not do so due to his own limitations. Tipu fought a heroic battle but after he fell from a gunshot of the enemy he lost. Inside the fort walls, there is a mosque and a temple of Sriranganath Swamy.
EARLIER COLUMNS
No love for history, only chaos at the caves of Karle
Abhilash Gaur
January 11, 2004

Balmy beaches to soothe winter blues
Ervell E. Menezes
January 4, 2004
Baton Rouge: French flavour in Louisiana
K. Rajbir Deswal
December 21, 2003
Among ancient caves and chaityas at Bhaje
Abhilash Gaur
December 14, 2003
Oasis of calm, islands of tranquillity
Manpreet Singh
December 7, 2003
Haven in the Palni hills
Partha S. Banerjee
November 30, 2003
Welcome to Hollywood terrain!
Nirmal Datta
November 23, 2003
Time and history stand still in Mrs Braganzaís house
Rajbir Deswal
November 16, 2003
River, springs and a green carpet welcome in Vajreshwari
Abhilash Gaur
November 2, 2003

A mosque was added later, even though the temple has been in existence since 894 AD. It was built by Tirumalaiya on the island formed by river Cauvery. He built a wall around it.
Another viewpoint is that Srirangapuram or Srirangapatnam was built by Udayaditya in 1120 AD. Non-Hindus can go inside the temple but the sanctum sanctorum is a reserved area. It has a black stone statue of ĎVishnuí (Rangnathswamy). Every year during January-February, on the occasion of Rathsaptami, there is a big fair. Pilgrims join the 20,000 locals of the town of Srirangapatanam who reside inside the fort, for the ratha yatra.
The exquisitely carved wooden rath is a gift from Hyder Ali who was a devotee of Ranganathswamy. Across the other side of the road, is the Daria Daulat Bagh, Tipuís summer palace. The palace is constructed on five-feet-high platform on a small island in the tradition of Indo-Islamic style (of architecture). Itís beautifully laid out, ornamental gardens can still be enjoyed. Tipu had planted a number of fruit trees, creepers and flowers. The entrance to the park is flanked by two domed pigeon houses which kept the valuable Ďletter carriersí.
As one walks forward on the pedestrian pathway, passing by royal palms, banyan and cypress trees standing tall against the azure sky, one comes across cannons alongside the fountainóa reminder of the turbulent times in which the garden was built. This beautiful black-and-cream structure was later converted into a Gumbaz, a masoleum. It now houses a museum in its upper story. The salient feature of this place is that every pillar, wall and alcove is painted in rich hues of red, blue and gold on the white background. The designs are derived from nature and are mainly floral, with leaves and tendrils moulding the doorways. A low, wooden trellis-work runs around the room. The balconies have a cupola top that is a dominant feature of Islamic architecture.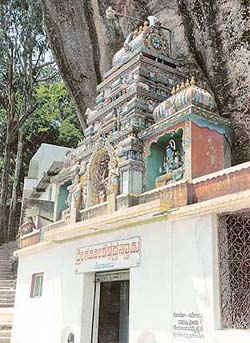 A temple on the bank of the Cauvery at Srirangapatanam.
Around the main building runs a wide verandah standing tall on tapering, lotus-like teak pillars. A lot of things which Tipu used for his daily chores are kept in the museum. It has artefacts, coins, shields, swords including Tipuís blue-and-gold coat. It also has many ink drawings of Tipu and his family done by employees of the East India Company. The place is well worth a visit. The steps at the back lead to the river whose two arms enclose the palace. The place can be easily seen on a day visit from Mysore from where it is only 16 km. There are daily conducted tours from Mysore and from Bangalore. It is also possible to stay here. The KSTDC runs hotel Mayura River View, a few km from the bus stand and the railway station. There are a lot of buses from Bangalore and Mysore which pass via Srirangapatanam. The train from Bangalore to Mysore also stops here. Since the place is well spread out, it is advisable to take an auto-rickshaw or tonga. Cycles can be hired for a day near the bus stand or the railway station.
The Ranganathitto bird sanctuary is only 3 km from Srirangapatanam. It is situated on one of the three islands of Cauvery. During the monsoon, lots of migratory birds also arrive here. It is worth a visit through the year but the period from May to November is the best time. One can hire an auto or taxi from Srirangapatanam. It is indeed a beautiful sight. There is a KSTDC tourist cottage here. A boat can be hired for use in the river. It is not to be missed place.