M A I N N E W S
Padma Vibhushan for Narlikar and
Justice Venkatachaliah


Top Awardees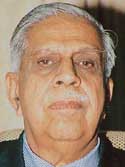 M.N. Venkatachaliah
(Padma Vibhushan)


Jayant Vishnu Narlikar
(Padma Vibhushan)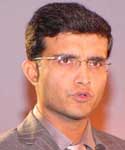 Saurav Ganguly
(Padma Shri)


Sudhir Tailang
(Padma Shri)
New Delhi, January 25
Noted Punjabi writer Amrita Pritam, former Chief Justice of India M.N. Venkatachaliah and Astrophysicist Jayant Vishnu Narlikar were today named for the Padma Vibhushan, the nationís second highest civilian award, while Captain of the Indian cricket team Saurav Ganguly and his deputy Rahul Dravid were among those chosen for the Padma Shri by President A.P.J. Abdul Kalam on the occasion of the Republic Day.
Nineteen prominent personalities from different walks of life have been awarded the Padma Bhushan while Ganguly and Dravid are among the 74 others named for Padma Shri.
Noted Director Gulzar and famous Bengali actor Soumitra Chatterjee, (art and cinema), noted Urdu author Gopi Chand Narang and noted journalist M.V. Kamath (literature and education), and Japanís Yoshiro Mori (public affairs) are among the recipients of the Padma Bhushan. The list is: Alarmel Valli, (art-dance), Dr Bijoy Nandan Shahi, (Medicine), Dr Hamumantha Rao, (literature and education), Chandrashekhar Shankar Dharmadhikari, (public affairs), Prof Gopi Chand Narang, (literature and education), Prof Govindarajan Padmanabhan (science and engineering), Komal Kothari, (art-music), Krishna Srinivas, (literature and education), Madhav Vithal Karnath, (literature and education), T.N. Seshagopalan, (art-carnatic vocal music), Dr N. Rajam, (art-instrumental-violin,) Smt Poornima Arvind Palcvasa, (social work), Sampuran Singh Gulzar, (art-Cinema), Prof Sardara Singh Johl, (Science and Engineering -agricultural research), Soumitra Chatterjee, (art-cinema), T. L. Sankar, (civil service), T.V. Antony, (civil service), Vishnu Prabhakar, (literature), and Yoshiro Mori, (public affairs, Japan).
Besides Ganguly and Dravid, others named for the Padma Shri include Anju Bobby George (sports-athletics), Anupam Kher (art-cinema), Pandit Bhajan Sopori (art-music instrumental), Dilip Kumar Tirkey (sports-hockey), Hariharan (art-music), Dr K.N. Shankara (science and engineering-satellite technology), Mr Purshottam Das Jalota (art-vocal music) and cartoonist Sudhir Tailang (literature and education-journalism).
Apart from Mr Mori, three other foreign nationals have been named for the Padma awards. They are: Prof Heinrich Freiherr Stietencron (literature and education), Germany, Ms Tatyana Yakovlevna Elizarenkova (literature and education), Russia and Mr Aubakir Dastanuly Nilibayev (literature and education), also of Russia.
The Communal Harmony Award for 2003, carrying a cash prize of Rs 5 lakh, has gone to the National Youth Project Trust (New Delhi).
The award in the ĎOrganisationí category has been given to the trust which is headed by S.N. Subba Rao, an official release said. ó UNI, PTI