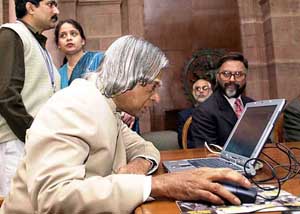 President APJ Abdul Kalam launches his re-designed website "www.presidentofindia.nic.in" at Rashtrapati Bhavan in New Delhi on Sunday. — PTI
India builds trade ties with Mercosur nations
New Delhi, January 23
India today inked a landmark preferential trading accord with South America's main economic bloc besides signing five agreements with Brazil as Brazilian President Luiz Inacio Lula da Silva, who will be the chief guest at the Republic Day parade tomorrow, began a historic four-day visit to this country.
President's Police Medal for 55 CRPF men
New Delhi, January 25
Fifty five officers and jawans of the Central Reserve Police Force (CRPF) have been awarded President's Police Medal for Gallantry, Police Medal for Gallantry, President's Police Medal for Distinguished Service and Police Medal for Meritorious Service on the occasion of the Republic Day.
494 armed forces personnel awarded

First Army PRO to get AVSM

J& K cop gets Shaurya Chakra
2 naxals involved in attack on Naidu shot
Hyderabad, January 25
Two Naxals, allegedly involved in the attack on Andhra Pradesh Chief Minister N Chandrababu Naidu near Tirupati in October last, were shot dead by the police in Chittoor district early today.

Videos
Ahmedabad remembers quake victims.
(28k, 56k)
Divakar Deo receives best social worker award.
(28k, 56k)
Tourists visiting Nainital have a reason to cheer.
(28k, 56k)
White crow attracts hundreds of curious onlookers in Kochi.
(28k, 56k)
Flower show dedicated to martyrs.
(28k, 56k)
John Abraham is comfortable with his 'hunk' image.
(28k, 56k)