Amarinder to look into case again
Chandigarh, February 17
Objections were raised on preferring newcomers to in-service outstanding sportsmen and women in the recruitment of Deputy Superintendent of Police against newly created ex-cadre posts. This issue came up for discussion at the Punjab Council of Ministers meeting here today.

UGC report finds fee structure faulty
Amritsar, February 17
The UGC's research project on 'unit cost of higher education', authored by Dr P.S. Raikhy, a senior professor of the Punjab School of Economics, has brought out distortions in the fee structure of the university.
Four-laning project launched
Jalandhar, February 17
The Union Minister for Road Transport and Highways, Maj-Gen B.C. Khanduri (retd) revealed today that Congress President Sonia Gandhi's foreign origin would be one of the main issue to be raised in the BJP's campaigning during the coming general elections.


Lok Jan Shakti Party holds dharna
Sangrur, February 17
Members of the district unit of the Lok Jan Shakti Party led by Mr Amar Singh Mehami, state president, today held a march and a rally in front of the office of the Deputy Commissioner in support of their demands. A deputation of the party workers also submitted a memorandum to the ADC, Mr N.S. Walia.
DNA test of aborted foetus to identify mother
Rampura, February 17
Dr S.K. Goyal, Civil Surgeon, Bathinda, said he suspected that Dr Laxmi Garg, who was allegedly involved in the illegal abortion and throwing of foetus in garbage dump, was concealing the identity of the mother, whose abortion had been done in her clinic on February 7.
Punjabis full of warmth: Iranian
Phagwara February 17
Keyumars Ali Mardani, a 33-year-old physically challenged Iranian, says Punjabis are the epitome of love and warmth. "I never got so much love and regard anywhere else in my journey as I got in Punjab," said Mardani after he was welcomed by prominent persons of Phagwara, including Malkiat Singh Ragbotra and Harbans Lal, yesterday.

New excise policy to benefit big contractors
Chandigarh, February 17
The Punjab Excise and Taxation Minister, Mr Sardool Singh, was conspicious by his absence, when the state excise policy, (2004-05), was presented and approved by the Council of Ministers here today. His absence was explained by the Administrative Secretary, saying that the minister was ''not well''.

Birmingham Mayor
Jalandhar, February 17
Hailing the achievements of the India in the IT sector in the past two decades, the Lord Mayor of Birmingham, Mr John Alden CTA, today revealed that many educational institutions in Birmingham were interested in having collaboration with Punjabi institutions to impart quality education.

Birmi to get land for flying academy
Chandigarh, February 17
The Punjab Council of Ministers, today approved the allotment of 2,000 sq. yard of land to Mr Malkiat Singh Birmi, Minister for Jails, for setting up a Flying Training Academy at the Aviation Club, Patiala.

Rs 5 lakh grant okayed for war memorials
Chandigarh, February 17
The Punjab Governor, Justice O.P. Verma, today asked the Sainik Welfare Department to launch a special drive to renovate 32 small war memorials in the state.

Two cases registered against Poolha
Chandigarh, February 17
Following efforts by the Poolha Eviction Committee two cases of kidnapping have been registered against the self proclaimed chief of Nihang Tarna Dal, Ajit Singh Poolha.

No encroachment on our land, says trust
Amritsar, February 17
Ms Ratna, Chairperson of the Amritsar Improvement Trust, today clarified that there was no encroachment on the trust land in the Ranjit Avenue C-Block area.

Threat to Christians in MP: priests
Jalandhar, February 17
The Diocese of Jhabua, has alleged that Christians were living under a reign of terror in Madhya Pradesh under the rule of Uma Bharti government.

Dharna by doctors hits services
Sangrur, February 17
Services in the Civil Hospital here remained paralysed for two hours in the morning as doctors, paramedical staff and other employees of the hospital staged a dharma in front of the office of the SMO for the second day against the non-payment of salaries for the month of January. Dr J.R. Bansal, Civil Surgeon, Sangrur visited the dharna site and assured the agitating doctors and other staff that the salaries would be paid by February 20.

BSNL to clear waiting list in Abohar division
Abohar, February 17
The BSNL plans to provide 7,000 WLL connections in Ferozepore telecom district this year, which may cost Rs 5 crore. By March 31, the entire waiting list in Abohar division will be cleared.

Discrimination against Balachaur alleged
Nawanshahr, February 17
Mr Ram Kishan Kataria, former MLA, Balachaur and PPCC member and Ms Santosh Kataria, Chairperson, Zila Parishad, in a joint press statement here on Saturday expressed resentment over discrimination against the Balachaur subdivision for release of development funds by the District Planning and Development Board.

Pets recovered
Fatehgarh Sahib, February 17
The police has recovered a stolen German shepherd pair of dog and bitch, worth Rs 80,000, with the arrest of a resident of Nandpur Kalour, Jagtar Singh. Two other accused are still at large.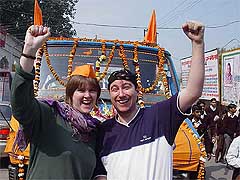 Shobha yatras on Shivratri eve
Batala, February 17
A big procession was taken out here today on the eve of Shivratri. The procession was led by Mr Vijay Parbhakar, chief patron of Batala, along with other social and religious organisations.



A Scottish couple raise religious slogans during a procession organised by Arya Samaj on the eve of Shivratri in Amritsar on Tuesday. — PTI photo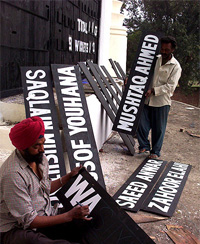 Kapil to lead Indian Punjab CM's
friendly team
Patiala, February 17
Besides a profusion of who's who in the world of the performing arts gracing the city with their performances, the Heritage Festival will provide a variety of entertainment in other fields. These include rural sports, a polo tournament and a friendly cricket match between teams from the two Punjabs on either side of the border.


Painters give final touches to sign boards for the cricket match to be organised as part of the Patiala Heritage Festival.
— Photo by Rajesh Sachar

Sitar-sarod jugalbandi moves all hearts
Patiala, February 17
Everytime that Ustaad Imrat Khan pulls at the strings of his sitar, they seem to tug at his heart anew. How else can he manage to mirror the very soul of the music he plays through mere fingers? The Qila Mubarak reverberated with an explosion of melody last evening after the maestro commenced a jugalbandi with his equally gifted son Wajahat Khan whose virtuosity on the sarod has to be heard to be believed.



Future of folk music uncertain, warns Girija Devi
Patiala, February 17
Her music blends all elements that the Indian classical tradition can ever boast of. Transcending the limits of time and space, it pulsates with ever fresh life. And though it has roots in tradition, it continues to sound vital, as it did years ago when a 20-year-old Girija Devi made her debut on Radio Allahabad.

Flip Side of Heritage Festival
A year on, vacated Rajindra Kothi unused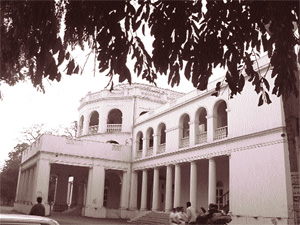 Patiala, February 17
A year ago, the main halls of Rajindra Kothi, which housed thousands of files and around 35,000 books comprising most of the records of the State Archives Department, was vacated in a blitzkrieg-like operation on the eve of the Heritage Festival. The reason was to facilitate the holding of a week-long painting exhibition in the building following which the building was to be sold as a heritage property.


A view of the Rajindra Kothi in the
Baradari Gardens.

HIGH COURT
Complete security restored to Beant kin
Chandigarh, February 17
In less than a month after Punjab's former Chief Minister Beant Singh's alleged assassins escaped from Burail jail, a Division Bench of the Punjab and Haryana High Court today directed the restoration of security cover by commandoes to the CM's widow and daughter in case it had been withdrawn.

10-yr RI for 4 in dowry death case
Barnala, February 17
Three brothers, Dinesh Kumar, Rajesh Kumar, Naresh Kumar, and their mother Mrs Santosh Rani have been sentenced to 10-year rigorous imprisonment and ordered to pay a fine of Rs 5000 each in the state versus Dinesh Kumar dowry death case.
Revenue officials asked to recover bad debts
Fatehgarh Sahib, February 17
Mr S.K. Ahluwalia, Deputy Commissioner, while addressing the monthly meeting of district officials here today, directed revenue officials to launch a campaign for the recovery of loans belonging to various government departments from defaulters.

Naib Tehsildar suspended
Ferozepore, February 17
The Commissioner, Ferozepore Division, Mr B. Sarkar placed under suspension Mr Neeraj Kumar Sharma, Naib Tehsildar Zira and initiated disciplinary action against eight other government employees after they were found missing from duty during a check conducted by him today.
Four cops booked under NDPS Act
Moga, February 17
The Moga police has booked four constables, Charanjit Singh, Balwinder Singh, Karamjit Singh and Kuldeep Singh and six alleged poppy husk smugglers, all from Bathinda, with all 10 absconding and absent from their duty since February 13.

Cop suspended for beating up journalist
Tarn Taran, February 17
The district police today placed Constable Punjab Singh and Home Guard Jawan Jaswant Rai under suspension for beating up Baljinder Singh Jassal, alias Bobby, a journalist, in public here.

Murder convict escapes
Ropar, February 17
Amarjit Singh, alias Fauji a murder convict, escaped today from the police custody at Anandpur Sahib. According to sources, the convict along with eight co-accused was brought to the Anandpur Sahib court complex from Patiala jail for hearing.

5 kg of opium seized
Fazilka, February 17
The police here recovered 5 kg of opium from three occupants of a jeep in Arniwala village. Rachhpal Singh, in charge CIA staff, Fazilka, said here yesterday the police put up a naka between Katehra village and Kandhwala and noticed a jeep coming from Katehra. On search 5 kg of opium was found concealed in a plastic box.
Pro-VC still functioning
Amritsar, February 17
Even as the post of Pro-Vice-Chancellor stands abolished as per the decision of the Cabinet, yet after a lapse of three weeks Guru Nanak Dev University Pro-VC continues to function.

Students break panes of PTU building
Jalandhar, February 17
Agitated over Punjab Technical University's "indifference" towards their long-pending demand of the implementation of the 24 credit system, hundreds of students from different engineering colleges of the state shouted slogans against the PTU management, indulged in rowdyism and stoned the PTU's main Administration Complex, leading to breaking of windowpanes.

Holiday today in GND varsity
Amritsar, February 17
Non-teaching departments and administrative offices of Guru Nanak Dev University will observe a holiday tomorrow on the eve of Shivratri.

Students allege harassment
Barnala, February 17
Nearly 104 MCA and B. Tech. students belonging to various institutes undergoing training at the Trident Corporation complex here today alleged that there was a breach of trust pertaining to change in training programme.