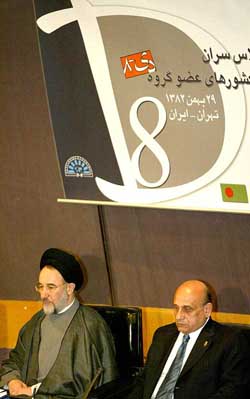 Iranian President Mohammad Khatami and Egyptian Foreign Minister Ahmed Maher listen to speeches at the D-8 summit in Tehran February 18, 2004. D-8 was founded in 1998 to boost economic cooperation among Islamic states with a population of more than 600 million and includes Iran, Bangladesh, Egypt, Malaysia, Nigeria, Pakistan and Turkey. — Reuters
Induction furnaces face uncertainty
Solan, February 18
Failure of the state government to frame a policy on induction furnace industry in Himachal has not only delayed setting up of this high-income generating units but has cast a negative impression on the new industrialists proposing to invest in the state.
NHPC gets approval for
increasing share
Dalhousie (HP), February 18
The National Hydroelectric Power Corporation (NHPC) has received an approval from the Union Government for increasing its authorised share capital to Rs 15,000 crore from the present Rs 10,000 crore.
Tata Motors to acquire
Daewoo firm
Mumbai, February 18
Tata Motors Ltd today signed an investment agreement for acquisition of Daewoo Commercial Vehicle Company Ltd (DWCV), the second largest truck maker in Korea, for approximately $ 102 million (US) (Rs 465 crore).
LG launches GSM handsets
Chandigarh, February 18
LG Electronics India Pvt Limited today unveiled its new range of GSM mobile handsets and washing machines in the region.
Graphic: Production of foodgrains, oilseeds and other crops during 2003-04