THIS ABOVE ALL
Of scarecrows and political satire
Khushwant Singh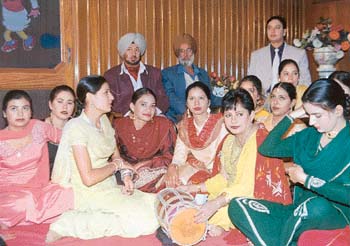 Neelam Sharma is a much-sought-after singer at weddings
THE first thing that I wanted to do after picking up The Scarecrow and the Ghost by Keki Daruwalla (Rupa) was to find an Indian equivalent for the word scarecrow. I could not think of one; I asked Abid Saeed Khan, who owns a large mango orchard. It took him some time to come out with the tentative bijka before he added, "I will ring you up when I get back to Bugrasi." I asked my cook and bearer, both Garhwalis. Pootna was their Hindi equivalent of scarecrow. I rang up Sheela Reddy, whose father has a vineyard near Hyderabad. She did not know of its Telugu equivalent. She asked her Malayali husband Madhavan, who is an eminent novelist. He came up with nokhukithi, which means to "poke the beholder's eye." Lastly, my secretary Lachhmandass rang up from his house to tell me that he had laid his hands on the Chambers English-Hindi Dictionary which listed several words for scarecrow: bijookha, kak bhigora, howaa, joojoo, aati, durbal vyakti. It all went to show how little most of us know of what must be the commonest sight in the countryside.
Back now to Keki Daruwalla's poems on the scarecrow. They were written for children; they can be read with equal profit by adults. They introduce the reader to the world of nature: they are witty and have a few well-aimed digs at fundoos. And are beautifully illustrated by Pulak Biswas. The time is set by the opening stanza:
In morning dew the scarecrow combs his hair.
In morning light the scarecrow looks so spry,
You know he's had a good night's sleep
EARLIER COLUMNS

The importance of punctuating thought

February 21, 2004

Ghalib knew his worth
February 14, 2004

In the sunset of their lives
February 7, 2004

Chennai, the city of achievers
January 31, 2004

Pakistanis are like us only
January 24, 2004

Farid was the first to use Punjabi in poetry
January 17, 2004

Sahir's tortured soul
January 10, 2004

The colourful story of dull dictionary
January 03, 2004

Guru Gobind Singh did not want to separate God from God
December 27, 2003

The art of doing nothing
December 20, 2003

Manto's description of the mayhem of 1947
December 13, 2003

Election fever spreads
November 29, 2003

Jayalalithaa has grown more enigmatic with time
November 22, 2003

Languages need infusion of foreign blood
November 15, 2003
He's now in a fitter state to spy
On shouting monkeys and the porcupine.
He gets to see everything all the time, except his shadow which lazes about
Till the evening snuffs the fellow out.
Whether he sees the seasons come and go is a thing you and I may never know.
But busy as he is he keeps an eye
On all the bird traffic passing by.
Daruwalla gives a gentle prod in the ribs to former Prime Minister Vishwanath Pratap Singh:
The night owl was so bitter
His tongue developed a blister.
He took his complaint against the herons
To the Prime Minister.
But V.P. Singh
Though he spoke the same language
And was a man of the masses
Returned the application,
Saying, 'I only deal
With the backward classes.'
This one is aimed at Balasaheb Thackeray, fuhrer of the Shiv Sena:
When the women saw the trishul
Resting on the scarecrow's shoulder
Next morning
They started worshipping him.
The childless among them
Even asked him for a boon.
(Boons are always easy to ask for
and difficult to bestow).
And the Shiv Sainiks thought
He was an avatar of Shiva;
(They have been confusing Shiva with Shivaji for quite some time).
And when the kar sewaks saw the trident
They said to the scarecrow
'Chalo, let us go to Ayodhya;'
Wedding singer
Self-imposed sanyas has its advantages as well as shortcomings. The greatest advantage is that you opt out of the rat race and become a spectator, a tamashbeen, you keep yourself informed through newspapers and television, and say to yourself: "Thank God, I am out of all this!" On the other hand, you also miss out on events which can bring cheer to your lonely life. A long time ago, I stopped going to wedding receptions as I found them a waste of precious time. People stopped inviting me, thinking I had developed a swollen head and should be allowed to stew in my own juice. Some time back, I got an invitation to the wedding of my brother's grandson: mehndi, sangeet, Anand Karaj, doli — every event accompanied by band-baaja, singing, bhangra and feasting. I get along very well with my brother and did not want to offend him. Of the many events, I chose to make a brief appearance at the sangeet-cum-luncheon which was hosted in my niece's garden in a block of flats across the road. The sound of music and the beat of bhangra drums rent the air from 11 am. I hobbled across at 3 pm. By then, the singing and dancing were over and the guests were tucking into tandoori delicacies and downing glasses of champagne and French wines. It was a happy scene with women dressed in finery, boys looking like princes and little girls in bridal attires running round. A woman singer and her troupe of dancers sat quietly on a platform. After singing and dancing for over two hours, they were taking a well-deserved break. I was escorted to a chair. The singer sensed that being the oldest I was a patriarch of the family and came up to me. "What should I sing for you?" she asked and offered a choice of a dozen folk songs. The only one that came to my mind was an old favourite: Saaree raat tehra taknee a raah, taarian ton pucchhaan vey. (All night I await you; asking the stars, my beloved moon).
This was Neelam Sharma of Chandigarh who has made a name by singing folk songs, doing playback and performing on television and radio. She is much sought after at social functions.With a modest school education, she is a self-taught singer and performs in many Indian languages. She looks much younger than her age and is easy on the eye. Her melodious voice rang in my ears for many days after the event.
A fly in your eye
Banta Singh was the biggest braggart in town but very shrewd and quick-witted where his interests were concerned.
He once boasted that he was the best swordsman in the world, and offered a challenge to other swordsmen for a sizeable amount of money.
The town's residents, fed up of Banta Singh's boasts, decided to teach him a lesson by asking two of the most famous swordsmen of Punjab to test Banta Singh's claim. On the appointed day, in the presence of a large audience, the first swordsman drew out his sword. It flashed in the light, and the audience gasped to see a fly neatly sliced in half, lying on the plate.
The second swordsman's sword flashed in two arcs. The audience was wonderstruck to see a fly, neatly quartered; lying on the plate.
Banta Singh's sword now swept in a dazzling arc and the fly flew away.
"The great Banta Singh missed", roared the audience.
"My friends", retorted Banta Singh, bowing before the audience whilst pocketing the money, "The fly lives. Yes. He doesn't know it yet but he will never father another fly."
(Contributed by Brig Sukhjit Singh, Kapurthala)