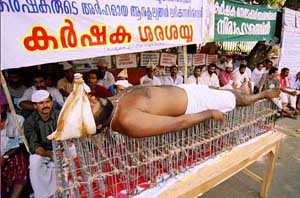 A farmer lying on the bed of sharp metal nails protests in front of the Secretariat in Thiruvananthapuram on Saturday. — PTI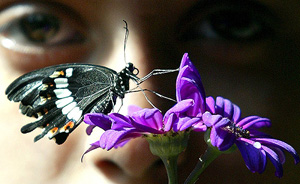 A girl looks at a butterfly hovering on a flower in New Delhi on Saturday. — Reuters
Manmohan reluctant to enter poll fray
New Delhi, February 28
Former Finance Minister Manmohan Singh and AICC General Secretary Ambika Soni are being urged by the Punjab Congress to contest the coming Lok Sabha elections from the state.
BJP govt alone can resolve issues with Pak: Advani
New Delhi, February 28
Favouring a confederation of India and Pakistan, Deputy Prime Minister L.K. Advani tonight said a BJP-led government at the Centre alone could resolve all outstanding issues between the two countries.
Pak positive to ongoing talks with India: Jamali
New Delhi, February 28
Observing that Pakistan is "positive" to the ongoing talks with India to iron out differences, Pakistan Prime Minister Mir Zafarullah Khan Jamali said in an interview to ' Frontline' magazine that the two countries should "sacrifice their ego" for better relations and a bigger goal of peace.
1 more held for AIIMS paper leak
New Delhi, February 28
The Central Bureau of Investigation today arrested Dhirender Singh, a resident of Lucknow, for his alleged involvement in All-India Postgraduate Medical Education (AIPGMEE), 2002, paper leak case.
20 Iraqi kids arrive in India for treatment
Chennai, February 28
After providing medical treatment to several Pakistani kids as a goodwill gesture, India has now extended its good samaritan act to about 20 Iraqi children.
Moon mission can pave way for Mars mission: Kalam
New Delhi, February 28
President A.P.J. Abdul Kalam said today that the country's moon mission could pave the way for the mission to Mars, which was likely to become a sought after planet for exploration of wealth and habitat in a few decades.
6 undertrials escape
Nawada, Bihar, February 28
In a string of shock jailbreaks in the country, at least six undertrials escaped from a Bihar court lockup today.
Court gives nod for narco test on Telgi
Bangalore, February 28
The Karnataka Special Investigation Team (StampIT), probing the multi-crore stamp papers scam, today received permission from the special court to conduct a narco-analysis test on main accused Abdul Karim Telgi.

Videos
People give their verdict on Priyanka and Rahul.
(28k, 56k)
Rare antique idols recovered in Jaipur.
(28k, 56k)
Where is India's fashion capital? The Fashion Design Council of India is supposed to have the final word on that soon.
(28k, 56k)
"Song of Life" is not our story: Anoushka Shankar.
(28k, 56k)
Bollywood is not for me, says Anoushka.
(28k, 56k)