M A I N N E W S
Modernisation at the cost of heritage
Varinder Walia
Tribune News Service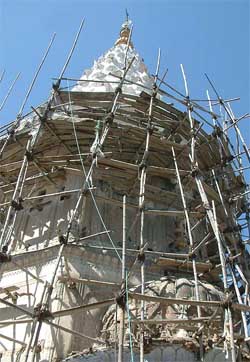 The old structure of "Jamadar Di Haveli" of Maharaja Ranjit Singh era in the heart of Amritsar city is being given a modern look at the cost of heritage.
— Photo by Rajiv Sharma
Amritsar, March 1
To give modern look to 'Jamadar di Haveli', of Maharaja Ranjit Singh era in the heart of the city here, the temple management has replaced old 'nanakshahi bricks' of the dome with white bathroom tiles which do not synchronise with the old structure.
Another building of British era a few yards away from the Golden Temple is being demolished. This is perhaps the worst case of vandalism as heritage zone of this city is concerned Mr Balvinder Singh, Conservation Planner and a Reader of Guru Ram Dass School of Planning Guru Nanak Dev University unique floral designs, stain glasses in different geometrical shapes was a proof that the building belonged to the British era. Pictures of Queen Victoria on moulded iron and the frescos with "mohrakashi technique" are proof of its being a heritage building. The facade in wood is elegant with huge wooden gate. Wood carving on doors and windows are attractive. Mr Balvinder Singh said that the majestic haveli falls in the heritage zone and the government should preserve it. It was shocking to see demolition going on and labourers pulling down the beautiful art work. Mr Jarnail Singh, a contractor told The Tribune that a shopping complex was likely to come up at the site of the haveli. Officials of the Municipal Corporation could not give a satisfactory reply on who ordered changing the land use of the building. With the construction of shopping complex. The site would become a traffic bottleneck in the congested bazar. Earlier, many 'havelis' in the nearby bazaars were demolished.
The scene of the 'Teja Singh Thakur Dwara' (Jamadar di Haveli) is deplorable. The Haveli of Jamadar, belonging to Jamadar Khushal Singh, near Guru Bazar was founded in the 1830s. Jamadar Khushal Singh occupied an important post in the 'Darbar' of Maharaja Ranjit Singh.
After taking over the building the Durgiana Mandir Committee decided to go ahead with the renovation without consulting heritage experts.
Mr Surinder Arjun working present of the Durgiana Mander Committee alleged that the building remained neglected for a long time due to the previous committee.
He further alleged that the Rs 5 lakh earmarked for development of the temple could not be utilised properly.
Without bothering about the heritage value of the building, the management whitewashed a portion of the building, Mr Arjun said that the Management Committee has decided to dispose of the "vacant land" of the 'Teja Singh Thakur Dawara' due to financial constraints.
Mr Anil, a resident of Katra Jamadar said that certain other buildings of Maharaja Ranjit Singh's era were demolished one by one. Mr Balvinder Singh urged the state government to prepare a list of such buildings so that these could be preserved in original conditions otherwise 'heritage melas' would be of no use.