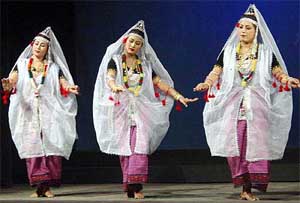 Artistes of the Jagoi Marup present a dance sequence from Srimad Bhagabatam at the inaugural function of the four-day Festival of Ballet and Dance Drama in Imphal on Sunday. — PTI photos
Cong keen on alliance with CPM
Arjun Singh's son meets Naidu amid rumours
New Delhi, March 1
The Capital's political grapevine was abuzz this evening over another high-profile desertion from the Congress camp when BJP president M.Venkaiah Naidu met Mr Ajay Singh, Congress MLA and son of senior AICC leader Arjun Singh.
Three former MPs denied ticket
Chennai, March 1
The DMK today denied ticket to three of its 10 members in the dissolved Lok Sabha and brought in three new faces, including Dayanidhi Maran, son of Murasoli Maran, and the widow of a backward Nadar community leader, who was shot dead in an encounter here more than a year ago, to contest in the coming elections.


In video: (28k, 56k)
EC order on NCP likely this week
New Delhi, March 1
The tussle between the Sharad Pawar and P A Sangma factions over the control of the Nationalist Congress Party is expected to be decided this week by the Election Commission, amidst indication that the poll panel may not freeze the party's name and 'clock' symbol.
Vidarbha likely to be poll issue
Mumbai,  March 1
The demand for carving Vidarbha state out of Maharashtra is likely to be a major issue in the forthcoming Lok Sabha elections.
BJP decides to stagger list
New Delhi, March 1
In a tactical move, the BJP today decided to stagger its announcement of candidates for the Lok Sabha and Assembly elections in four states to spring surprise on the Opposition.
Tripura urges EC to defer poll due to 'Garia' festival
Agartala, March 1
The Tripura Assembly today unanimously urged the Election Commission to defer the April 20 Lok Sabha poll in the state keeping in view the week-long "Garia" festival.
Kalam's help over nuclear weapons sought
New Delhi, March 1
A 15-member delegation of the International Physicians for the Prevention of Nuclear Wars and its Indian affiliate called on the President, Dr A.P.J. Abdul Kalam, and the CPM General Secretary, Mr Harkishen Singh Surjeet, to build political opinion against amassing of nuclear weapons in South Asia.
Asha, Kiran Bedi, Scindia bag women awards 2004
Mumbai, March 1
In an endeavour to salute the spirit of Indian women, over 18 women, including singing diva Asha Bhosale, actor Aishwarya Rai, Juhi Chawla, sprint queen P.T. Usha, supercop Kiran Bedi and literary doyen Mahashwetadevi, were conferred with the "Women Awards 2004" at a glittering function here.
WHO's South-East Asia region gets new Director
New Delhi, March 1
Dr Samlee Plianbangchang today took over as the Regional Director of the World Health Organisation South-East Asia region. He succeeds Dr Uton Muchtar Rafei, who held the office for two terms, spanning 10 years.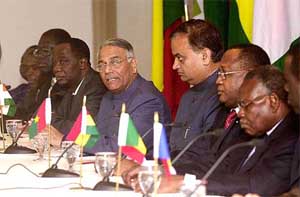 India takes initiative in Africa diplomacy
New Delhi, March 1
Indian diplomacy today took the first concrete initative to engage eight poor but oil and mineral-rich West African countries through an institutionalised mechanism called 'TEAM-9'.

External Affairs Minister Yashwant Sinha and his Minister of State Digvijay Singh with representatives of eight west African countries at the first ministerial meeting of team-nine countries at Vigyan Bhavan in New Delhi on Monday.

NHRC to sensitise Delhi cops to human rights
New Delhi, March 1
The National Human Rights Commission will hold a three-day programme to train 40 Delhi police officers in human rights investigation, skills and custody management. The programme is scheduled to start on March 3 at the Indian Institute of Public Administration here.

Bilkis Bano case: hearing on bail plea adjourned
Ahmedabad, March 1
A designated fast-track court here today adjourned till March 4 the hearing on the anticipatory bail application filed by an Executive Magistrate of Dahod district in the Bilkis Bano gang-rape case.

Militant shot in Bengal
Kolkata, March 1
In an hour-long gun-battle between the extremists and the police in the Belpahari-Kankrajhor forest areas in west Midnapore district last night, a PWG activist was gunned down. He was identified as Paresh Manna. An AK-47 rifle and several rounds of bullets were seized near the body which was noticed by some local people in the area this morning.

Goswami elected chief of Public Relations Society
Kolkata, March 1
Mr Samir Goswami has been elected unopposed President of the Public Relations Society of India in an election held in New Delhi last week.

High-speed wagons introduced
New Delhi, March 1
The Railways has introduced high-speed (100 kilometre per hour) freight wagons on high denisty routes connecting the four metros of the country. The measure is aimed at bridging the gap between the speeds of Mail and Express and freight trains.
Meeting to deal with visa rush tomorrow
New Delhi, March 1
A meeting will be held in the Ministry of External Affairs here on March 3 to thrash out ways and means of meeting the expected rush of visa-seekers from cricket lovers who would like to travel to Pakistan for the forthcoming series.
Editor jailed for molesting women reporters
Mumbai, March 1
An editor of three city tabloids has been sentenced to seven years' rigorous imprisonment for sexually molesting four women who worked as reporters with him in February last year.
Radha takes over as Agriculture Secy
New Delhi, March 1
Senior bureaucrat Radha Singh today took over as Secretary, Department of Agriculture and Cooperation, in the Agriculture Ministry, it was officially announced here. An IAS officer of the 1969 batch in the Bihar cadre, she replaces Mr R.C.A. Jain, who has retired.
Information official removed
New Delhi, March 1
Principal Information Officer Sahib Singh, who sat on dharna in front of the Information and Broadcasting Secretary's office last week, has been removed from the post. Ms Shakuntala Mahawal, who looks after administration in the Press Information Bureau, will look after Mr Sahib Singh's work as Senior Additional PIO. Mr Sahib Singh is due to retire in April end. A letter issued by the Appointments Committee of the Cabinet has placed Sahib Singh "on compulsory wait with immediate effect".

13 feared drowned as boat capsizes
Kendrapada (Orissa), March 1
At least 13 persons were feared drowned when a country boat carrying over 30 persons capsized in the Mahanadi river this afternoon near Bajrabahukuda, about 35 km from here. However, unofficial sources said over 20 persons, including some local cricket players, were missing after the tragedy. According to the police, the accident occurred when the boat carrying over 30 passengers, including a local cricket team of Musadiha and (Nuagarh) Paradeep Garh area, capsized in the river. The sources said six persons swam to safety, while some of the passengers were rescued by the villagers. — UNI

Videos
Madhya Pradesh village tense after a cow is slaughtered.
(28k, 56k)
Choreographer Ahmed Khan directs Lakeer-Forbidden Lines.
(28k, 56k)