BJP alleges misuse of position by DGP
Sonepat, March 8
The Haryana BJP has sent a complaint to the Election Commission alleging the use of official machinery by the Director-General of Police, Haryana, Mr M. S. Malik, for his wife, Mrs Krishna Malik, who has been fielded by the ruling INLD as its candidate for contesting the Lok Sabha elections from Sonepat seat.
Will Sangwan score a hat-trick from Sonepat?
Sonepat, March 8
Sonepat parliamentary constituency is the only one in the state which created history by electing an independent candidate, Dr Arvind Sharma, in the 1996 general election when he defeated veteran politician Rizak Ram of the Samata Party, Mr Abhai Ram Dahiya of the Haryana Vikas Party and the then HPCC president, Mr Dharampal Singh Malik.
Govt dragging feet on poor students' admission to public schools
New Delhi, March 8
The Delhi unit of the BJP today accused the Delhi Government of dragging its feet on the issue of admitting 25 per cent poor students in unaided public schools of the Capital.


Ambassador takes keen interest in integrated farming
Sonepat, March 8
The Ambassador of Bosnia and Herzegovina, Mr Zeljko Janjetovic and councillor, Mr Omar Ojanavic, today visited the Dagar Mushroom Farm at village Akbarpur Barota in the district.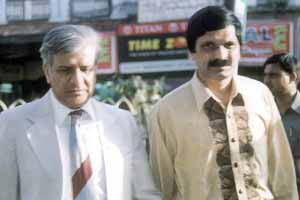 The Delhi Police Commissioner, Dr K. K. Paul, during a function held under the aegis of 'Police Jansahyog Samiti' in the Capital. The Commissioner appreciated the role of Mr Gopal Rasik for extending cooperation to the police.
50 Holi revellers injured
Sonepat, March 8
More than 50 Holi revellers were injured, 20 of them seriously, in clashes in the district yesterday. A number of them were discharged after being administered first-aid treatment at the local civil hospital whereas 20 others were still undergoing treatment.
NCR BRIEFS
Youth shot at in Govind Puram
Ghaziabad, March 8
A contractor and his two sons have been named in a case of attempted murder in which a youth was shot at in Govind Puram yesterday evening.
DELHI DIGEST
DUTA rally against V-C
New Delhi, March 8
The Delhi University Teachers' Association (DUTA) organised a protest march against the Vice- Chancellor, Prof. Deepak Nayyar, on International Women's Day at the university guesthouse. The Vice-Chancellor, who was scheduled to address a meeting on this occasion, did not turn up.

Yogendra Prasad honoured
New Delhi, March 8
Prestigious hydropower publication from USA, 'HRW', has conferred the 'Author's Award' upon Mr Yogendra Prasad, Chairman and Managing Director, National Hydroelectric Power Corporation Ltd. The award was conferred on him in recognition of his article 'Financing of Hydraulic Projects', ranked No. 1 by the readers, published in March, 2003, in the magazine.