Capturing nature through the camera their hobby
Ruchika M. Khanna


The city is home to many amateur photographers, a few of whom have together formed the Photographic Society of Chandigarh. As of now the society has about 15 members and also organises a photography exhibition with the Chandigarh Administration during the Festival of Gardens. The society also hosted the International Photographic Convention in the city five years ago.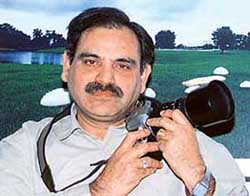 Subhash Sapru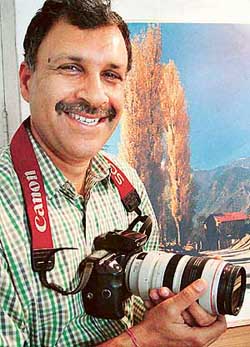 Sanjay Kaushal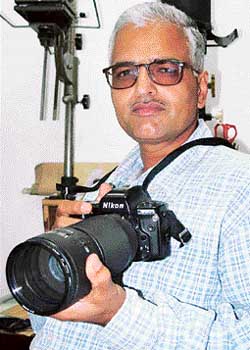 V.S. Kundu
Different folks from different walks of life. But what binds them together is their passion for catching nature through photography. Bitten by the (shutter)bug, these amateur photographers have been devoting their time, effort and finances to their hobby, and getting national and international acclaim in the bargain.
Mr V.S. Kundu, Director, Department of Science and Technology, Haryana, Mr Subhash Sapru, Public Relations Officer, Haryana and Mr Sanjay Kaushal, Development Officer with New India Insurance Company, have never received any formal training in photography. But given the slightest opportunity of a vacation from work, and the three pledge their holiday to travel for fulfilling their passion for photography.
All these three amateur photographers say that they always had a discerning eye, which ensured that they turned into perspective photographers. Though they began learning photography late in life, they have been zealously pursuing the art with camera to achieve the essence of excellence.
Subhash Sapru has been awarded the international honour of being an associate of the India International Photographic Council (IIPC), New Delhi in the year 2003, and has been designated as a two-star exhibitor in photo journalism by the Photographic Society of America. Besides winning a number of awards in national and international photo exhibitions, he has to his credit over 150 acceptances of pictures in national and international exhibitions.
Says Subhash, "I was introduced to photography by my eldest brother Brij M. Sapru , who handed me his camera, a click III. I used to make collage and my brother was impressed with my creativity. Once I started with photography, he continued to upgrade the equipment by providing me new generation cameras and lens." Though Sapru is working as a Public Relations Officer in the Department of Public Relations, Haryana, Sapru's official work does not include photography. It is mainly the desire to improve his skills, and nose for news that are his biggest assets.
V.S Kundu, a civil servant in Haryana, like an apt storyteller, likes to capture the essence of life and produce it later by demystifying life's myths. Specialising in black and white photography (Kundu insists he is no photo artist, but likes to find expression in his subjects, which are visible in black and white), he developed this hobby only ten years ago. "I used to paint landscapes, and would often travel for this. Then a friend, Mr Adit Aggarwal introduced me to photography, and I found it a better medium to express my creativity," he says.
A decade on, he has shot rolls and rolls of photographs — mainly of natural landscapes — be it the desert scapes, or the hill scapes. Kundu likes to travel as often as possible, to give vent to his creative urges. In fact, he has set up a dark room in his house in Panchkula, and prefers to develop prints himself.
Similarly for Sanjay Kaushal, it was the love for nature that made him drive away to the hills at the slightest opportunity, and taking pix was just part of the adventure. "I do not remember when photography gained precedence over my travelling adventures. Now, I travel out of the city for catching nature's bounty through my lens."
He says that it was in 1990 he realised that he had an eye for photography, after a trip on his jaunty scooter to Spiti and Kinnaur. Since then he makes it a point to travel once a month and shoot pictures. In fact, his first exhibition of photographs was organised by Chandigarh Industrial and Tourism Development Corporation (CITCO) , and his pictures adorn the walls of Hotel Mount View and Hotel Shivalik View. He has won various photographic salons in Lucknow and Nainital, besides at the Festival of Gardens here.