PUNJAB
HARYANA
JAMMU & KASHMIR
HIMACHAL
REGIONAL BRIEFS
NATION
OPINIONS
MAILBAG
BUSINESS
SPORTS
WORLD
W O R L D

Officials probe Al-Qaida claim
Madrid, March 12
Spaniards mourned the death of 198 people in the country's worst guerrilla attack today as officials looked into a purported Al-Qaida claim that it was responsible for the bombings on packed commuter trains.
A Spanish girl weeps outside Madrid's Santa Eugenia train station on Friday, the day after the series of explosions which left 198 dead and 1500 injured in the Spanish capital. — Reuters photo
Japanese firm sold uranium conversion plant to Libya
Vienna, March 12
A company from Japan, the only country in the world to have suffered the effects of an atom bomb, sold Libya machinery in the 1980s that Tripoli used in its unsuccessful attempt to build a nuclear weapon, diplomats said.
Rumsfeld meets Gen Vij
Washington, March 12
The US has said it is satisfied with the progress in military-to-military ties with India and hoped their cooperation in anti-terror campaign would be further strengthened.
US court orders militant's deportation
San Francisco, March 12
A US court has ruled that Kulvir Singh Barapind, a Sikh militant accused of murdering 52 persons and injuring 11 others during insurgency in Punjab, should be returned to India.
India signs extradition treaty
Singapore, March 12
India and the Philippines today signed an extradition treaty at the close of the 7th India-Philippine Policy Consultation Talks in Manila.
Gibson's 'Passion' not anti-Semitic: Vatican
Rome, March 12
Pope John Paul II does not consider Mel Gibson's controversial movie, "The Passion of the Christ", anti-Semitic, Vatican spokesman, Joaquin Navarro-Valls said in an interview published yesterday.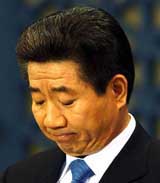 South Korean President Roh Moo-hyun closes his eyes and bites his lips during a televised press conference at the presidential palace in Seoul in this. South Korean Parliament impeached President Roh on Friday in the country's first impeachment bid. The impeachment passed a vote of 193 to 2. — AP/PTI

Accept India, Pak, Israel as N-powers, says Kasuri
March 12, 2004
UK for 'Good Friday' accord model to solve Kashmir issue
March 11, 2004
Jehadi camps still in Pak, says Shabbir
March 10, 2004
Interim constitution of Iraq signed
March 9, 2004
China offers to play role in easing Indo-Pak ties
March 7, 2004
3 convicted of plot to wage war against USA
March 6, 2004
French Senate nod to ban on insignia
March 5, 2004
Kerry wins 9 out of
10 states
March 4, 2004
44 killed in attack on Shia procession in Pakistan
March 3, 2004
Haiti President
arrives in Africa
March 2, 2004
Military working under US pressure, says
Pak oppn
March 1, 2004