Tohra, M.S. Gill file papers for RS poll
Chandigarh, March 16
While SGPC chief, Gurcharan Singh Tohra, today filed the nomination papers as an SAD candidate for the Rajya Sabha elections, former Chief Election Commissioner, M.S. Gill, the Punjab Pradesh Congress Committee's President, H.S. Hanspal, Chairman of the Congress Vichar Vibhag, Ashwani Kumar and former minister, Dharmpal Sabharwal filed their nomination as Congress candidates Mr Varinder Singh Bajwa, another SAD candidate, filed the nomination papers yesterday.

Accompanied by Punjab Chief Minister Amarinder Singh (left), former Chief Election Commissioner of India M.S. Gill and PPCC President H.S. Hanspal share a light moment at the time of filing their nomination papers for the Rajya Sabha at the Punjab Vidhan Sabha in Chandigarh on Tuesday. — Tribune photo Pankaj Sharma
Badal opposes Gill's nomination to Rajya Sabha

Jubilation at M.S. Gill's village

Index page: Cong MLAs refuse to endorse Gill's nomination

Cong meddling in gurdwara affairs: Tohra
Chandigarh, March 16
The SGPC chief, Mr Gurcharan Singh Tohra, said today that the ruling Congress in Punjab and in Maharashtra was interfering in the management of gurdwaras. He said the Punjab Government was extending full support to Nihang chief Ajit Singh Poohla to have illegal control over certain gurdwaras which were to be managed by the SGPC under the provisions of the Gurdwara Act.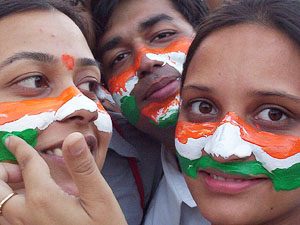 India all the way, say Thapar college students at Patiala on Tuesday. — Photo by Rajesh Sachar
He didn't survive the wait for salary
Ferozepore, March 16
Manohar Lal, a senior clerk in the District Institute of Educational Training (DIET), the sole bread-winner of his family, waited for his salary till his last breath. Manohar, who was ailing for the past four-five months, died at the trauma ward of the Civil Hospital here yesterday.
Villagers' 'unfair' demand puts school board in predicament
Patiala, March 16
The Class X Punjabi paper was held under the police protection at the Bibipur Centre of the Punjab School Education Board here today following insistence by some villagers that their wards be allowed to cheat in the examination.


'Lightan wali bibi' in the fray again
A former chairperson of the Punjab Public Service Commission, Ms Santosh Chowdhary, has again been chosen by the Congress to represent this reserved constituency for the third time.
Education, healthcare my priority areas
THE Shiromani Akali Dal (SAD) has once again fielded former Speaker Charanjit Singh Atwal from the Phillaur (reserved) seat after allotting this seat to its alliance partners in the past.
Lead SAD (Longowal), Barnala urged
Makerkotla, March 16
Rebel Akali leader and former Health Minister Inderjit Singh Zira today urged Mr Surjit Singh Barnala, Governor, Andhra Pradesh, to lead the SAD (Sant Harchand Singh Longowal).

SAD (A) seeks transfer of Judge
Bathinda, March 16
The Shiromani Akali Dal (Amritsar) President, Mr Simranjit Singh Mann, today submitted a memorandum to the Chief Justice of the Punjab and Haryana High Court seeking transfer of Mr Justice Nirmal Singh, Judge, Punjab and Haryana High Court, whose wife is contesting the Lok Sabha election from the Bathinda (reserved) seat as a SAD candidate.
Bad roads the bane of Bathinda
Bathinda, March 16
With almost all major roads of the city in a pitiable condition, residents of the city have started feeling that they have been taken for a ride by the authorities concerned and the elected representatives alike.



The Bhatti road in Bathinda city, which has developed potholes. — Tribune photo by Kulbir Beera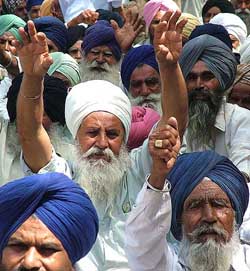 Activists of the Bhartiya Kisan Union from Punjab hold a dharna in support of their demands at Jantar Mantar in New Delhi on Tuesday. — Photo by Kamal Singh
Hand over Pak gurdwaras to Sikhs, says Bhaur
Phillaur, March 16
The management of the 174 gurdwaras in Pakistan should be handed over only to Sikhs and in international-level Gurdwara Managing Committee should be formed in Pakistan.
Punjabi kavi darbar on March 21
Jalandhar, March 16
The "Panj Panian Di Virasat", a new society formed with an aim to preserve rich Punjabi culture and heritage in a more practical manner, has decided to hold its first Punjabi kavi darbar at Kapurthala's Sainik School on March 21.
Pollution checks mark traffic week
Jalandhar, March 16
The traffic education week observed by the police in districts of Jalandhar, Kapurthala, Hoshiarpur, and Nawanshahr, concluded today. Free medical campus seminars and pollution check camps were organised to mark the day.
Security beefed up for PM's visit
Patiala, March 16
Unprecedented security arrangements are being made for the Prime Minister's visit to the city to address a Shiromani Akali Dal (SAD) rally to be held on March 18 in favour of its candidate Capt Kanwaljit Singh. More than 2,000 security personnel are being posted at the Polo Ground and special routes earmarked for Akali-BJP supporters coming to attend the rally.

Punjab Police personnel arrive at the Polo Ground to beef up security in view of the Prime Minister's upcoming visit. —Photo by Rajesh Sachar.
Insurance firm told to pay Rs 10,000 relief
Patiala, March 16
The District Consumer Redressel Forum has granted a compensation of nearly Rs 10,000 to a local citizen who had lodged a case against New India Assurance Company, claiming the company had wrongly disallowed his medical claim.

Farmers should reap benefits of diversification, says Shourie
Pathankot, March 16
The Union Disinvestment and Information Minister, Mr Arun Shourie, has said India's economic health had improved to such an extent due to the relevant economic policies of the NDA government that it had become one of the world's fastest growing economies and the third largest economy in Asia.


All set for a turkey treat
Mohali, March 16
For those who relish non-vegetarian food, there is another variety coming your way. Turkey.



Mr Jagdeep Singh, a farmer with his turkey birds being reared as part of the Punjab Government's 'Backyard Turkey Farming' project, at Dera village in Dera Bassi on Monday. — Tribune photo by Pankaj Sharma
Asst Town Planner suspended
Amritsar, March 16
An Assistant Town Planner and a building inspector of the local municipal corporation were suspended today on the charge of allowing a building owner to build a new structure without sanction. The latter had obtained sanction only for "roof replacement".
No new pensioners enrolled, says sarpanch
Patiala, March 16
Sarpanch of Bir Bahadurgarh village Inderjit Singh and Social Welfare Department officials, who have been accused of distributing cash among old pensioners and enrolling new ones, said today that only six pensions received last month were distributed on March 13.


2 hurt in bid to escape police
Phagwara, March 16
Two persons, who were trying to escape the police yesterday, were injured in a road accident and hospitalised here but were later referred to Dayanand Medical College (DMC) Ludhiana amidst security.
Man strangles wife
Fazilka, March 16
A man allegedly throttled his newly wedded wife to death in the wee hours today in a thickly populated Anandpur locality here.
Woman held for murdering husband
Barnala, March 16
Ms Harjit Kaur, widow and a resident of Draaka village, about 20 km from here along with her paramour, Binder Singh, has been allegedly found guilty for the murder of her husband Mr Baldev Singh.
2 murdered out of enmity
Bathinda, March 16
In two separate incidents relating to personal enmity, two persons were done to death at different places in the district in the past two days.


Students remember Bhagat Singh
Patiala, March 16
Students of Shaheed Bhagat Singh hostel of Punjabi University organised a function to commemorate the martyrdom day of Shaheed Bhagat Singh here today. The Vice-Chancellor of Punjabi University, Mr Swarn Singh Boparai, was the chief guest.

Brick-kiln owners' strike from April 30
Hoshiarpur, March 16
Members of the District Brick-kiln Owners Association, Hoshiarpur, will join the proposed indefinite strike on April 30 to protest against the attitude of Punjab Government towards them. This was stated by Mr Krishan Kumar Vasal, president and Mr Rakesh Mohan Puri, general secretary of the association, at a press conference held here last night.
BSNL offices shifted
Nangal, March 16
The BSNL has bought a new building at a cost of Rs 50 lakh in the hub of the town to provide all services under one roof.