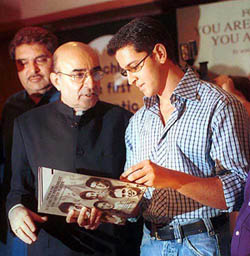 Bollywood star Hrithik Roshan after releasing "India's first-ever authentic book on acting", For the Actor You Are the Instrument, You Are the Player, in Mumbai on Tuesday. The author is his guru, Kishore Namit Kapoor, who has trained many leading actors and actresses. — PTI
CPM rebel MP alleges bungling by party secy
Kolkata, March 17
The CPM's five-time MP from Mathurapur (South 24-Parganas), Dr Radhika Ranjan Pramanick, has accused the party secretary, Mr Anil Biswas, and the state minister, Mr Kanti Ganguly, of siphoning off Rs 10 crore from his MP's fund.
BJP to contest 9 LS, 28 Assembly seats in AP
Hyderabad, March 17
After five hours of bargaining, the Telugu Desam Party today agreed to give nine Lok Sabha seats and 27 Assembly seats to the Bharatiya Janata Party to contest the coming elections in Andhra Pradesh.
50 pc of poll officers to be from outside district: EC
New Delhi, March 17
The Election Commission has directed that 50 per cent of presiding officers and polling officers in every district should be from outside to ensure free and fair poll for the Lok Sabha.
| | |
| --- | --- |
| | Two female elephants, Madhubala (right) and Tejmala, stand inside a camp of the Society for Prevention of Cruelty to Animals (SPCA) after these were rescued by the society in Mumbai on Wednesday. India has nearly 30,000 captive and wild elephants. — Reuters |
Khushwant Singh's 'Burial at Sea' released
New Delhi, March 17
Defending freedom of speech and expression, eminent writer and columnist Khushwant Singh today referred to rising intolerance and decline in moral values in the country.
Hurriyat positive as Centre extends invitation
New Delhi, March 17
All-Party Hurriyat Conference Chief Maulana Abbas Ansari today indicated that the conglomerate will make a "positive" decision on the invitation for second round of talks with the Centre on March 27.
200-year-old book claims life on Mars
Gwalior, March 17
Even as scientists across the world struggle to unveil the mysteries of Mars, a 200-year-old book written by an astrologer in the erstwhile Scindia kingdom has predicted existence of water and life on Mars.
Punish officers indicted for riots: NGO
Bhopal, March 17
Sadprayas, a non-government organisation, has urged the Madhya Pradesh Chief Minister, Ms Uma Bharati, to punish the civil and police officers who have been indicted by the Dube Commission of Inquiry for dereliction of duty during the post-Babri Masjid demolition riots in Bhopal.


Infantry gets new DG
New Delhi, March 17
The Infantry Brigade today got a new Director General with Lieut-Gen Madan Gopal, who had commanded a battalion of the Gorkha Rifles during the Kargil war, assuming the office at the Army Headquarters here.
Mohsina tells Katiyar to apologise
New Delhi, March 17
Congress General Secretary Mohsina Kidwai today criticised remarks of BJP leader Vinay Katiyar against party President Sonia Gandhi, saying that his utterances were an "insult to women of the country".




Videos
Killing of 11 persons by the security forces a calculated move, says Manipur Chief Minister.
(28k, 56k)
Now, souped-up vehicles for campaigning in Andhra Pradesh.
(28k, 56k)
Pakistani cuisine tickles Indian taste buds.
(28k, 56k)
Chennai teenager enters Guinness for doing maximum sit ups.
(28k, 56k)