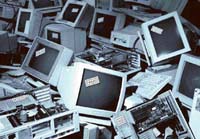 PC waste leaves toxic taste
Harish C. Mehra
ELECTRONIC waste or e-waste comprises of discarded or obsolete electronic products like PCs, TV sets, VCRs, VCDs, cellphones, stereos, fax machines, copiers, microwave ovens etc. At the same time, these items have become a central part of our everyday lives. Computer equipment is a complicated assembly of more than 1,000 components, many of which are hazardous and toxic.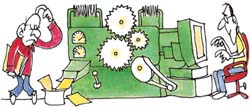 A flop show called Haryana e-governance
Raman Mohan
THE much hyped e-governance project in Haryana is still to benefit the man on the street. Despite massive allocation of funds and investments in hardware, the common man is neither aware of e-governance nor is his day-to-day dealings with the government offices any easier. If anything, partial computerisation has only added to the citizens' woes.
EHI in Chautala's district
Pamela Bhagat
THE district office complex of Sirsa is no different from most others in the country - dusty, disorderly, crowded and unclean. Merely 255 km from New Delhi, it is the richest district of Haryana. District Commissioner A Suresh, observes that the people here are not technologically shy.

Quantum computers may replace PCs...
Radhakrishna Rao
WHILE the silicon-based conventional computers are slowly and surely edging closer to their peak performance in terms of information storage and data search, researchers are on a look out for the smarter technological tools that would go beyond the barriers of classical physics. It is against this backdrop that for many years now physicists have been toying with the idea of a computational device that could be as small as a teacup based on the well-defined laws of Quantum Mechanics.

When passwords fail you!
Jasjot Singh Narula
"PLEASE enter the Username and Password." This is the dialogue box that appears on all operating systems, Windows included. What if you forget the password or due to some exigency need to know the password of a PC. Before we start off, we need to remind the readers that cracking a password to intrude into a PC with malafide intention is a major offence.

IT WIT
by Sandeep Joshi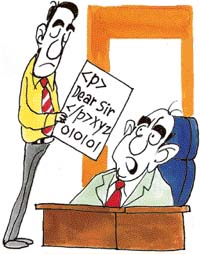 Please resubmit your leave application in plain English instead of binary codes and java script.

...and qubits will secure data
Pratibha Sharma
ONE of the fundamental problems in cryptography is how to get the encryption key (or password) to the receiver, secretly. There is no way to guarantee that the 'snooper' does not read the key in transit. One way to resolve is Public Key Cryptograph, which involves a shared public key that the whole world knows, and a hidden private key that only you can see.


Firewalls indispensable for cable Net
Inderjeet Singh Sodhi
THE demand for a stable Internet connection and higher bandwidth has led to enormous success of the so-called cable Net. Actually cable Net in India is basically an extended LAN over Cat5 cable, and not what is technically known as the Internet-over (coaxial)-cable. Decreasing costs of networking equipment has made it possible for such services to be made available at cheaper rates.

Robots with sense of touch
Gagandeep Kalsi
THE new friends being developed by the humans are robots. So in a way, the 21st century besides being the century of new technologies will also remove the differences between automation and living beings.