Dreaded criminal shot dead by rival
Jalandhar, March 24
Tension gripped certain parts of the city as Dulla, a dreaded criminal against whom about 20 cases were registered, was shot dead in broad daylight allegedly by one of his arch rivals in street no. 13 of Mangu Basti behind the Doordarshan Kendra here this afternoon.

The scene where a gangster, Dulla, was shot dead in Mangu Basti, Jalandhar, on Wednesday.
— Photo by S.S. Chopra
Entire water of holy tank to be filtered in 96 hours
Amritsar, March 24
It will take only 96 hours to filter the entire water of the holy tank of Golden Temple after the first 'kar seva' of this millennium which will be launched amid chanting of Satnaam Waheguru here tomorrow. Pushpak of Amritsar Aviation Club will shower flower petals on 'Sikh Sangat' and five Sikh Sants who will participate in this mega event.
Paper leakage took place in Ludhiana
Mohali, March 24
Allaying fears of Punjab School Education Board officials trying to keep the truth under wraps to save their own skin in the paper leakage episode, the board Chairman today, following an informal inquiry, reportedly cracked the paper leakage mystery.
Only costly drugs sold here, forget cheaper alternatives
Patiala, March 24
The poor and needy who frequent the Government Tuberculosis and Chest Diseases Hospital here for treatment of TB and other related diseases are being made to pay dearly for their faith in the hospital authorities and the hospital welfare section of the district Red Cross.


Fernandes to address rally in Mandi Ladhuka
Jalalabad, March 24
To intensify the SAD-BJP campaign in the Ferozepore Parliamentary constituency, Union Defence Minister George Fernandes will address a rally in support of SAD-BJP candidate Zora Singh Mann at Mandi Ladhuka, 20 km from here on April 1.
SAD(A) workers rounded up
Bathinda, March 24
A number of workers of the Shiromani Akali Dal (Amritsar) were rounded up in Bathinda, Mansa and Muktsar districts by the police to prevent any untoward incident with regard to Deputy Prime Minister, Mr L.K. Advani's, rath yatra entering the state.
Christians to back Preneet
Patiala, March 24
The United Christian Front of Mr Kamal Bakshi, who is also Member of the Punjab Subordinate Services Selection Board, today announced its support to the candidature of Ms Preneet Kaur, who is contesting the Lok Sabha poll from the Patiala seat as a Congress candidate.


5 BSF IGs cross over to Pak for meeting
Wagah, March 24
Five Inspector-Generals of the BSF along with other senior officials, headed by Mr G.S. Gill, IG, Punjab, today crossed over to Pakistan to participate in the four-day Indo-Pak biannual meeting of IGs, BSF, and Directors-General, Pakistani Rangers, being held from today in Lahore.


500-yr-old skeleton found
Pathankot, March 24
A skeleton in "smadhi posture" was excavated in Nagal Chowdharia village of this subdivision from a temple on Monday. The skeleton is believed to be 500-year-old. A skeleton in "smadhi posture" was excavated in Nagal Chowdharia village of this subdivision from a temple on Monday. The skeleton is believed to be 500-year-old. Though there is no proof of the identity and age of the skeleton, according to village elders the skeleton is of Baba Manohar Giri. — OC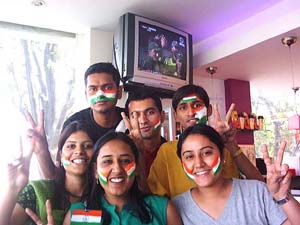 Cricket fans flash victory signs during India's fifth and final match against Pakistan, in Patiala on Wednesday. India beat Pakistan by 40 runs to win the five-match series 3-2. — Photo by Rajesh Sachar
Protesting farmers block
rail traffic
Bathinda, March 24
Activists of farmers' unions today blocked rail traffic on the Bathinda-Ambala rail section at Bhucho Mandi for four hours to press the authorities concerned to get their already accepted demands implemented and to accept their other demands. In a press note issued here today, Mr Sukhdev Singh Kokri Kalan, a senior leader of farmers organisation, said in Punjab the blockades were organised at 10 places.
SHO booked for misbehaving with journalist
Amritsar, March 24
The Chheharta police today booked Mr Jagatpreet Singh, Station House Officer of Islamabad police station, for allegedly misbehaving with a journalist on March 19 at the temporary visa camp here. The camp was set up for issuing visas to cricket fans. A case has been registered under Sections 323, 341, 506 of the IPC.
Indian Folklore Congress begins at GND varsity
Amritsar, March 24
Folklore is a continuing interaction between past and present for creating a better future. It is not a historical fact but a historical consciousness and is a continuous dialogue, said Dr Harjit Singh Gill, a linguist and professor emeritus, Jawaharlal Nehru University, while deivering keynote address at three-day session of the 23rd Indian Folklore Congress, inaugurated by Dr S.P. Singh, Vice-Chancellor, Guru Nanak Dev University, here today.
FDO tenders apology over derogatory letter
Amritsar, March 24
Even as the Finance and Development Officer (FDO), Guru Nanak Dev University, has tendered an unconditional apology to the president, GND University Teachers Association (GNDUTA) for writing a derogatory official letter, the Vice-Chancellor yesterday expunged the contents of the controversial letter.
Six IRB companies for Chhattisgarh election
Patiala, March 24
Six companies of the India Reserve Battalions (IRB) Punjab, along with medical and wireless staff has been deputed for Chhattisgarh election duty from April 3 to 27 . The companies are going under the charge of Commandant, 5 IRB, Gurdev Singh Teje.
Lectures, rallies mark World TB Day
Ludhiana, March 24
The World TB Day was observed by the Health Department here today at the local Civil Hospital. Dr Anil Verma, District TB Officer, said about 4,500 patients suffering from tuberculosis or TB (tubercle bacilli) were getting medicine free of cost by the department. Seven tuberculosis units and 43 centres were working in the district to eradicate TB.
Patiala tops in TB detection

Rally on TB awareness
Panel proceeds ex parte against SGPC members
Amritsar, March 24
A three-member panel of the Sikh Gurdwara Judicial Commission has decided to proceed ex parte against Senior Vice-President of the SGPC, Mr Alwinder Singh Pakokhe, the general secretary, Mr Sukhdev Singh Bhaur, and 11 other executive members as no one appeared on their behalf before the commission.


Officers to get salary only if Class III, IV staff are paid
Chandigarh, March 24
Class I officers will not receive their salaries if pay is not handed over to Class III or IV employees — a Division Bench of the Punjab and Haryana High Court has ruled in a significant judgement.
HIGH COURT
Poll petition
Chandigarh, March 24
The High Court today fixed April 7 as the next date of hearing on a petition challenging Punjab Chief Minister Captain Amarinder Singh's election from the Patiala Assembly constituency.
Lawyers observe 'no-work day'
Jalandhar, March 24
Members of the District Bar Association (DBA) today observed a 'no-work day' to protest against the failure of the district police to register a case against those accused who had allegedly attacked a lawyer, Mr Sukhbir Singh, on March 2.


Markfed to promote contract farming of onion
Ludhiana, March 24
In order to tap the export market, Markfed has initiated steps to promote contract farming of brown onion. Farmers are being motivated to go in for the cultivation of brown onion. Markfed already has in-hand export orders of 2,000 tonne of brown onion.

2 pc ADA for Punjab employees
Chandigarh, March 24
The Punjab Government today announced to enhance the dearness allowance of its employees by 2 per cent on the Central pattern from January this year. The existing DA has been increased from 59 to 61 per cent. The arrears of DA would be paid in cash. This would involve an additional financial liability of Rs 101 crore to the state exchequer.

7 quintals of poppy husk seized
Bathinda, March 24
SSP Kapil Dev today said that during the last week the police had seized more than seven quintals of poppy husk from various villages of the district.

Punjabi varsity grant up to 25 cr
Patiala, March 24
The grant-in-aid being given to Punjabi University has been increased with the Punjab Government earmarking Rs 24.85 crore for the next financial year.
Lax security in hostel worries parents
Faridkot, March 24
Resentment prevails among parents of woman interns of the local Government Guru Gobind Singh Medical College and Hospital over the poor security arrangements in the hostel behind the hospital complex here.
Principals' role in admn matters to increase
Patiala, March 24
A conference of principals of colleges affiliated to Punjabi University was organised by the Dean, College Development Council, here today. Vice-Chancellor Swarn Singh Boparai presided.
Punjab Govt's move to print textbooks opposed
Mohali, March 24
Members of the Punjab School Education Board Employees Association will be filing a public interest litigation (PIL) petition against the Punjab Government for deciding to print its own textbooks as part of the Sarv Shiksha Abhiyaan of the Government of India.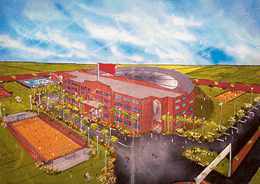 HAMARA SCHOOL
BIPS provides harmonious blend of modernity and tradition
B HUPINDRA International Public School, Patiala, popularly known as BIPS, is the first IT and ISO certified school of Punjab. The school started in April, 2001, has never looked back since the time of its inception. It rather has been growing by leaps and bounds.
A view of BIPS building.

From Principal
We have bigger challenges to meet'
'A child is like a sponge, Whatever you give it — love, knowledge and even vices
— it will all soak up, and when needed repay you back in the same measure.'