M A I N N E W S
Al-Qaida hunt: military toll reaches 54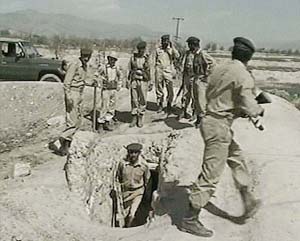 Pakistan troops exit from a tunnel near Wana in the South Waziristan tribal area of Pakistan. The troops, which are searching for Al-Qaida suspects in the semi-autonomous tribal region, have found large tunnel networks leading from a mud fortress, and discarded equipment. — AP/PTI photo
Wana (Pakistan), March 26
At least 54 soldiers have been killed and another 20 are missing as a military operation against Al-Qaida suspects and rebel tribesmen near the Afghan border dragged into 11th day today, a security official said.
In what is turning out to be the army's most disastrous operation in its two-year Al-Qaida hunt, the official revealed that a total of 37 army and paramilitary troops have been killed in battle since the operation began on March 16.
That figure includes 16 troops killed on the first day when they were surprised by scores of heavily armed fighters, apparently protecting an unidentified foreigner escaping in a bullet-proof landcruiser.
In another disastrous raid, 14 army troops were slaughtered in one hit on March 18 when they mistakenly landed by helicopter in a nest of battle-hardened militants.
Another seven soldiers were killed in later days of the operation. "The military's death toll in the battlefield is 37," the official said.
Outside the theatre of operation, three separate attacks by unknown assailants on army bases and an army convoy have left 17 soldiers dead.
Twelve paramilitary troops have been missing since the March 16 raid, and eight army troops have disappeared since March 18, bringing the total missing troops to 20.
Authorities believe they have been taken hostage by rebel Yargulkhel tribesmen. Efforts so far by tribal elders to persuade them to surrender their hostage have failed. — AFP