Delhi down Bihar in handball
New Delhi, March 26
Delhi trounced Bihar 13-5 in the opening match of the Senior National Baseball Championship at the Delhi University ground. Ashish Kumar and Dileep Kumar scored two runs each for the winners.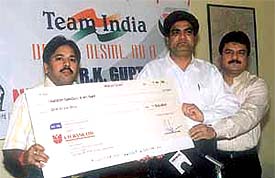 Fan announces Rs 1 crore award for cricket team
New Delhi, March 26
A cricket fan, who also happens to be the highest tax-paying doctor, has announced a cash award of Rs 1 crore to the Indian cricket team if they return home by winning the three-Test series too against Pakistan. Dr R. K. Gupta said here today that the Rs 1 crore would be distributed among all the players. — OSR

Dr R. K. Gupta announces an award of Rs 1 crore to the Indian cricket team if they win the Test series against Pakistan. He presented the cheque in advance to president Dinesh Gupta and secretary Ranjit Kapur of the Rashtriya Sports Academy.
Queensland team to play in Delhi
New Delhi, March 26
Australia and India will combine cricket and education when a university team from Queensland arrive in India today to play a series of matches with their Indian counterparts. The team will be accompanied by former Australian Test cricket captain Allan Border.
Durga Prasad, Piyush shine
New Delhi, March 26
Deadly bowling by Durga Prasad (4 for 27) and a delightful knock of 60 by Piyush Sharma enabled Chand Khanna Club defeat Daryaganj Gymkhana by three wickets in a Super A Division match of the DDCA League at the Yamuna Sports Complex ground.