M A I N N E W S
Tohra's condition improves
Our Correspondent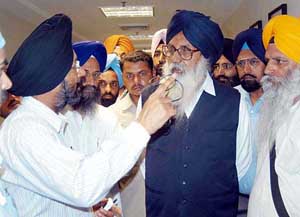 SAD President Parkash Singh Badal enquiring about the health of SGPC President Gurcharan Singh Tohra at a hospital in Amritsar on Friday. — PTI photo
Amritsar, March 26
Even as the condition of Mr Gurcharan Singh Tohra, President, Shiromani Gurdwara Parbandhak Committee, was showing signs of improvement, a team of doctors at the Escorts Heart and Superspeciality Institute here feels that he continues to be critical.
A bulletin issued today by the Chief Operating Officer of the institute, Lieut-Gen Harcharan Singh (retd), stated that all health parameters of Mr Tohra were showing satisfactory improvement.
Earlier in the day, the Prime Minister, Mr Atal Bihari Vajpayee, accompanied by Mr Parkash Singh Badal, President, SAD, visited the Akali stalwart at the heart command centre of the hospital and asked him how he was feeling. The ailing leader opened his eyes and quietly reciprocated the gesture of Mr Vajpayee. Mr Vajpayee wished Mr Tohra speedy recovery. He also enquired from the team of senior cardiologists of the institute about the condition of Mr Tohra.
A senior cardiac surgeon, Dr Harshbir Singh Pannu, and the Chief Cardiologist, Dr Arun Chopra, said Mr Tohra was under mild sedation at the time of the visit of the Prime Minister. The doctors said Mr Tohra made an attempt to acknowledge the visit of Mr Vajpayee by folding his hands.
Before the entry of Mr L.K. Advani's yatra into the city, Mr Advani along with Mr Badal and Mr Vinod Khanna visited Mr Tohra at the hospital to enquire about his health. Mr Advani stayed at the heart command centre for about 10 minutes and talked to the doctors about Mr Tohra's condition.
The Chief Minister, Capt Amarinder Singh, along with senior Cabinet colleagues, including Mr Lal Singh, Mr Sardool Singh and Mr R L Bhatia, also paid a visit to the hospital.