The son sets in Tohra village
Jangveer Singh
Tribune News Service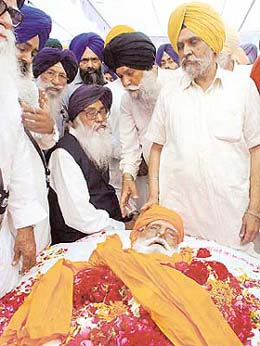 The Akali Dal President, Mr Parkash Singh Badal, and other party leaders, Capt Kanwaljit Singh, Mr Prem S. Chandumajra, Mr Charanjit Singh Walia and Mr Harmel Singh, sit beside the body of SGPC chief Gurcharan Singh Tohra at his home in Tohra village in Patiala on Thursday. — Tribune photo by Pankaj Sharma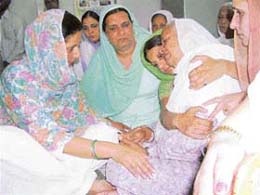 Joginder Kaur, widow of Gurcharan Singh Tohra, is consoled by Ms Preneet Kaur and family members of the late SGPC President in Patiala on Thursday. — PTI photo
Tohra (Patiala), April 1
Cavalcades are not new to this village, which has been made famous by its most eminent son, Gurcharan Singh Tohra. However, today's stream of vehicles was one the villagers were expecting with a heavy heart since morning, when they came to know their beloved leader had passed away in Delhi last night.
Even the stout hearted felt weak at the proposition of approaching the van carrying the mortal remains of the SGPC President. Tohra's friends stayed at home and it was left to the younger generation to carry home the senior Akali leader.
Almost the entire village as well as people from neighbouring ones had gathered this evening to receive the mortal remains.
SAD President Parkash Singh Badal, his son Sukhbir Singh Badal, Tohra's son-in-law Harmail Singh Tohra and Akali leaders Balwinder Singh Bhundur and Capt Kanwaljit Singh travelled in the van to the village, where the body was handed over to "sewadars".
The body was kept on a bed in the street outside the house of the leader to facilitate people to pay their last respects.
Mourners had been sitting on mats laid out in the street since morning as kirtan was performed by a ragi group.
Earlier, the SGPC chief's wife Joginder Kaur arrived in the village at 1.30 p.m. and was comforted by relatives and other women who had collected in the small verandah of the house.
The village presented a desolate look since morning. While many people were listening to kirtan in front of the Akali leader's house, others were visiting his friends and relatives to offer condolences.
Eightyone-year-old Gurnam Singh, who played the tabla with Tohra when the latter used to perform kirtan, said Tohra's uprightness was due to his strong belief in religion and the necessity for rightful conduct.
Mr Teja Singh, a childhood friend, said: "Tohra's father died when he was only two years old. His two brothers and sister also passed away over the years, with one his brothers dying in infancy and the other breathing his last in Malaysia. Tohra was responsible for looking after his 22 bighas of land from a very young age, and performed this duty sincerely for years. Along with this he acquired religious knowledge and received the Gyani and Vidwan degrees from Gurmukhi College, Patiala.
Another colleague, Mr Surinderpal Singh Kairon, said that along the way, Tohra had joined the Singh Sabha movement before entering politics in 1948, when he became general secretary of the Bhadson Circle of the SAD.
Tohra also worked on self-improvement. His friends say he learnt English from one Sham Lal, a village school teacher, in the 1970s.
He is also known for his tenacity. Mr Surinderpal Singh, a cousin, remarked that when Tohra had broken away from Mr Badal a few years ago and was sidelined completely, he did not give up. "He told me he was running along the train and trying to get on board by trying to grab the handle". The cousin said Tohra had maintained a strict routine all through his life — getting up at 4 a.m., bathing and then reciting the religious scriptures. After this, he would meet visitors and note down suggestions on the spot.
He stayed away from the telephone till the early nineties, and even later was comfortable without it.
For the residents of Tohra village, life without their leader is unthinkable. "I see only darkness", said Mr Teja Singh.
Cremation today
SGPC President Gurcharan Singh Tohra will be cremated tomorrow at his native Tohra village in Patiala district.
SGPC Secretary Manjit Singh Calcutta said the cremation would take place at 11 am.
The Vice-President, Mr Bhairon Singh Shekhawat, and the Union Law Minister, Mr Arun Jaitley, will attend the cremation. Mr Sukhbir Singh Badal and his wife will accompany them from New Delhi to Tohra village tomorrow, sources in the Akali Dal said tonight.