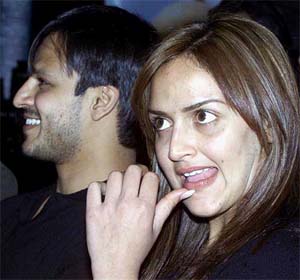 Bollywood star Vivek Oberoi and Isha Deol

at an 'IIFA Awards 2004' press conference in New Delhi on Wednesday. The awards will be announced in Singapore. — PTI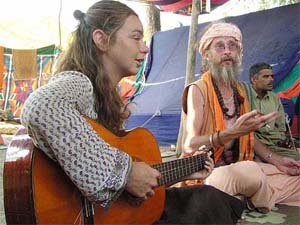 A foreigner sadhu and his disciple enjoy music in free time at Simhastha in Ujjain on Wednesday. — PTI

PM rakes up foreign origin issue
Jawhar (Maharashtra), April 1
Raking up the foreign origin issue of the Congress President Sonia Gandhi for the first time in the election campaign, Prime Minister Atal Bihari Vajpayee today sought a debate on whether a foreigner could occupy a high office in the country.
Protest against ticket to Laxman
New Delhi, April 1
The resentment over the candidature of Mr Laxman Singh, brother of Congress leader and former Madhya Pradesh Chief Minister Digvijay Singh, from the Rajgarh Lok Sabha constituency came to the fore with a large number of BJP workers demonstrating outside the party headquarters here.
RSS draws flak for calling CPM as betrayer
New Delhi, April 1
The RSS charge that the Communists had betrayed the freedom struggle came in for sharp criticism from the CPM, which quoted from the British Home Department records to show how the RSS leader, V.D. Savarkar, had pleaded with the colonial masters for his freedom.
Sumitra Mahajan's election upheld
New Delhi, April 1
The Supreme Court today upheld the election of Indian National Lok Dal Rajya Sabha MP Sumitra Mahajan, holding that there was no merit in the election petition filed against her.
SC to hear petition on surrogate ads today
New Delhi, April 1
The Supreme Court today fixed for tomorrow the hearing on Centre's petition against the Andhra Pradesh High Court order allowing election related political advertisements on TV channels, which had resulted in the telecast of certain controversial surrogate advertisements.
9 get 5-yr term in fodder scam case
Ranchi, April 1
In the first conviction in the multi-crore fodder scam cases, a special CBI court today sentenced nine persons, including four government officials, up to five years' rigorous imprisonment and slapped fines ranging from Rs 5,000 to Rs 20,000 on each of them.

Air Marshal Gujral is Deputy Chief of Air Staff


New Delhi, April 1
Air Marshal J.S. Gujral today took over as the new Deputy Chief of Air Staff at the Air Headquarters here, replacing Air Marshal Raghu Rajan who takes over as the AOC-in-C of Central Air Command.
The BJP today condoled the death of SGPC President Gurcharan Singh Tohra who it said was a veteran in politics specially in the political and social life of Punjab.

Disabled Rights Group to gherao CEC's office


New Delhi, April 1
The Disabled Rights Group, a non-political advocacy group, will gherao the Chief Election Commissioner's office here tomorrow to protest the Commission's "apathetic attitude'' to wards the problems of the disabled.
| | |
| --- | --- |
| | Sitar maestro Pandit Ravi Shankar pats Masoom, a two-and-a-half -month-old goat rescued from an abbatoir, as his wife Sukanya Shankar looks on during a news conference in Mumbai on Thursday. Shankar announced his support for PETA (People for the Ethical Treatment of Animals) which saved the goat from being slaughtered four days ago.— Reuters |

Videos
Advani promises peaceful resolution of Ayodhya dispute.
(28k, 56k)
Lose elections and get into the Guinness Book of World Records.
(28k, 56k)
"Yuva" to premier at IIFA.
(28k, 56k)