Artscape
The myriad colours of life at Summer Hues
Ravi Bhatia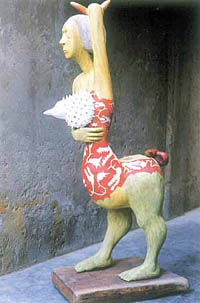 Frozen Porcupine and the Smirking Donkey.
Gallery Art Indus presents Summer Hues, a group show of paintings by renowned artists like Vijender Sharma, Paresh Hazra, Yuriko Lochan, Meena Deora, Shruti Gupta Chandra, Sunil Das and Vinod Sharma at Shridharani Gallery from March 31 to April 9.
According to critics, love and hate, pain and beauty all come together in Vijender Sharma's artwork. Vijender draws his strength not from style, rather handling of the medium and content. Vijender's works are lifelike. If a casual observer sees the surreal images, he will never believe that they are
paintings. Behind every startlingly alive painting of Vijender there is a cynical laugh at the ways of the world - be it a politician wearing a joker's make-up, or an eyeless vendor of countless eyes or an umbrella hanging alongside a saffron niche in the wall. Every painting is disturbingly lifelike. In fact, Vijender's oils are amazingly three-dimensional. And after viewing a painting, one would be stunned by the truth within.
In Yuriko Lochan's work, nature moves as a unifying force, merging all cultural and geographical barriers. Her present expressions are an obvious result of her unique life experiences and the desire to transform them into pictorial memories. The overwhelming presence of nature cannot be missed; she exhibits the same in a variety of ways. Yuriko substantiates the sublimity of nature in her tall and long frames. In her paintings, she reorients the earth and sky, trees and hills, even water, unveiling the latent. The clouds come down on the earth and the earth often rises to meet the cloudy sky.
Shruti Gupta Chandra brings freshness to modern Indian art with her unique interpretation of the reality of our lives. Her compositions lock horns with reality, but in her own individual way. Her artistic expression is a form of knowledge, even though it does not seek to provide any answers in a rational or scientific sense. Out of each of Shruti's work emerges a human story that is full of strength on one hand and vulnerability on the other. Shruti's work also reflects the chaos in the urban milieu and seeing through the eyes of a townswoman, she reacts to taut nerves, tense forms.
Equally important are contributions by the others who impart the colours of life in Summer Hues at Shridharani.
Sculpting coherence while dwelling on relationships
Gallery Espace presents a solo show of sculptures by the Ahmedabad-based Karl Antao at Open Palm Court Area, India Habitat Centre from April 1 to April 7.
Originally a Goan, who lived most of his life in Mumbai, Karl now lives in Ahmedabad. While he was studying for his BFA, Applied Arts, from the J.J. School of Art, Mumbai (1986-91), he was traditionally working in phases as a graphic artist, set designer and visualiser. After the completion of his degree, he joined Lintas, Mumbai, again as a visualiser. And it was in the creative department of this agency that Karl realised the potential sculptor in him.
It was a campaign for Newstrack, a current affairs news magazine for Doordarshan, wherein he applied sculpture to communicate the purpose of addressing via the print and mass media. Although the campaign was not used by the advertiser it provided enough stimulus for Karl Antao to embark upon a new journey. And this passage provides him the scope to introspect the dynamics of relationships, the corresponding instincts of mankind and animals.
He says, "My sculptures articulate a coherence that give shape to a world of images, thoughts, experiences and ideas. Interpreting the personal, mental and physical encounters into wider context of concern and keeping then more universal than specific. Politics at different levels provide me with a premise of inquiry and search and an area to position, construct, question my visual language into a sculpture, through metaphorical means of expression and at times playing with the satire within it."
Video art with the flavour of Indo-Pak initiative
Apeejay Media Gallery, the premier forum for new media art in India, presented `Along the X-Axis: Video Art from India and Pakistan,' a pioneering effort to bring together Pakistani new media artists alongside their Indian counterparts. Eight acclaimed new media artists from Pakistan joined hands with five leading artists in India to showcase their exhibits on a common platform.
This exhibition presented a selection of vivid displays in digital art, which are independent expressions by the artists. These reflect a multitude of emotions, partly shared and partly exclusive to Pakistan and India, each crafted into visually impressive installations. Through the installation, the artists deal with a plethora of emotions like changing urban spaces, the impact of globalisation, the Iraq war, voyeurism, and the notion of painting.
Mirroring ideas and concerns in both countries, the works mainly articulate individual manifestations of fears and happiness etc.
Speaking about the exhibition, Ms Priti Paul, Director, Apeejay Surrendra Group, said, "Apeejay Media Gallery has been a proud host of several events in the past, with participation from international and Indian artists alike. This event is special because for the first time Apeejay Media Gallery creates a platform for work done by artists from Pakistan. The shared cultural roots between the two countries add to an uncanny resemblance to our lives and our times. This exhibition is not about Indo-Pak relations. It is about reaching a common platform through video art, it is about a shared feeling of aestheticism. This exciting and soul-stirring exhibition will arrest your attention with an uncanny resemblance to the world around."
The exhibition witnessed the participation of artists like Aisha Khalid, Alia Syed, Bani Abidi, Hamra Abbas, Huma Mulji, Sophie Ernst, Rashid Rana and Shahzia Sikandar from Pakistan. The Indian stalwarts of video art who participated were Nalini Malani, Navjot Altaf, Vishal Dhar, Subodh Gupta and Baiju Parthan.
Explaining the essence of this exhibition, Ms Pooja Sood, curator, Apeejay Media Gallery, said, "In a graph, the X-axis runs from right to left. In most analyses, the variable measured on the X-axis are considered to be the `independent variables', a variable that is identified outside the workings of the model. This exhibition expresses the same independence of thought by the artists from Pakistan. It presents a variety of digital artworks by artists in both countries, which coincidentally resonate with each other at various levels: both conceptual and visual."
Bonsai bonanza to liven up lazy Sunday
The Indian Bonsai Association is having its 23rd Annual Bonsai Exhibition on Sunday, April 4, at Kamal Mahal Hall, Hotel ITC Maurya Sheraton, at 10.30 am which will be inaugurated by Mrs Sheila Dikshit, Chief Minister of Delhi. The exhibition shall remain open up to 5.30 pm. More than 200 bonsai trees are going to be displayed. This exhibition is considered to be one of the best in Asia and is being visited by a large number of people and has always been greatly appreciated. From time to time this exhibition has been graced by many political and creative personalities like Mrs Usha Narayanan, Mrs Sonia Gandhi, Mrs Sushma Swaraj, Mr Amjad Ali Khan, Mr Madan Lal Khurana, Mr Arun Shourie etc. Mrs Sonia Gandhi even displayed the Maple Bonsai done by her in one of the exhibitions.