CM wants to shelve refinery project: Badal
Badal woos Tohra loyalists
Tohra's widow to open Kanwaljit's poll office
Jagmeet shouldn't have shifted from Faridkot: Brar
BSP announces candidates for 3 seats
BSP woos ex-soldiers with one rank, one pension
3 observers for Faridkot constituency
Zora Singh Mann's plea to EC
Advani to visit Punjab on May 2
Ludhiana has maximum number of voters


Ludhiana page

: SAD-BJP nominee to file papers on April 21
Poll Round-Up: Claims, counter-claims by candidates
---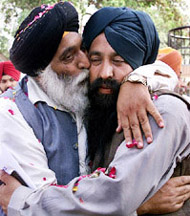 500 Sikhs from Pakistan arrive
Wagah (Amritsar), April 13
A Jatha of 500 Pakistani Sikhs, including Sehajdhari Sikhs from Sindh and Peshawar arrived here to participate in the 500th birth anniversary of second Sikh Guru, Guru Angad Dev on the eve of Baisakhi here today, The auspicious occasion has helped re-union of families separated during the partition of the country. Members and senior functionaries of the SGPC showered rose petals when Pakistani Sikhs who brought 36 old 'Birs' of Guru Granth Sahib on their heads for cremation as per Sikh traditions in India crossed the Radcliff Line.
Mr Harbhajan Singh (L), resident of Amritsar, hugs his nephew Santokh Singh from Pakistan's Peshawar city on meeting him after 40 years at the Wagah border on Tuesday. — Reuters photo
| | |
| --- | --- |
| | |
| An illuminated Damdama Sahib on the eve of Baisakhi in Bathinda on Monday. — PTI | Two boys take bath in filtered water near the Golden Temple in Amritsar on Tuesday. — Photo by Rajiv Sharma |
FCI Dist Manager, 2 assistant managers held by CBI
Involved in bribery, rice scam


Ferozepore, April 13
Central Bureau of Investigation (CBI) arrested officials from Chandigarh last night. Food Corporation of India District Manager (DM), V.M. Subramanian and Mr Subhash Satija and Mr Ashok Khosla, both Assistant Managers (quality control and depot for their alleged involvement in various scams.

Reimburse excess money charged from medical students: CPI


Amritsar, April 13
The CPI has demanded the reimbursement of excess or wrongfully charged amounts from students of Government Medical College here.

Police file on CBSE paper leak scam gathers dust


Amritsar, April 13
Even as the New Delhi police busted a gang involved in question paper leak of the All-India Pre-Medical Test organised by the CBSE and arrested two persons, the file pertaining to the unearthing of first CBSE paper leak scam has been gathering dust as the police failed to make any headway in the racket.

14 agitating farmers rounded up


Amritsar, April 13
Nearly 14 farmers members of the Lok Morcha Punjab, including state general secretary Amolak Singh and district general secretary Gurbachan Singh, who were agitating against the state government by wearing black robes and holding black flags, were rounded up today by the district police from Jallianwala Bagh here.
The General Categories Welfare Federation, Punjab, has urged the President, the Union Government, the Election Commission and Parliamentarians to work for abolishing reservation in the Lok Sabha and various state Assemblies as the Constitution had provided reservation only for 10 years.

Jathedar against placing of Bir on conference stage


Talwandi Sabo, April 13
Bhai Balwant Singh Nandgarh, Jathedar, Takht Damdama Sahib, has decided not to allow the SAD (Badal) leadership to place Bir of Guru Granth Sahib on its stage while holding its political conference in the Bhai Dal Singh Divan Hall here tomorrow on Baisakhi, being celebrated as per the Nanakshahi calendar.

Construction works to be probed


Ropar, April 13
The Deputy Commissioner here, Ms Seema Jain, today ordered an inquiry into the construction of Bela (part-II) colony by the local Improvement Trust.

Nandita Das to play a different role


Patiala, April 13
The world may know of her as an actress par excellence, film critics may have hailed her as the reincarnation of Smita Patil but for Nandita Das acting remains more of an interest than a profession. Her vocation in life remains what it was years ago after she completed her MSc in Social Work and went on to work actively for various NGOs committed to the cause of children.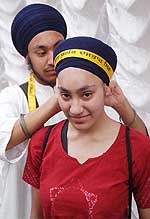 Akal Purakh di Fauj observes Turban Day


Amritsar April 13
Devotees had dip in the holy sarovar that was half filled here today on the eve of Baisakhi. According to Nanakshahi calendar Baisakhi is to be celebrated in the golden temple tomorrow.

A member of 'Akal Purakh ki Fauj' helps an NRI girl tie her turban at the Golden Temple complex in Amritsar on Tuesday. — PTI photo

District foundation day: celebrations begin


Fatehgarh Sahib, April 13
Mr Justice O.P. Verma Governor, Punjab, today inaugurated a week-long celebrations by lighting a candle at an impressive function held at BBSB Engineering College.

Charges against doctor withdrawn


Patiala, April 13
A complainant, on whose plea a case of negligence was registered against a Sirhind-based doctor following the death of his brother, has now filed an affidavit asking the police not to pursue the case.
Former militants and some radical Sikhs will float the Shiromani Khalsa Dal (SKD), headed by Daljit Singh Bittu, a former president of the Sikh Students Federation, who is currently lodged in Nabha jail in connection with the sensational Ludhiana bank dacoity and certain other cases, after performing 'ardas' at Akal Takht here tomorrow.

English language newspaper launched


Patiala, April 13
A Patiala-based English language publication, Patiala Buzz, was launched amidst fanfare by the Deputy Commissioner, Mr Tejveer Singh, at a simple, but impressive, ceremony held at a hotel here today.
Thousands of devotees from all over India today took a dip in the holy pond of the historic Devi Talaab Temple here. Holy water of the Ganga was specially transported and mixed in the pond by the Devi Talaab Temple Management Committee.

Two brothers held for smuggling opium


Amritsar, April 13
The police arrested two brothers Didar Singh and Saheb Singh, allegedly associated with Sarabjit Singh Chachowalia, a Babbar Khalsa militant allegedly for possessing 500 grams of opium.
The Helping Hands Society, an NGO, organised its annual function at the Thapar Institute of Engineering and Technology (TIET). The Director, TIET, Mr S.C. Saxena, was the chief guest on the occasion.

Scholars for preserving cultural heritage


Amritsar, April 13
"With the changing scenario of modern global technology, there is a need to preserve the cultural heritage," said eminent Sikh scholar Giani Gurdit Singh after performing the clod-breaking ceremony of the Heritage Village project on the campus of Guru Nanak Dev University today.