M A I N N E W S
We have done it
Indians create Test history on Pak soil
M.R. Mishra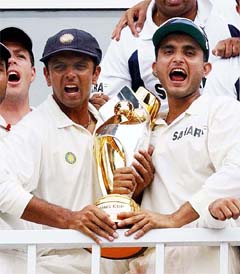 Indians celebrate their victory in the Test series as Danish Kaneria (L) and Asim Kamal of Pakistan walk back to the pavilion at the Pindi Cricket Stadium on Friday. ó PTI photo
Rawalpindi, April 16
India added another glorious chapter to their cricketing history when they trounced Pakistan by an innings and 131 runs for their first-ever Test series triumph in this country.
The magnificent win, which came on the fourth day of the series-deciding Test, gave India a 2-1 victory in the series that has been played in a spirit of exemplary goodwill and bonhomie.
The Indians could not have asked for a more fitting finish to a match which they dominated right from the first session, as Indian skipper Sourav Ganguly plucked last man Danish Kaneria off Sachin Tendulkar, much to the delight of his euphoric teammates, waiting for this moment since this morning.
The architects of the Indian win were not one but many. But one cannot take away the credit from Rahul Dravid who scored 270 to set up the huge first innings score of 600 and Lakshmipathy Balaji who bowled his heart out to return figures of three for 108.
Balaji was also instrumental in bundling out Pakistan for 224 on the first day of the match itself, emerging as the highest wicket taker with figures of four for 63.
Trailing by 376 runs in the first innings, Pakistanís batting collapsed for the second time as they were packed off for 245 in 54 overs by the visitors about half an hour after the lunch break today.
The Indians thus completed their first full fledged tour of Pakistan in nearly 15 years on a happy note, having also registered a 3-2 win in the preceding one-day series.
It was the first away series win in 11 years for India who had defeated Sri Lanka 1-0 in 1993.
The victory also saw Ganguly making his own piece of history as not only did he become the first captain to lead India to a series win on Pakistani soil but also became the most successful skipper ever with 15 Test wins, erasing Mohammad Azharuddinís record of 14 wins.
Having reduced Pakistan to 49 for two overnight, the Indians were desperate to finish off the job and in their restlessness dropped as many as five catches in the first half an hour of play.
However, they made up for the lapses soon, snapping up five quick wickets including that of in-form captain Inzamam-ul Haq, to tighten the noose around the hosts in overcast conditions.
The hosts lost the wickets of Kamran Akmal (23), Yasir Hameed (20), Haq (9), Yousuf Youhana (48) and Mohammad Sami (0) during the extended pre-lunch session to allow the visitors to come within sniffing distance of victory.
The post-lunch session saw Indians take the remaining three wickets, including that of Shoaib Ahktar who made a cameo 28 off 14 balls.
The day did not start the way the Indians had expected as they saw several chances going amiss.
Night watchman Akmal Kamal survived a chance when he edged between VVS Laxman at second slip and Virender Sehwag at third slip in the very first over from Balaji and then had another stroke of luck when Yuvraj Singh floored a catch at short leg, Irfan Pathan being the unlucky bowler.
Akmalís luck, however, ran out in the third over of the morning when Balaji knocked down his stumps with a beauty of a delivery which beat the batsman all ends up.
Then it was Tendulkarís turn to drop a catch at point off Balaji, Hameed being the beneficiary when he was on eight. The sequence of dropped catches continued for some more time and Dravid also spilled Inzamamís edge at first slip off Pathan while Kumble dropped the same batsman at gully off the same bowler.
Finally, Nehra, who replaced Pathan from the pavilion end, struck in his very first ball by removing Hameed with young Parthiv Patel latching on to a brilliant catch, diving full length to his left.
The home team suffered a huge jolt a few minutes later when the in-form Inzamam perished cheaply with the hard working Balaji being the wicket taker. Inzamam pushed forward but only succeeded in edging to Patel who took a low catch.
Yousuf Youhana (48) and top-scorer Asim Kamal (60 not out) tried to stem the rot as the two batsmen launched a counter attack by going for their strokes.
Though the Indian pacers managed to exploit the overcast conditions and extract some swing, they were also guilty of bowling some loose deliveries which were promptly despatched to the boundary.
Scoreboard
Pakistan (1st innings): 224
India (1st innings): 600
Pakistan (2nd innings):
Farhat c Sehwag b Balaji 3
Umar lbw b Pathan 13
Hameed c Patel b Nehra 20
Akmal b Balaji 23
Inzamam c Patel b Balaji 9
Youhana c & b Kumble 48
Kamal not out 60
Sami c Dravid b Kumble 0
Akhtar c Nehra b Kumble 28
Akbar c Pathan b Kumble 12
Kaneria c Ganguly b Tendulkar 0
Extras: (b-5, lb-11, w-2, nb-11) 29
Total: (all out in 54 overs) 245
Fall of Wickets: 1-30, 2-34, 3-64, 4-90, 5-94, 6-175, 7-179, 8-221, 9-244.
Bowling: Pathan 15-6-35-1; Balaji 20-2-108-3; Kumble 8-2-47-4; Nehra 6-2-20-1; Ganguly 4-0-18-0; Tendulkar 1-0-1-1. ó PTI