Three-member panel to monitor poll ads
New Delhi: The Chief Electoral Officer of Delhi today constituted a three-member committee to scrutinise and monitor poll advertisements for the Lok Sabha elections.
BJP can't win under its own steam in Haryana: Chautala
Rewari, April 16
Launching a scathing attack on the BJP, the Haryana Chief Minister and INLD chief, Mr Om Prakash Chautala, said here today the BJP could go to any extent in its bid to recapture power at the Centre.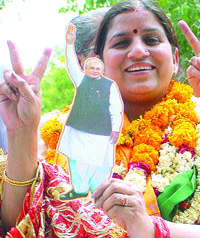 It's bahu!
Smriti Irani BJP nominee from Chandni Chowk
New Delhi, April 16
Actress Smriti Malhotra Irani is the BJP's candidate in the Chandni Chowk parliamentary constituency. The general secretary of the party, Mr Mukhtar Abbas Naqvi, today said that the party's president, Mr Venkaiah Naidu, has approved her name.


BJP Karol Bagh candidate Anita Arya after filing her nomination in the Capital on Friday.
— Tribune photo by Mukesh Aggarwal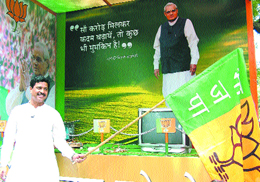 BJP leader Pramod Mahajan flagging off the rath for UP for the forthcoming Lok Sabha elections in the Capital on Friday. — Photo by Kamal Singh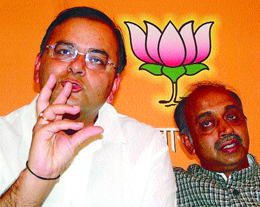 Mr Vijay Goel, BJP candidate from Sadar seat, with Mr Arun Jaitley, addressing a Press conference in the Capital on Friday. — Photo by Kamal Singh

Goel rakes up the ghost of Sikh riots


New Delhi, April 16
The BJP candidate in the Sadar parliamentary constituency, Mr Vijay Goel, today raised a question mark over the educational qualification of his Congress rival Jagdish Tytler and wanted to know what prompted him not to disclose it. He also asked why the Congress was putting up Mr Tytler, who had been involved in the 1984 anti-Sikh riots. "The who's who does not mention Tytler's educational qualification.... Why is he hiding his educational qualification.... There is something fishy in it", Mr Goel told mediapersons.

SAD attacks Cong for fielding Sajjan, Tytler


New Delhi, April 16
The Shiromani Akali Dal (SAD) has stepped up its attack on the INC for fielding two controversial leaders as its candidates in the Lok Sabha election but the new head of the Delhi Sikh Gurdwara Management Committee (DSGMC) refused to comment. "The move has pulled the mask of secularism off the Congress face", said SAD Delhi chief Avtar Singh Hit, a close lieutenant of former Punjab Chief Minister Parkash Singh Badal in the wake of the INC naming Mr Sajjan Kumar and Mr Jagdish Tytler as its candidates.

Faridabad
Administration told to introduce CNG-based autorickshaws
Faridabad, April 16
While the three-wheeler autorickshaws in the town have been a synonym of the increasing air pollution and a cause of heavy congestion on the main roads, their owners, too, are not happy with the present conditions governing their plying.

HC notice to Delhi Govt over autorickshaw quota
New Delhi, April 16
The Delhi High Court today issued notices to the city Government and Road Transport Secretary on a petition filed by an autorickshaw union, seeking a direction to them not to divert the quota of CNG-run autorickshaw permits reserved for the OBC and the ST category to the General category.

Wheat crop worth Rs 4 lakh destroyed
Sonepat, April 16
Standing wheat crop in 37 acres of cultivable land worth about Rs 4 lakh was destroyed in a devastating fire caused by a short circuit at Gangesar village, about 50 km from here, yesterday.
Labourer killed
Court directs 'piada' to beat drums outside college
Sonepat residents plagued by shortage of water
Sonepat, April 16
The drinking water supply system in this fast growing historical city, which is a district headquarters in Haryana, continued to be critical with little hope for any speedy solution.
Farm workers denied wages
Dadri, April 16
A large number of farm workers, who were employed in spraying insecticides and pesticides in the villages during outbreak of epidemics in 2002 and 2003, have not yet been paid for their work.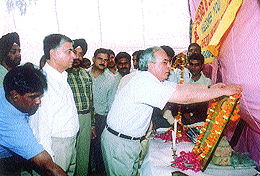 Baba Saheb's birth anniversary celebrated
New Delhi, April 16
The 113th birth anniversary of Baba Saheb Dr Bhim Rao Ambedkar was celebrated by the All India Punjab and Sind Bank SC/ST Employees Welfare Council at the Parliament Street here on Wednesday.

Punjab & Sind Bank Director V. K. Chopra during a function to celebrate the birth anniversary of Baba Saheb Dr Bhim Rao Ambedkar in the Capital on Friday.

Rights group protests eviction in Yamuna Pushta


New Delhi: The 'forced eviction' of Yamuna Pushta residents in East Delhi had activists, organisations and groups staging a protest today against what they alleged was the ''high-handed'' ways of the government to uproot people from their dwellings.

Sonepat


Two get six months' RI under Excise Act
Sonepat, April 16
The Judicial Magistrate First Class, Ms Rajni Yadav, yesterday convicted two accused, Jaibeer and Jai Bhagwan, under the Excise Act and sentenced them to six months' rigorous imprisonment each.
Anganwadi workers take out march
Woman missing since March 14
Two hit by vehicle, hospitalised
DELHI DIGEST
Delhi Fire Service pins flag on Lt-Governor
New Delhi, April 16
The Delhi Fire Service today pinned a flag on the Lieutenant-Governor, Mr Vijai Kapoor, here today in connection with Fire Service Week.
Three held for cricket betting
Two found murdered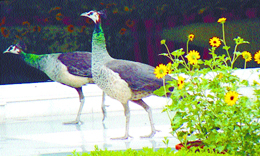 SPEAKING OUT
The menace of copying in Matriculation and Secondary examinations could not be checked despite all the efforts put in by the Haryana School Board authorities.

Pray make the right choice while you vote

Model Code of Conduct

Positive issues need to be highlighted
in good COMPANY. — Tribune photo by Mukesh Aggarwal