PUNJAB
HARYANA
JAMMU & KASHMIR
HIMACHAL
REGIONAL BRIEFS
NATION
OPINIONS
MAILBAG
BUSINESS
SPORTS
WORLD
N A T I O N

Sonia attacks Vajpayee on coalition issue
Vasai, April 19
Prime Minister Atal Bihari Vajpayee's statement in Nagpur on Saturday that he is "tired of coalition" politics has become a convenient stick for Congress President Sonia Gandhi to beat him with. Addressing voters here on behalf of party candidate Govinda, Ms Gandhi accused the Prime Minister of changing his stand frequently.
Venkaiah downplays PM's statement on coalition

Cong asks EC to take final view on exit polls


Congress President Sonia Gandhi and Bollywood star and Congress candidate Govinda wave to a large gathering during an election campaign rally in Vasai, Mumbai, on Monday.
— Reuters
Justice Shambhu Singh files papers
Bhopal, April 19
The former Madhya Pradesh High Court Judge, Mr Shambhu Singh, filed his nomination papers as Congress candidate from the Rajgarh Lok Sabha constituency this afternoon. He will face former Chief Minister Digvijay Singh's younger brother Laxman Singh, who had been representing Rajgarh in Lok Sabha as a Congress member since 1994 but had defected to the BJP a few months back.
Patel votes crucial in 14 seats
Ahmedabad, April 19
Come elections and one crore Patels become the most sought after community in Gujarat as their electoral preference has a determining influence in 14 of the 26 Lok Sabha constituencies in the state.
EC over-reacted on Lucknow incident: BJP
New Delhi, April 19
Although the BJP did not make any official statement today about the April 12 stampede in Lucknow involving senior party leader Lalji Tandon, some top party leaders felt that the Election Commission had 'over-reacted' on the issue and that the "party should not be penalised for individual's action".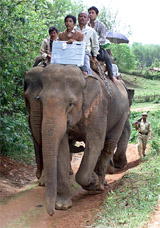 Election officials carry electronic voting machines on elephants at a village near Guwahati on Monday. 175 million electorate would decide the fate of 1,103 candidates, including 81 women, in the fray for 140 Lok Sabha seats and 344 assembly segments on Tuesday. — Reuters



Farmers may upset BJP's calculations
April 19, 2004
SC upholds Haryana cops' promotion for bravery
April 18, 2004
Defer hearing on fee cut, Ahmedabad IIM asks SC
April 17, 2004
Bangalore IIM sees fee-cut decision as interference
April 16, 2004
SC expresses concern over misuse of religion
April 15, 2004
Lucknow incident criminal, says Cong
April 14, 2004
VHP welcomes inclusion of Ayodhya in NDA manifesto
April 13, 2004
Advani behind Bofors story, says Cong
April 12, 2004
One killed in attack on RJD office
April 11, 2004
Maharashtra Govt threatens to sue Modi
April 10, 2004