Mann, Arvind Khanna enter election fray
Sangrur, April 21
Mr Simranjit Singh Mann, candidate of the Shiromani Akali Dal (Amritsar), Mr Arvind Khanna, candidate of the Congress, and Mr Mangat Rai Bansal, candidate of the Bahujan Samaj Party (BSP), today filed their nomination papers from the Sangrur parliamentary constituency for the current Lok Sabha elections before the Returning Officer-cum-Deputy Commissioner Sarvjit Singh here.
Kanwaljit: CM destroying Cong
Patiala, April 21
Addressing a gathering in DCW, near Jhill village here today, Capt Kanwaljit Singh, SAD candidate from the Patiala Parliamentary constituency, accused the Chief Minister, Capt Amarinder Singh, of destroying the Congress after derailing the economy of the state and playing with lives of the people during his two-year rule.

Gujarat riots stain on BJP image: Sidhu
Amritsar, April 21
Cricket commentator-turned-BJP candidate Navjot Singh Sidhu has described the communal violence in Gujarat as an unfortunate blemish on the BJP's image. Talking to newspersons after addressing a series of election rallies here last night, Sidhu said the incidents in Gujarat needed to be forgotten as the party had to look towards the future.


Has Naresh Gujral violated poll code?
Jalandhar, April 21
Mr Naresh Gujral, SAD candidate and son of former Prime Minister I.K. Gujral, today alleged to have violated the Model Code of Conduct when he went to file his nomination papers in a convoy, which included more than 200 vehicles.
Cong preparing bogus votes, claim SAD, BJP
Kapurthala, April 21
The Shiromani Akali Dal and the BJP have expressed apprehension regarding the enrolment of bogus votes in the Kapurthala segment of Jalandhar Lok Sabha seat by Congress MLA Rana Gurjit Singh.
Charges based on forged letter, claims Raninder
Chandigarh, April 21
Mr Raninder Singh, son of the Chief Minister, Capt Amarinder Singh, said today that he had enough evidence at his command to prove that the allegations levelled against him regarding so-called ''transaction of money in a foreign company" were based on a fabricated letter and other documents.
Elaborate arrangements for poll in Hoshiarpur
Nawanshahr, April 21
Mr Harjit Inder Singh Grewal, Deputy Commissioner, in a press note issued here yesterday, said elaborate arrangements had been made to hold impartial and peaceful Lok Sabha elections in the district.
Dullo family owns assets of 2 cr
Ropar, April 21
The Congress nominee from the Ropar reserve parliamentary constituency, Mr Shamsher Singh Dullo, today filed his nomination papers before the Deputy Commissioner-cum-returning officer, Ms Seema Jain, here today.
Capt Kanwaljit's wife, son join campaign
Dera Bassi, April 21
The wife and son of Capt Kanwaljit Singh today joined his election campaign as the Shiromani Akali Dal (SAD) candidate from the Patiala parliamentary constituency.
Arrangements reviewed
Fatehgarh, April 21
Mr R. Reddy, election observer for the 7-Ropar(R) parliamentary constituency, today reviewed the poll arrangements with the District Election Officer-cum-Deputy Commissioner for the smooth, free and fair conduct of elections.
Wife inaugurates Dhindsa's poll office
Barnala, April 21
Ms Harjit Kaur Dhindsa, wife of Mr Sukhdev Singh Dhindsa, Union Fertilisers Minister, and SAD nominee from the Sangrur Lok Sabha constituency, inaugurated the poll office of her husband in Sadar Bazar yesterday evening. She also addressed an election meeting urging the people to vote and support Mr Dhindsa in the forthcoming Lok Sabha poll.


Congress 'promoting' criminalisation in politics

Cong leader flays PUNSUP functioning

SAD(A)'s Bathinda ex-chief dead

Cong leader joins SAD

Muslim body's plea on voters' list

Shiv Sena leader joins BJP
Amarinder threatens Centre on loan repayment
Sangrur, April 21
Capt Amarinder Singh, Chief Minister of Punjab, today threatened the Union Government that he would not pay the special term loan advanced to the Punjab Government during 1985-1993 to curb militancy in the state.
CET date changed
Mohali, April 21
Punjab Technical University (PTU) has postponed by a day the Common Entrance Test (CET) scheduled to be conducted by the university on June 1. The test will now be held on June 2.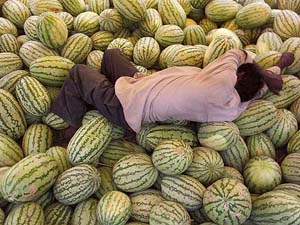 A watermelon seller takes a siesta on a hot Wednesday afternoon in Patiala. — Photo by Rajesh Sachar
Sikhs urged not to vote for tainted Cong nominees
Chandigarh, April 21
The All-India Shiromani Akali Dal headed by Mr Jaswant Singh Mann today urged Sikh voters in Delhi not to vote for those Congress candidates who were allegedly involved in "killing" of hundreds of Sikhs in Delhi. Addressing a press conference here today, Mr Mann said that the Congress should not have given party ticket to such candidates. He said that Sikhs should work for the defeat of such candidates. He said that his party would contest the SGPC elections scheduled to be held on July11.
JE who exposed scam fears record tampering
Bathinda, April 21
Mr Moti Lal, Junior Engineer (JE), Punjab Mandi Board, who exposed a scam in the civil works executed by the department in the district in 2002, has expressed apprehension that the official involved in the scam could tamper with the records.
Civil Lines residents face water shortage
Moga, April 21
Residents of the Civil Lines area, where the Deputy Commissioner and other officers reside, have been facing an acute shortage of drinking water for the past several days.
Pak delegation given warm send-off
Fatehgarh Sahib, April 21
On the last day of their stay in India, a delegation of Pakistani pilgrims visiting Rauza Sharif was accorded warm farewell parties by Rotary Club Sirhind. The Deputy Commissioner also hosted a party his house and the SGPC hosted another at Mata Gujri College here today.
Bir Devinder to visit Chicago
Mohali, April 21
The Deputy Speaker, Punjab Vidhan Sabha, Mr Bir Devinder Singh, will be participating in the 500th birth anniversary of Guru Angad Dev at Gurdwara Gurjot Parkash Sahib, Chicago, as a representative of the Punjab Government.
Trust to set up college in Tohra's memory
Fatehgarh Sahib, April 21
The Baba Banda Singh Bahadur Education Trust, Fatehgarh Sahib, has decided to set up a college of architecture by the name Panth Rattan Jathedhar Gurcharan Singh Tohra.
Two suffer from food poisoning
Phagwara, April 21
A brother and sister suffered from food poisoning after taking fast food from an eatery here yesterday. They were hospitalised. They were identified as Mr Kamalpreet Singh and Ms Rashpal Kaur. Both are children of a politician. It may be mentioned here that a family had fallen ill after taking fast food from this eatery two months back.
6-hr-power for farm sector
Patiala, April 21
The Punjab State Electricity Board (PSEB) has decided to provide six-hour 3-phase power supply to agriculture pump sets with immediate effect.


HIGH COURT
Bench changed
Chandigarh, April 21
If the Director General of Police can be ordered to be shifted on the ground that his wife is contesting the election and that he can influence the elections, shouldn't the Chief Ministers of Punjab and Haryana also be shifted on similar grounds?
Impeachment of judges demanded
Bathinda, April 21
The District Bar Association, Bathinda, has urged Parliament to impeach the judges of the Punjab and Haryana High Court who proceeded on leave together.


Gang of dacoits busted, 5 held
Fatehgarh Sahib, April 21
The district police claims to have arrested a gang of robbers and dacoits, who used to strike at night and loot cash and valuables. They were arrested on specific information received from near Sirhind while they were planning to strike in residential areas during the night.
Case against 'fake' medical practitioner
Bathinda, April 21
A case was registered against Mr Malkeet Singh, a resident of Balluana village of this district for his allegedly posing as a medical practitioner without requisite qualifications.
Ex-DEO booked for fraud
Ropar, April 21
The anti-fraud cell of the local police has booked former District Education Officer (Primary) Malti Batra on the charges of committing fraud.
Tanker carrying chemical overturns, 1 dead
Ropar, April 21
One person was burnt to death when a tanker (HR-46-5467) carrying Hexane chemical for Ranbaxy pharmaceutical unit in Arson, near Ropar, overturned near Chakalan village, about 10 km from here yesterday night.
Three die in road accidents
Hoshiarpur, April 21
Three persons were killed in different road accidents in Hoshiarpur district yesterday.
Nine-month-old boy murdered
Tarn Taran, April 21
A nine-month-old boy, Kishan, was snatched from his grandfather Satpal by Gurinder Singh in fit of rage and murdered last evening at Khadoor Sahib .
One killed in mishap
Kharar, April 21
A woman was killed after a bus collided with a scooter near Balongi here today.
Woman robbed of earrings
Bathinda, April 21
Ms Aarti Bansal, resident of Bank Colony in Guru Gobind Singh Nagar of this town, was robbed of her earrings after being made unconscious by an unidentified man while she was standing outside her house this afternoon.
Truck driver booked on sodomy charge
Bathinda, April 21
In a bizarre incident, Sonu alias Harpreet Singh, a truck driver allegedly committed sodomy with a seven-year-old boy in the truck owned by the accused in Janata Basti of Rampura town of this district on Monday.
Man beaten up by cops, dies
Jalandhar, April 21
Jasbir Singh (30), a resident of the local Ajit Nagar, died after he was allegedly beaten up by a group of Punjab police personnel, who kept him in illegal detention for more than 20 hours for a petty offence. The victim's father alleged that the police refused to register a case against the erring police official.
Two crushed to death
Malerkotla, April 21
Two youths were crushed to death by a truck on Thandi Sadak near a telephone exchange here yesterday.
Video cassettes, CDs seized
Abohar, April 21
Hundreds of audio and video cassettes besides CDs were seized by the police in a raid carried out in two shops in the Sadar Bazar here last evening. As news spread in other markets and localities, most of the audio video parlours put down their shutters.
Woman hurt as gun goes off
Amritsar, April 21
Paramjit Kaur, a resident of Krishna Avenue, was seriously injured in an accidental firing incident outside Khurana Jewellery House at Ebony central mall when she was coming out of the jewellery house about 4 p.m. here today.
1,050 kg of poppy husk seized
Jalandhar, April 21
The district police today claimed to have busted an inter-state gang of smugglers of narcotics with the arrest of four persons and the recovery of 30 sacks of poppy husk weighing 1,050 kg.


Punjabi varsity core depts being 'neglected'
Patiala, April 21
The Forum for Educational Actions and Reforms (FEAR) alleged today that the core departments of Punjabi University were being neglected by the authorities. The departments included Guru Granth Sahib Studies, Guru Gobind Singh Department of Comparative Religion, Department of Punjabi Literary Studies and Department of Dictionary (Lexicography).