M A I N N E W S
Eight killed in poll violence
55 to 60 per cent turnout in second phase
Tribune News Service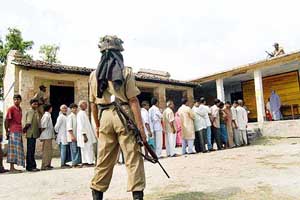 People wait for their turn to cast their vote amid tight security at a polling station in the Hajipur constituency of Bihar on Monday.

— PTI photo
New Delhi, April 26
Barring sporadic violence, in which eight persons were killed, an estimated 55 to 60 per cent of the 175 million voters exercised their franchise in the second phase of the Lok Sabha polls for 136 constituencies spread over 11 states, the Election Commission said here today.
Deputy Election Commissioner A. N. Jha said repoll would be held in about 100 polling stations on April 28 where electoral malpractices had come to light. The final list of polling stations where re-poll would be held would be decided tomorrow.
With today's poll, the electorate in 279 parliamentary constituencies, out of 543-member Lower House, have exercised their franchise for the 14th Lok Sabha.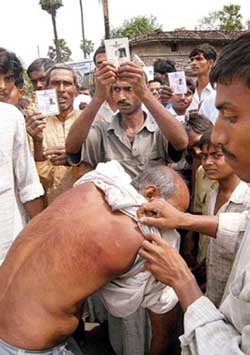 A voter shows his injury marks after he was allegedly beaten up by the police in the Lalganj area of the Vaishali constituency on Monday. — PTI photo
Andhra Pradesh recorded the highest voters' turnout of 68-70 per cent while Srinagar-Badgam constituency in Jammu and Kashmir registered the lowest polling of 21 per cent.
Poll-related violence claimed eight lives in four states — two each in Bihar, Uttar Pradesh and Jharkhand and one each in Andhra Pradesh and Manipur. This, the Election Commission claimed, was "minor" and said there was no major untoward incident, although there were several reports of group clashes.
Voters turnout in Assam was the second highest with 65 to 70 per cent, followed by Orissa (65 per cent), Karnataka (55-60 per cent), Maharashtra, Bihar, Jharkhand, Goa, Manipur (all 55 per cent) and Uttar Pradesh (45-50 per cent).
About 40 per cent of the Kashmiri migrants from Srinagar settled in Delhi exercised their franchise, he said.
Among the 1,278 candidates whose electoral fortunes was today decided included Congress President Sonia Gandhi, her son Rahul Gandhi, Lok Sabha Speaker Manohar Joshi, Defence Minister George Fernandes, RJD supremo Laloo Prasad Yadav, BSP chief Mayawati, 10 union ministers and two former prime ministers.
The EC said polling was also held for three Assemblies in Andhra Pradesh (147), Orissa (70) and Karnataka (104).
Mr Jha said there was no specific complaint from Rae Bareli from where Congress President Sonia Gandhi contested.
Asked about the BJP demand for repolling in an entire Assembly segment of Chhapra constituency in Bihar, where RJD President Laloo Prasad Yadav was locked in a tussle with Civil Aviation Minister Rajiv Pratap Rudy, he said the poll panel was awaiting reports from the Returning Officer.
There were 60 women candidates in the fray with Uttar Pradesh accounting for 16 of them. The politically-decisive state of UP also had the highest number of Independent candidates for a seat — the Ghosi parliamentary seat which witnessed a contest between 23 candidates, highest for a seat going to polls in the second phase.
To accommodate the names of all candidates, the Election Commission had installed two Electronic Voting Machines (EVMs) in a polling station as one EVM can have the names of only 16 candidates.
Today's poll covered 32 out of 80 Lok Sabha constituencies in Uttar Pradesh, 24 out of 48 seats in Maharashtra, 21 out of 42 in Andhra Pradesh, 17 out of 40 seats in Bihar, 13 out of 28 in Karnataka, 10 out of 21 in Orissa, eight each in Assam and Jharkhand, two in Goa and one each in Manipur and Jammu and Kashmir.
Over one lakh personnel of central paramilitary forces were deployed in 11 states, with the CRPF itself positioning nearly 27,000 men for election duty for the Srinagar seat in Jammu and Kashmir. Besides the Central paramilitary forces, almost entire state police forces were out to ensure peaceful balloting.
The Election Commission has declared almost 46 per cent of the total 1.72 lakh polling booths for the April 26 Lok Sabha elections as sensitive or hyper-sensitive with Uttar Pradesh and Bihar accounting for the maximum number of hyper-sensitive polling stations.
While 28,119 booths were declared as hyper sensitive, 47,499 were stated to be sensitive. The commission wanted to ensure that additional security forces were deployed in all such booths for conduct of 'free and fair elections.'
Polling in the elections to the Lok Sabha and four Assemblies was scheduled to be held in four phases — April 20 and 26 and May 5 and 10.
However, elections for the two Lok Sabha seats in Tripura was postponed to April 22 because of a local festival in the north-eastern state.
Counting of votes will be done on May 13, except in the Andhra Pradesh Assembly polls for which counting will be taken up on May 11.