PUNJAB
HARYANA
JAMMU & KASHMIR
HIMACHAL
REGIONAL BRIEFS
NATION
OPINIONS
MAILBAG
BUSINESS
SPORTS
WORLD
Tuesday, April 27, 2004, Chandigarh, India
Updated at 3:00 am (IST)

Eight killed in poll violence
55 to 60 per cent turnout in second phase
New Delhi, April 26
Barring sporadic violence, in which eight persons were killed, an estimated 55 to 60 per cent of the 175 million voters exercised their franchise in the second phase of the Lok Sabha polls for 136 constituencies spread over 11 states, the Election Commission said here today.


In video (28k, 56k)


Editorial: Poll-time violence
Nation page:

BJP demands repoll at many booths in Bihar, UP


People run for cover as a policeman wields his lathi and (right) one of the injured voters after a clash outside a polling booth at Chapra in Bihar on Monday.
— Reuters/PTI
CAST YOUR VOTE
Should the Centre announce whether the Rs 5,799 crore anti-militancy loan given to Punjab has been waived off?

AGRICULTURE
EDUCATION
HEALTH
SCIENCE & TECHNOLOGY
CAREER GUIDE
SPORTS
HER WORLD
TRIBUNE CLASSIFIEDS
BRIDES WANTED
GROOMS WANTED
OTHERS
HOW TO PLACE ADVTS
Exit polls predict hung Parliament
Gains for Congress in AP, Maharashtra
New Delhi, April 26
The decision of the Congress to forge alliances in Maharashtra and Andhra Pradesh seems to have paid dividends with exit polls conducted by various TV channels predicting major gains in these two states for the party after the second phase of polling today.


Graphic: Exit poll tally as projected by TV Channels

SC declines stay on exit polls
Nation page

Congress upbeat after exit poll results

21 pc polling in Srinagar
Srinagar, April 26
The Srinagar parliamentary constituency registered 21 per cent polling in a "totally violence-free atmosphere" that sealed the fate of 13 candidates today, showing an increase of 9 per cent from that of the last Lok Sabha elections.

In video (28k, 56k)

THE TRIBUNE MAGAZINES
On alternate Mondays

On Sundays

On Saturdays

IN PASSING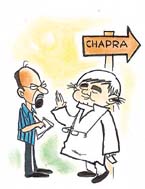 But for violence, nobody would have believed there had been elections in Bihar.

by Sandeep Joshi
(Click to enlarge)
Nation page

Voting procedure for Kashmiri migrants farce: Pandits

60 per cent polling in Karnataka
Bal Thackeray votes after 8 years


Mumbai, April 26
Shiv Sena Supremo Bal Thackeray today cast his vote after more than eight years at the Middle Income Group Cricket Club in suburban Mumbai. Thackeray's electoral rights had been suspended for six years from the mid-1990s for indulging in corrupt practices in an election.
Priyanka fulfils her filial duty
Reply sent on Governor's speech
Chandigarh, April 26
Following a directive from the Union Home Ministry, the Haryana Governor's secretariat has sent a report explaining the "factual position" on the speech given by the Governor at Rewari on the occasion of Ambedkar's birth anniversary on April 14.

Haryana page

Chautala wants Governor's removal
Jaitley refuses comment on High Court affair
Patiala, April 26
The Union Law Minister, Mr Arun Jaitley, today said the Chief Justice of India was looking into the affairs of the Punjab and Haryana High Court.


Notice to HC Registrar-Gen on Judges' en masse leave
New Delhi, April 26
A day after Chief Justice of India (CJI) V.N. Khare and CJI designate S. Rajendra Babu expressed unhappiness over the recent turn of events in the Punjab and Haryana High Court during their meeting with its judges, the Supreme Court today issued a notice to High Court Registrar-General on a PIL highlighting the issue.
Grenade attack at Mehbooba's rally
April 26, 2004
Campaigning for second phase poll ends
April 2

5

, 2004
Ultras attack Cong HQ in Srinagar, 12 injured
April 2

4

, 2004
EC seeks explanation on Finance briefing
April 23, 2004
Suicide bombers kill 68 in Iraq
April 22, 2004
55 pc cast vote, 17 killed
April 21, 2004
Punjab & Haryana HC in deep crisis
April 20, 2004
Kalam asks countrymen to vote 'positively'
April 19, 2004
Jethmalani: I will contest from Lucknow
April 18, 2004
EC: file case against Tandon
April 17, 2004