PUNJAB
HARYANA
JAMMU & KASHMIR
HIMACHAL
REGIONAL BRIEFS
NATION
OPINIONS
MAILBAG
BUSINESS
SPORTS
WORLD

B U S I N E S S

ONGC intends to enter power-generation arena
New Delhi, April 28
Oil and Natural Gas Corporation Ltd (ONGC), the public sector giant in the oil sector, today announced to enter into gas-based power generation business shortly. However, the company has no plans to enter into power transmission, and would explore the market for bulk consumers or to sell power to the national grid.
IOC approves merger with IBP
New Delhi, April 28
State-run Indian Oil Corporation said today it would merge with itself its 53-per cent subsidiary IBP Co Ltd to avoid duplication of business. "The IOC board has given an in-principle approval for merger of IBP with IOC to avoid duplication, reduce cost and achieve better operational efficiencies," IOC chairman M.S. Ramachandran told PTI here.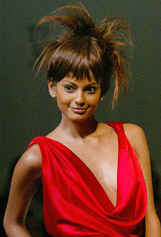 A model displays a creation by designers Gauri and Nainika at India Fashion Week in New Delhi on Wednesday. — Reuters


In video (28k, 56k)
Cash in on crash, advise brokers
Mumbai, April 28, 2004
The stock markets continued to be flat Wednesday with the 30-share Bombay Stock Exchange (BSE) Sensex closing slightly higher at 5722.22 points as compared to the previous close of 5712.28.

Asian Dev Bank predicts 7.4 pc growth
New Delhi, April 28
The Asian Development Bank (ADB) today forecast for India a growth of 7.4 per cent for fiscal 2004 and 7.6 per cent for 2005, but warned but that certain grey areas, such as jobless growth, high fiscal deficit, poor record on human development indicators and growing regional inequalities needed urgent attention.

Drip irrigation market just a trickle in Punjab, Haryana
New Delhi, April 28
The failure of the state governments in North India, including Punjab and Haryana, to impose 'reasonable' water user charges for irrigation is adversely affecting the growth of drip irrigation systems market, besides perpetuating the water crisis in the region.

Fly and meditate with Air Sahara
New Delhi, April 28
In a bid to provide better services to the passengers, private carrier Air Sahara has introduced an in-flight programme for stress management through meditation.
Govt plans to drape sops around textile industry
April 28, 2004
Gold hallmarking scheme a lacklustre affair
April 27, 2004
Postal Department gears up to face new challenges
April 26, 2004
'Tri-city' has a vast BPO potential, says Karnik
April 25, 2004
Billion-dollar cartel swells as Bharti joins it
April 24, 2004
Satyam net up 66.4 pc
April 23, 2004
PEDA signs pumping set deal with BHEL
April 22, 2004
Tax collection grows 18 pc
April 21, 2004
Tractor firms leave villages, explore cities
April 20, 2004
Levi Strauss targets 25 per cent growth
April 19, 2004
Birlasoft targets hospitals with eMedicare software
April 18, 2004