Ultras attack NC rally in Doda
2 killed, 60 hurt; CPM motorcade attacked in Pulwama
S.P. Sharma and Ehsan Fazili
Tribune News Service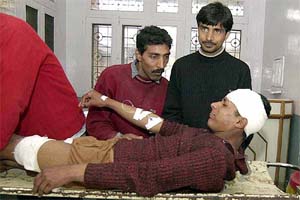 A person who was injured in a militant attack at Handwara police station is treated in a Srinagar hospital. — Tribune photo by Amin War
Jammu/ Srinagar, April 28
Two persons were killed and 60 injured as terrorists attacked an election rally of the National Conference candidate, Mr Khalid Najeeb Surawardhy, at Bagwa village, in Doda district today. The area falls in the Udhampur Lok Sabha constituency.
Reports said the condition of one of the injured was critical. Eight wounded persons have been shifted to the medical college, Jammu, for treatment.
Those killed have been identified as Shaadi Lal and Ghulam Nabi.
The terrorists launched a grenade at the venue of the rally from a hill. The security forces retaliated by opening fire at the ultras. However, Mr Surawardhy had not reached the place when the attack came.
No militant organisation has so far claimed responsibility for the attack, but it is being suspected that the Hizbulmujaheedin or Al-Badr could be behind the attack.
This is the second grenade attack on election rallies in Doda district. Earlier, the election rally of Mr Lal Singh, Health Minister, was attacked at Banihal in which one person lost his life and 12 were injured.
Polling for the Udhampur constituency will take place on May 10 in the fourth and last phase of election.
In stepped up violence ahead of the polling in Anantnag constituency next week, militants shot dead a worker of the PDP in Beijbehara area today. At least 11 others were injured when militants attacked the motorcade of an MLA, Mohammad Khalil Naik in Pulwama district, who escaped unhurt.
Both these incidents took place in the south Kashmir constituency of Anantnag which goes to the polls in the third phase on May 5.
In another incident, 22 persons, including 10 policemen and 12 civilians, were injured, three of them seriously, when militants hurled a grenade towards Handwara police station, in Kupwara district today. Three seriously injured were shifted to a hospital in Srinagar.
A police spokesman in Srinagar said unidentified militants shot dead Ghulam Ahmad Thakur, a PDP worker when they intruded into his house in Goori village near Beijbehara in Anantnag district last night.
Eleven persons, including two policemen, were injured when unidentified militants hurled a grenade and followed it by firing on the motorcade of Mohammad Khalil Naik, MLA at Bonagam, Shopian, in Pulwama district this morning. The CPM MLA, representing Wachi constituency of Pulwama district, escaped unhurt. Two vehicles were damaged in the attack, the police said.
One person was killed and one injured in an exchange of fire between militants and security forces in Magam area of Handwara district yesterday.
The police and Army have recovered a heavy cache of arms and ammunition in Asha Post area near the LoC in Gulmarg sector of Baramula district. The recoveries included 110 UBGL grenades, two UBGLs, 26 hand grenades, three bundles of Cordex wire, 16 IED remote controls, 1800 rounds and a sealed box of AK ammunition three Pika belts and 300 detonators.
Security forces have arrested two militants from downtown Srinagar and suspect one of them to be Al Umar Mujahideen militant outfit's "chief operations commander", a defence spokesman said here today.
Following specific information, the Army arrested the duo from Maharajganj area of Srinagar last evening and recovered arms and ammunition from them, the spokesman said.
The militants have been identified as Farooq Ahmed Sofi and Nazeer Ahmed Khan. Sofi is suspected to be the "chief operatiions commander" of Al Umar who took over militancy operations in the valley after the killing of Rafeeq Ahmed Lidari earlier this year.
The spokesman said arms and ammunition recovered included a pistol, two handgrenades, 100 detonators, 15 AK ammunition rounds, two RPG boosters and one UBGL grenade.
The duo have been handed over to police, he said.