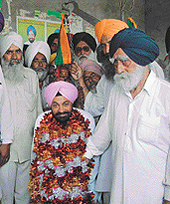 Lok Bhalai Party candidate Balwant Singh Ramoowalia during campaigning at Saharnmajra village on Thursday.



Mr Sharanjit Singh Dhillon, SAD-BJP candidate from
Ludhiana, receives election funds at Sarabha village on Thursday.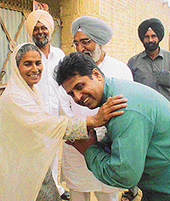 Congress candidate Manish Tiwari seeks blessings from an old woman during campaigning in a village in the constituency on Thursday.
— Tribune photographs
Aggarwal sammelan to support Cong candidate
Ludhiana, April 29
The Shiromani Youth Akali Dal has predicted a massive win for the SAD-BJP joint candidate from Ludhiana Mr Sharanjit Singh Dhillon, and claimed that the voters would reject the Congress nominee due to the 'misrule' by the Congress government in the state during the past two years.
Women spared poll duty, men cry foul
Ludhiana, April 29
The decision of the electoral staff to exempt women teachers of government and aided schools of the state from election duty may have brought cheer to most of them, but at the same time it has put pressure on boys' schools, from where almost the entire male staff have been deputed.
Purvanchal Vikas Party claims Galib's support
Ludhiana, April 29
If the claims of the Purvanchal Vikas Party (PVP) are to be believed, the outgoing Congress MP, Mr Gurcharan Singh Galib, is helping Dr Janardhan Prashad Singh, a rival of Congress nominee Manish Tiwari, on the one hand and canvassing for the Congress nominee on the other.
---
City industrialist denied bail
Ludhiana, April 29
In one of the unique cases of its kind, an industrialist of Ludhiana was denied bail by the Chief Judicial Magistrate in a case of fraudulently claiming CENVAT credit.
MC safai mazdoor unions flay Dawar
Ludhiana, April 29
The Municipal Safai Mazdoor Unions have criticised the Congress legislator, Mr Surinder Dawar, for what they described as betrayal of the employees protesting against the non-payment of salaries to 169 safai workers in the MC here for the past three months.
Residents suffer as files pile up in trust office
Ludhiana, April 29
A non-resident Indian had purchased a plot in Shaheed Bhagat Singh Nagar under a Ludhiana Improvement Trust (LIT) scheme three years ago. After all these years, he is yet to get a registry in his name, thanks to the slow pace of work at the trust office.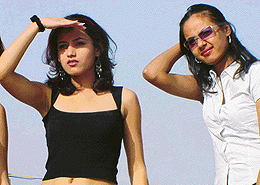 City residents becoming chic
Ludhiana, April 29
The fashion scene in the city is witnessing a major transformation. The bespectacled "darzi" and tailoring shops no longer satisfy discerning fashion-conscious people. Imported makeup is no longer sought eagerly from relatives and friends coming from abroad.
Ludhiana girls make a fashion statement for the season. — Tribune photo by Pradeep Tiwari
Function wreaks havoc on park
Ludhiana, April 29
In utter disregard to the convenience of fellow residents and prescribed norms against misuse of municipal parks and other public places, a resident of Model Town Extension part B (mis)used a park for a private function, and in the process wreaked havoc on the landscaping, flower beds, plants and other infrastructure like benches and fencing of the park.
Vegetable peels and leftovers littered all over the park after the function. — Photo by Inderjit Verma
Tiny tots impress at talent contest
Ludhiana, April 29
Children aged between two to five years dressed up as Santa, Tarzan, jungle boys, Radha captured many a heart at Toddler's Talent and Fancy Dress Competition organised by VLCC here yesterday evening.
Kids in cheerful outfits at a toddlers' talent and fancy dress competition, organised in Ludhiana on Thursday. — A Tribune photograph
Jassowal's 70th birthday today
Ludhiana, April 29
Jagdev Jassowal is being felicitated on his 70th birthday at Basant Resorts here tomorrow by his friends and admirers. Jassowal is lovingly called "Baba Bohar of melas".