Tagore row a blot on Somnath's image
Subhrangshu Gupta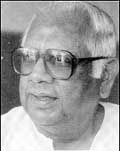 Bolpur (Birbhum), May 7
Somnath Chatterjee, the CPM's eight time winning MP is also the Leader of the Opposition in the Lok Sabha and chairman of the West Bengal Industrial Development Corporation (WBIDC).
At one stage, a section in the party wanted Chatterjee to succeed Jyoti Basu as Chief Minister. But later, the party decided to project him in national politics as its spokesperson in Parliament, a responsibility which he has been performing till today.
Chatterjee contested the Lok Sabha election nine times and was defeated once only in 1984, when he lost to Ms Mamata Banerjee (then in the Congress) from Jadavpore. In 1989, he shifted to Bolpur and since then he has been successfully representing Tagore's Santiniketan of Bolpur in Parliament. Chatterjee is again contesting for retaining the seat.
The Bolpur constituency is composed of seven Assembly seats: Ausgram, Mangalkot (both in Burdwan district), Nanur, Labpur, Dubrajpur,Bolpur and Mayureswar, of which four belong to the CPM and the remaining three to the Congress and TMC. A total of 1043438 electorate will cast their votes to elect their candidate in parliament.
The Congress has never been in a formidable position in Bolpur. In this election , Dr Nirmal Majhi, the young TMC leader has been selected by Ms Mamata Banerjee for taking on Chatterjee but even before the election, the candidate himself has conceded his defeat.
"I know I am fighting a losing battle because we don't have that manpower and machinery which could match the CPM. But still I am fighting in the hope that the elections will be free and fair and the people will have the opportunity to exercise their franchise and if that happens, my victory will not be a surprise," Dr Majhi tells mediapersons.
"But we all know that will not happen since the police and administration are working in collusion with the CPM to ensure Chatterjee's victory," Dr Majhi expresses his helplessness.
Chatterjee, however, discounts the allegations as bogus and baseless. "The people have discarded the BJP and Trinamool Congress as communal forces and we are sorry for that," Chatterjee regrets. "The people have voted us to power in Bengal for 26 years at a stretch because of our good governance," he adds.
But it will not be a cakewalk for Chatterjee this time because the people of Bolpur are not happy about what has been going on in Tagore's Santiniketan in the name of development.
Chatterjee is the chairman of the Santineketan Development Authority (SDA), an autonomous body, which, Tagore's admirers allege, has been ruining this "abode of learning" in the name of development.
They hold Chatterjee responsible for destroying Tagore's Santineketan into a graveyard by inviting promoters, money-lenders and other vested interests who are allowed to flourish themselves in Santiniketan.
The recent theft of Tagore's Nobel prize medal and his other memorabilia from the Visva Bharati museum has been painful to all.
On the contrary, Chatterjee blamed the Centre, particularly, the Human Resource Development Ministry for neglecting Visva Bharati which resulted in its deterioration.
He denies as SDA chairman he has encouraged promoters and other vested interests which had been ruining the sanctity and serenity of the Tagore's Santiniketan.