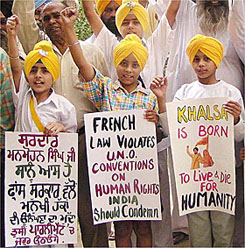 A group of Sikh children appeal to Prime Minister designate Dr Manmohan Singh to look after the controversial French law on turbans, in Patiala on Thursday. — PTI

Aspirations of Sikhs rise
Chandigarh, May 20
The reaction of the Sikh community to the appointment of Dr Manmohan Singh as Prime Minister has been on the expected lines. Like the rise of sensex on his intervention, aspirations and expectations of the Sikh community have also risen.

PPCC gen secy in fix over Bluestar


Amritsar, May 20
Mr Harminder Singh Gill, general secretary of the Punjab Pradesh Congress Committee, today found himself in a difficult situation when asked whether he would participate in the anniversary of Operation Bluestar, as he had been doing.

Govt contractors boycott tenders


Chandigarh, May 20
Scores of government contractors in the region are boycotting tenders being floated by the Punjab PWD ( B and R) and protesting against government's failure to increase quarry rates despite a steep hike in the prices of petrol, diesel and wages of labour.

Leprosy patients seek protection of human rights


Chandigarh, May 20
The Punjab Human Rights Commission has rushed to the aid of leprosy patients from Muktsar who are facing a greater health risk due to the establishment of an animal dumping ground adjacent to their ashram.



Limb centre inaugurated
Faridkot, May 20
Mr A. Venu Prasad, Secretary, Mandi Board, Punjab, inaugurated an upgraded high-tech artificial limb centre here today. The centre is set up by the District Red Cross Society with the financial assistance of the Mandi Board at the local government Guru Gobind Singh Medical College and Hospital.

Diarrhoea spreads its tentacles
Bathinda, May 20
Diarrhoea, which gripped Jaitu town and its surrounding areas of Faridkot district, seems to have started spreading its tentacles as about 73 cases were detected in this district in the past four days.

Month-long campaign to issue birth certificates
Kharar, May 20
A special month-long campaign has been started to issue birth certificates to children. The campaign has been launched for Kharar and Gharuan blocks.

Move to acquire land kicks up row
Kharar, May 20
A controversy has arisen over the move of the government to acquire land falling within municipal limits here to build houses for police personnel. The Punjab Police Housing Corporation plans to construct a residential complex for employees in the area.

Guru Granth Sahib anniversary
Amritsar, May 20
The Shiromani Gurdwara Parbandhak Committee has decided to celebrate the 400th anniversary of the installation of Guru Granth Sahib all over the world with the support of the local gurdwara committees of the respective countries .

High Court
Pathankot SDM charge-sheeted: govt
Chandigarh, May 20
The Punjab Government today informed the Punjab and Haryana High Court that Pathankot Sub-Divisional Magistrate Puneet Goel has been transferred and charge-sheeted for major penalty for his involvement i the killing of six birds in a forest area sometime back.

Seminar on eco-friendly farming
Patiala, May 20
The Patiala forest division organised a seminar at Van Chetna Kendra here make people aware of the harmful effects of chemical fertilisers and pesticides.



Encroachment bid foiled
Fatehgarh Sahib, May 20
Timely action by the Deputy Commissioner has saved government land worth more than Rs 50 lakh from encroachment. The encroachers had engaged at least 50 labourers and pressed into service a JVC machine to encroach upon municipal council land near the district administrative complex. ASI Attar Singh and other police personnel were providing protection to the encroachers.

3 undertrials re-arrested
Jalandhar, May 20
The district police has re-arrested three undertrials, including two contract killers involved in a broad daylight murder of an NRI and one involved in a double murder case, who managed to escape from the police custody recently from the court premises on different occasions.

In-laws booked for woman's death
Hoshiarpur, May 20
Daljit Kaur, wife of Kuldip Singh of Lame village under the Bhulath police station, succumbed to her injuries at the DMC, Ludhiana, yesterday. She was admitted to the hospital on May 18 after being allegedly beaten up by her in-laws.

Spurious drugs seized
Jalandhar, May 20
A special CBI team today raided a chemist wholesale shop at the Dilkhusha market here and seized spurious drugs.

Farmer robbed of cash, jewellery
Jalandhar, May 20
A group of robbers decamped with cash and jewellery from the residence of a farmer at Dyalpur village near here late last night. They injured two members of the family who tried to resist them.

Duplicate CDs seized; 2 arrested
Moga, May 20
The police yesterday seized 1,272 duplicate CDs from Bhupesh Kumar of Mittal Electronics and 704 duplicate CDs from Bal Krishan of Sapna Music Centre in the town.

Paper outside syllabus: students threaten fast
Hoshiarpur, May 20
The students who appeared for the examination of MA/MSc (Mathematics) IInd year's paper of Differential Geometry, held on April, 20, 2004, conducted by Panjab University, have threatened to go on a fast if the paper was not held again.

Fee, exam committees formed
Chandigarh, May 20
The Punjab Government today constituted two committees — the fee fixation committee and the examination committee, under the Chairmanship of Justice G.R. Majithia.

3 Pbi varsity dons to present papers
Patiala, May 20
Three members of faculty of the Department of Sociology and Social Anthropology, Punjabi University, have been invited to present papers at international seminars.

Need to strengthen govt schools stressed
Patiala, May 20
A two-day seminar on "Universalisation of education in Punjab: Status and challenges", organised by the Department of Education and Community Service, Punjabi University, concluded here today. Dr Param Bakhshish Singh, Registrar, was the chief guest at the valedictory session.