PUNJAB
HARYANA
JAMMU & KASHMIR
HIMACHAL
REGIONAL BRIEFS
NATION
OPINIONS
MAILBAG
BUSINESS
SPORTS
WORLD

Three cheers for govt-run schools
New Delhi, May 26
The CBSE class XII results have cheered up government run schools. Unlike in the past, the schools have shown a marked improvement, changing the general perception that government run schools are synonymous with bad results.


A perfect 100

Rohini scores


Class XII students of St. Thomas School rejoicing in the Capital on Wednesday.
— Tribune photo by Mukesh Aggarwal
Man pulled out of car, shot dead
Faridabad, May 26
A person travelling in his car from Gurgaon to Faridabad was shot dead by some unidentified armed persons and his body was thrown on the outskirts of Pali-Pakhal village last night.
Brazen attack
Four shot dead in Bulandshahr
Noida, May 26
Four Thakurs, including two brothers, were shot dead at midnight on Monday while they were asleep near the tubewell in their farm in village Aukhand, Dibai in Bulandshahr.
Four labourers killed in chimney fall
Sonepat, May 26
Four labourers were killed and one was injured seriously when the chimney of a brick kiln between Sikandarpur Majra and Rabra villages on Gohana Kharkhoda Road fell on the huts in which the victims were sleeping.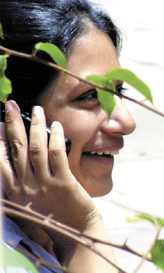 A student of Jesus and Marry School giving the good news to her parents after the declaration of the CBSE class XII examination results. — Tribune photo by Mukesh Aggarwal

Wanted gangster had facial surgery to fool cops
May 26, 2004

ACP not paid salary
for three-month
deputation period
May 25, 2004
Comprehensive relocation policy on slum dwellers promised
May 24, 2004
Vardhan's bid to rouse city BJP
May 23, 2004
Capital simmers in summer heat
May 22, 2004
Delhi to iron out all problems now: Sheila
May 21, 2004
We're demoralised, Sheila rues Sonia's decision
May 20, 2004
Sheila discusses relocation of industries
May 19, 2004
'Osama Bin Laden' man held for extortion
May 18, 2004
Property dealer gunned down in Vikaspuri
May 17, 2004