Protinex makers coming to Punjab
Chandigarh, May 28
Dumex India Private Limited, a subsidiary of the East Asiatic Company, Singapore, will be setting up a mega project in Punjab for manufacturing milk and cereal -based infant and child food products.
Money transfer scheme by Canara Bank
Chandigarh, May 28
Canara Bank today launched its money transfer services scheme in association with Western Union of the USA through AFL Wiz Pvt Ltd. The scheme enables instantaneous remittance of money from 197 countries to India.
M&M vehicles for Afghanistan
Mumbai, May 28
Mahindra & Mahindra (M&M) said today it would supply multi-utility vehicles Bolero and MM 550 XD to the Afghanistan government.
Benefits of Gold Card listed
Panipat, May 28
The Gold Card scheme launched by the RBI will provide certain relaxations and liberalisations so that creditworthy exporters can access hassle-free export credit at competitive rates," said Mr P.V Subba Rao, Executive Director of the RBI, said here today.


| | | |
| --- | --- | --- |
| | Corporate news | |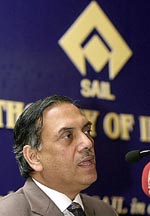 SAIL turns in the black, nets Rs 2,512 cr
New Delhi, May 28
Wiping out all accumulated losses, Steel Authority of India (SAIL) today reported a highest-ever net profit of Rs 2,512 crore for the financial year 2003-04 and announced to invest at least Rs 10,000 crore to increase the capacity to 20 million tonnes.
Rs 872 cr gain for SBI

ITC grows 18 pc
Chairman and Managing Director of Steel Authority of India Limited (SAIL) V.S. Jain addresses a press conference in New Delhi on Friday. — PTI photo