Daughter, son-in-law get death for killing ex-MLA Punia
Our Correspondent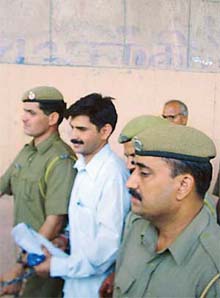 Sanjiv Kumar, who was convicted for the murder of his father-in-law Relu Ram Punia and his family members, comes out of court in Hisar on Monday. — A Tribune photo
Hisar, May 31
Former legislator Relu Ram Punia's daughter, Sonia, and her husband, Sanjiv Kumar, were today sentenced to death for killing him and seven other members of his family. The court had convicted them on May 27.
The judgement was pronounced by the District and Sessions Judge, Mr Arvind Kumar Goyal, this afternoon. The police had made tight security arrangements at the court complex as hundreds of residents of Mr Punia's village, Parbhuwala, and other adjoining villages had gathered there.
The court had acquitted Sonia's father-in-law, Anup Singh, mother-in-law, Rajbiri Devi, and brother-in-law, Subodh Kumar, of the charges on May 27. Five other relatives of Sanjiv Kumar were acquitted of the charges last year.
According to the prosecution, Sonia and her husband had clubbed Relu Ram Punia (50), his wife, Krishna Devi (41), daughter, Priyanka (14), son, Sunil Kumar (23), daughter-in-law, Shakuntala Devi (20), grandson, Lokesh (4), and his two granddaughters, Shivani (2) and two-month-old Preeti, to death at their farmhouse at Litani village on the night of August 23, 2001, while they were asleep.
The deaths came to notice around 8 am the next day when a school van came to pick up Lokesh. The manager of the farmhouse sent a servant upstairs to bring Lokesh. The servant found them dead. Sonia was found gasping in a bedroom. She had consumed some insecticide after killing members of the family.
Later, the manager and servants told the police that Sonia had brought her sister, Priyanka, from her hostel to celebrate her birthday. The celebrations went on till midnight when servants heard the bursting of crackers. Thereafter, Sonia came to the garage and took away an iron rod from there. None of them heard any cries or commotion during the night.
The bodies of family members were found lying in different rooms on the first and second floors of the farmhouse. All of them had been clubbed to death. There were no signs of resistance.
There was a property dispute between Sonia and her brother, Sunil Kumar (Punia's son from his first wife). While Sonia wanted her father to give her 46 acres of land around the farmhouse, Sunil had objected to it saying he was cultivating it. The family also had properties in various nearby villages, Delhi, Gurgaon and Faridabad.
Relu Ram Punia, a multi-millionaire, was elected legislator from the Barwala assembly segment as an Independent candidate in 1996.
TNS adds from Chandigarh: Mr Relu Ram Punia was a one-election wonder. He won from the Barwala Assembly constituency in 1996 as an Independent candidate. He entered politics after making tonnes of money in the controversial business of mobil oil which, many suspected, used to be spurious. His product was popularly known as "Kala Tel".
But this did not weigh on the minds of the Barwala electors who voted Mr Punia in a big way. One factor responsible for his victory was the sympathy generated for him when he was denied the Lok Dal ticket. It was talk of the area that Mr Punia had financed the Lok Dal in a big way before the 1996 elections. The party had been out of power for five years. It was badly in need of resources. His nomination by the Lok Dal from Barwala was taken for granted. The money power at his command also contributed significantly in his victory.
His campaign was centered on a slogan which became a catch word in the area. His supporters used to chant while campaigning that "Relu Ram Ki rail chalegi; bin paani, bin tel chalegi".
After his election, he extended support to the Bansi Lal Government.
His family life was not smooth. His relations with his second wife, Krishna, were not cordial. After his death, the people of the area constituted the Relu Ram Punia Sangharsh Samiti to seek justice for the dead.