Transfer of DIG inquiry raises eyebrows
Amritsar, May 31
Before booking his senior officer, Mr H.S. Randhawa, DIG Ferozepore range, on charges of illegal confinement , misappropriation of case property and embezzlement, the then SSP Ferozepore Mr Vijay Partap Singh, had reportedly written to the Director-General Police and the Inspector-General (Border Range).



Cong tussle affecting state affairs: BJP


Amritsar, May 31
The ongoing tussle for power in the Congress was proving to be a setback to running the state affairs. This was sated by the BJP vice-president, Ms Laxmi Kanta Chawla, and district party chief Mr Om Parkash Kalia.

CPI supports agitating workers


Sangrur, May 31
Dr Joginder Dayal, secretary, Punjab unit of the Communist Party of India (CPI), today extended his party's full support to the agitating former workers of Oswal Agro Furane Limited, Bhasor, near Dhuri, who are demanding payments of their arrears due from Oswal, from the new management of the mill KRBL Limited, besides jobs.



PAC meeting to decide on Calcutta, Pakhoke


Amritsar, May 31
A crucial meeting of the Political Affairs Committee, highest decision-making body of the Shiromani Akali Dal, scheduled to be held here tomorrow, would decide the future of Mr Manjit Singh Calcutta, honorary secretary of the SGPC. He has been boycotting the office since the recent administrative reshuffle in the SGPC. Incidentally Mr Calcutta is also a member of the PAC.

Reopen probe against TB officer, says Dang


Amritsar, May 31
Senior Communist leader Satyapal Dang, in a letter to Mr Jai Singh Gill, Chief Secretary, Punjab, sought reopening of inquiry against the district TB officer. He also demanded an inquiry in the working of the TB hospital.

Rallies, seminars mark World No Tobacco Day


Hoshiarpur, May 31
The District Health Department, Hoshiarpur, in collaboration with the State Bank of India main branch, organised a seminar on "Tobacco and poverty" to mark World No Tobacco Day at the Urban-slum dispensary, Canal Colony, here on Monday.
A statue of Padma Vibhushan Rai Bahadur Dr Mathura Das Pahwa, a world famous eye specialist, was today installed on the premises of the local Mathura Das Civil Hospital, of which he was the founder.

Shoppers avoid Rani Jhansi market


Abohar, May 31
Nearly 100 shopkeepers of the Rani Jhansi market feel insecure as law enforcing agencies are not taking notice of suspicious looking elements.

Draft medico-legal manual afresh, says expert


Patiala, May 31
There are more than 45 legal Acts, directly or indirectly related to medical professionals but a majority of the doctors are not well-acquainted with the legal aspects of medical practice. This was stated by Dr L.C Gupta, a noted medico-legal consultant from Delhi during a Continuous Medical Education (CME) programme organised by the local branch of the Indian Medical Association here today.

Service for cancer patients launched


Amritsar, May 31
The SGPC-run Guru Ram Das Rotary Cancer Care Hospitals here today launched a unique free home medical care service for terminally ill patients. The acting President of the SGPC, Mr Alwinder Singh Pakhoke, inaugurated the service.

Highway flooded with canal water


Gurdaspur, May 31
The Jammu-Pathankot national highway and adjoining village of Nawapind were yesterday flooded with water, due to the alleged negligence of Irrigation Department employees who did not open the emergency gates of Upper Bari Doab Canal (UBDC).

Postal Dept to collect power bills


Ferozepore, May 31
The Postal Department has entered into an agreement with the Punjab State Electricity Board here for the collection of electricity bills through post offices in this division.

Kapoor seeks reforms in gurdwara elections


Ludhiana, May 31
Prof Prithipal Singh Kapoor, Chairman of the Master Tara Singh Institute of Studies in Contemporary Sikh Politics, has sought electoral reforms in gurdwara elections and has urged the Chief Commissioner, Gurdwara Elections, to understand the changes that have taken place in the past 50 years in the electoral system in the country.

Meeting of development board on June 10


Fatehgarh Sahib, May 31
A meeting of the Fatehgarh Sahib Development Board would be held on June 10 at Chandigarh, in which all development projects to be initiated in Fatehgarh Sahib keeping in view the commemoration of tercentenary of the martyrdom of Sahibjadas, would be finalised, Mr S.K. Ahluwalia, Deputy Commissioner-cum-member secretary of the board, said.
Finding the state and Union governments confused over the implementation of the Electricity Bill, 2003, the Technical Services Union of the Punjab State Electricity Board has resolved to burn copies of the Bill during rallies on June 4.

Punjab seeks more power from Centre


Moga May 31
The Punjab government has sought additional electricity from the Centre to meet the shortage of 150 lakh units of power needed for paddy sowing. Punjab State Electricity Board officials said yesterday the Board required at least 1,300 lakh units during paddy season.

Bar protests against judicial complex site


Hoshiarpur, May 31
Members of the District Bar Association observed a strike here today in protest against the proposed shifting of the local judicial complex to Ram Colony Camp, 5km from the city. The construction of a new complex has been proposed at Ram Colony Camp, for which the site has been selected.

Despite agricultural experts' guidelines not to sow paddy before June 10, paddy sowing is on in this border belt. Nearly 50 per cent of paddy-sowing process has already been done.



Inside Babudom
Planning, Sports Secretaries shifted in Punjab


Chandigarh, May 31
In the first major administrative reshuffle after Lok Sabha elections, the Punjab Government today shifted Sports and Planning Secretaries besides naming Mr Parag Jain as new Deputy Inspector-General of Police of Ludhiana Range.

More dairies shifted out from Jalandhar city
Jalandhar, May 31
The shifting of dairies from certain areas of the city to the Jamsher dairy complex by the municipal corporation in view of increasing gastroentritis cases continued for the second day today amidst protests by dairy owners.



The police last night arrested four officials of Gupta Gas Service on charges of fraud, forgery, pilfering gas, selling underweight LPG cylinders and black-marketing gas. They have been booked under Section 7 of Essential Commodities Act and Sections 420, 467, 468 and 471 of the IPC.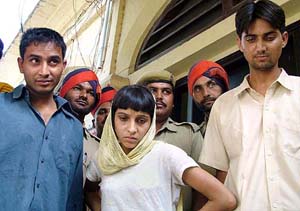 Three members of an inter-state car stealing gang being escorted by police personnel in Amritsar on Monday. The gang is suspected of being involved in more than a hundred car thefts in the city. — PTI


The district police today arrested Randip Kumar, alias Vijay Kumar, alias Topi, who was allegedly involved in a number of theft and looting cases along with other gang members.

Sub-Postmaster held on graft charge


Phagwara, May 31
Mr Gurdip Singh, Sub-Post master at the local railway station post office, was today arrested by the railway police under Sections 420 and 409 IPC for fraud and criminal breach of trust.

Woman 'poisons' daughter, self


Tarn Taran, May 31
A Dalit woman and her minor daughter died due to poison at Bakipur village. According to the police, Gurmeet Kaur (45) and Narinder Kaur (17) consumed some poisonous substance mistakenly yesterday. Narinder died on the spot, while Gurmeet died at the local Civil Hospital.



Institute's courses unlikely to begin by 2005


Amritsar, May 31
Even as the SGPC-run Guru Ram Das Institute of Medical Sciences has been permitted to start eight new postgraduate courses by the state government, the procedure to get the final nod for the new courses is quite lengthy.
Punjabi University today passed a proposal for reducing marks for Punjabi at the graduation level after the university's Punjabi Department Board of Studies rejected the proposal, saying that it was against the very idea under which the university had been founded.

School improves performance in CBSE exam


Patiala, May 31
In the results of the CBSE Class X examination, declared recently, Government Model Senior Secondary School, Sector 37-B, has achieved an overall pass percentage of 84.86 compared to 73.9 per cent last year.

PTU repeats last year's question paper


Patiala, May 31
A major incident of negligence by the management of Punjab Technical University, Jalandhar, has came to light with the university repeating exactly the same question paper of pharmaceutical chemistry (part III), set in the last semester, here today.

Egyptians visit Rail Coach Factory


Kapurthala, May 31
A delegation of the Egyptian Railway (ENR) comprising ENR East Delta Director A.M.A. Khudier and Engineering Director S.A.S. Orikat today visited Rail Coach Factory (RCF) here to explore the possibility of importing coaches from India.

Banks disburse Rs 645 crore in Ropar district


Ropar, May 31
Banks extended a credit of Rs 645 crore in the Ropar district against the target of Rs 412 crore for the financial year 2003- 2004. The Deputy Commissioner, Ropar, Ms Seema Jain, gave this information after chairing the meeting of the district consulting coordination committee today.