PUNJAB
HARYANA
JAMMU & KASHMIR
HIMACHAL
REGIONAL BRIEFS
NATION
OPINIONS
MAILBAG
BUSINESS
SPORTS
WORLD
Wednesday, June 2, 2004, Chandigarh, India
Updated at 3:00 am (IST)
Natwar proposes N-doctrine for India, China, Pak
New Delhi, June 1
External Affairs Minister K. Natwar Singh today chose his first press conference to make a stunning and unexpected proposal which is bound to take the international diplomatic community by storm: a common nuclear doctrine for the three Asian nuclear powers-China, Pakistan and India.

CAST YOUR VOTE
Is the J&K Government right in limiting the number of guests at weddings?

AGRICULTURE
EDUCATION
HEALTH & FITNESS
SCIENCE & TECHNOLOGY
FORUM
CAREER GUIDE
SPORTS
WOMEN
TRIBUNE CLASSIFIEDS


Lahoti sworn in as Chief Justice of India
New Delhi, June 1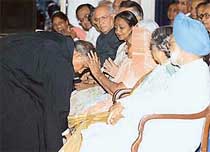 Justice R.C. Lahoti, seniormost judge of the Supreme Court was today sworn in as the new Chief Justice of India.


In video (28k, 56k)
Mr Justice R. C. Lahoti takes blessings from his mother after his swearing-in ceremony as Chief Justice of India at Rashtrapati Bhavan in New Delhi on Tuesday. — PTI photo

Sanjaya Baru is Media Adviser to PM


New Delhi, June 1
Eminent economist and Editor-in-Chief of the Financial Express Sanjaya Baru has been appointed Media Adviser to Prime Minister Manmohan Singh.
BRIDES WANTED
GROOMS WANTED
OTHERS
HOW TO PLACE ADVTS
THE TRIBUNE MAGAZINES
On Sundays

On Saturdays


Opposition to take on government on tainted ministers
New Delhi, June 1
The BJP-led Opposition, receiving support from a "jilted" Samajwadi Party, is waiting with bated breath for Parliament session to begin tomorrow so that it can train its guns on the UPA government, pulling trigger at its "tainted" ministers.


A youthful Lok Sabha to meet today

Nation page: Advani is Leader of Oppn in LS
No EVMs for SGPC elections
Chandigarh, June 1
The Election Commission of India has reportedly turned down the Gurdwara Election Commission's request for supplying electronic voting machines for the July 11 SGPC elections.

Editorial: Keeping out is wise

More stories on Punjab page
An account of fake encounter
Jodhpur, June 1
Junior Commissioned Officer P.B. Thapa today told a military court here that his Company Commander Major Surinder Singh "enacted" the fake encounter and got all those involved in it to "swear an oath" not to reveal it to anyone.
Troops seal Katra fearing militant strike
Jammu, June 1
Two companies of Army were called out in Katra town here after security forces intercepted militants' plans to target pilgrims to the holy Vaishnodevi shrine.


Mehbooba to build consensus on Kashmir


Srinagar, June 1
President of People's Democratic Party Mehbooba Mufti today said the main purpose of her going to Parliament was to build a "consensus" in the country for the resolution of Kashmir issue.
In Health & Fitness today
India assures Pakistan on peace process
June 1, 2004

SGPC elections: Badal urges President, PM to intervene
May

31

, 2004
Reforms with human face: Yes, Mr PM, says Bengal CM
May

30

, 2004
Agriculture to get priority, assures FM
May

29

, 2004
CMP a neat balancing act
May

28

, 2004
Broad consensus on CMP
May

27

, 2004
Criminal on bail in Manmohan Ministry
May

26

, 2004
DMK threatens to pull out
May

25

, 2004

Portfolio allocation throws up surprises
May

24

, 2004

Manmohan heads 68-member Ministry
May

23

, 2004

Allies bargain hard for key portfolios
May

22

, 2004