PUNJAB
HARYANA
JAMMU & KASHMIR
HIMACHAL
REGIONAL BRIEFS
NATION
OPINIONS
MAILBAG
BUSINESS
SPORTS
WORLD

B U S I N E S S

Steel to remain stable this month
New Delhi, June 1
There is good news for the steel re-rolling mills, furnace units, bicycle industry and auto-manufacturers besides other industries, dependent on steel.
Global firms bid for AT&T's stake in Idea
Mumbai, June 1
A consortium led by Singapore Technologies Telemedia Pte and Telekom Malaysia Bhd has bid for the one-third stake of AT&T Wireless Services Inc in Idea Cellular Ltd.
Maruti sales accelerate
Mumbai, June 1
Maruti Udyog has informed BSE that it has sold 44,212 vehicles in May 2004, including 6,171 units of exports, as against 39,186 vehicle units sold in May, 2003.
Rs 10 crore IT plans for Haryana
Chandigarh, June 1
The Haryana Information Technology Streering Committee has approved IT plans involving an investment of over Rs10.34 crore for various departments.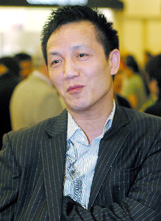 Chinese property tycoon Zhou Zhengyi, seen in this undated file photo, was jailed for three years on Tuesday for stock market fraud and falsifying documents, Xinhua news agency said in a case that trained the spotlight on official corruption. The sentence was surprisingly light for Zhou who had been under house arrest since May 2003. — Reuters