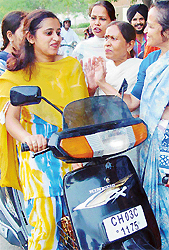 Sikhs protest against helmet order
Manch educates women on helmet benefits
Chandigarh, June 7
Various representatives of gurdwaras, Sikh institutions and Sikh missionaries organised a protest against the alleged high-handedness of the Traffic Police for pressurising women to wear helmets, here today.
Former Mayor Harjinder Kaur and others protest against the Chandigarh police decision to make helmets mandatory for women in Sector 34, Chandigarh, on Monday. (Right) Members of the Nari Jagriti Manch educate women riders to wear helmets in Sector 44 on Monday. — Tribune photos by Manoj Mahajan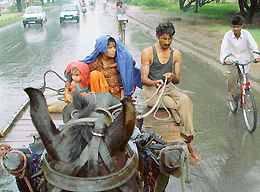 Caught unawares by rain, this family sits drenched on a cart in Chandigarh on Monday. — Tribune photo by Pankaj Sharma
Now, file IT returns on single page
Chandigarh, June 7
Filing income tax returns will be a less cumbersome affair with the Income Tax Department introducing the single-page challan for the filing of the income tax returns.
New tool for lawyers to extract information
Chandigarh, June 7
It happens so many times. A crime victim, even witness, goes to a lawyer or a social worker in search of justice but wavers from the path after he inadvertently asks uncomfortable, even embarrassing, questions.
Complaint against MC official
Panchkula, June 7
The Chairman of the Brahmin Mahasabha, Mr Pawan Kumar Joshi, alleged that the Executive Officer of the Municipal Council, Mr O.P. Sihag, had threatened to file false cases against him at a meeting in the office of the City Magistrate, here today.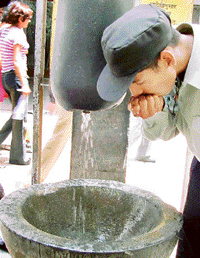 The growing vehicular rush in the city has resulted in vanishing roundabouts, gradually being replaced by traffic lights. A federation of sector welfare associations has appealed to the local Member of Parliament to replace the roundabouts of Sector 21, 22, 34, 35 with traffic lights. Despite being attractive on account of their maintenance, these are being seen as traffic hazards.
* Challaning women drivers
* Mohali cops act swiftly
* Self-help groups
* Slum children examined
* Stray dog menace
* Future of roller skating