Did Ambika help Mrs Bhinder to get RS ticket?
Chandigarh, June 17
After a turn of dramatic events, it was only at 9.30 this morning that the Congress high command decided to field Mrs Sukhbans Kaur Bhinder as its candidate for the second Rajya Sabha seat from Punjab.
Order on Jagir Kaur's poll papers today
Kapurthala, June 17
Deputy Commissioner Rakesh Verma, who is also district returning officer for the SGPC general elections, today fixed the date of orders for tomorrow in the petition seeking the cancellation of nomination papers of former SGPC President Bibi Jagir Kaur after hearing the arguments of both counsel.
PSGPC fails to restore 'maryada' in shrines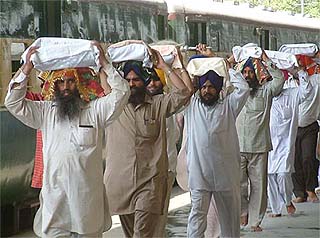 Attari (Amritsar), June 17
The Pakistan Sikh Gurdwara Parbhandak Committee has failed to restore "maryada" in various gurdwaras in Pakistan despite a proposal to formulate an Act for gurdwaras in the Pakistan parliament. As many as 906 devotees today returned here after a 10-day pilgrimage to mark the martyrdom of Guru Arjan dev.

Devotees carry old "birs" of Guru Granth Sahib from gurdwaras in Pakistan for cremation as per Sikh maryada at Attari railway station on Thursday.
— Photo by Rajiv Sharma
Gastroenteritis claims two more lives
Hoshiarpur, June 17
Two patients suspected to be suffering from gastroenteritis died here during the past 48 hours. Durga Devi (80), a resident of the local Bassi Khwaju mohalla died yesterday. Manohar Lal (35), a resident of Nangal Wahdan village, died on June, 15 at local Civil Hospital.
Youths allege being defrauded of lakhs
Immigration firm owner booked
Patiala, June 17
Nine local youths have claimed that they have been defrauded of lakhs of rupees each by a city-based immigration company. The company — Cherry Immigration — allegedly took Rs 1.5 lakh to Rs 3 lakh from each youth after providing them immigration clearance certificates and job offers from some companies in Canada. The youths claimed that the offers were found to be fake.


Reject all water tribunals, says Atinderpal
Patiala, June 17
Former MP and Shiromani Akali Dal (International) President Atinderpal Singh today urged the Punjab Vidhan Sabha to reject all water tribunals and decide on issues listed as state subjects in the Constitution itself.
Centre's yes for 106 MW additional power to Punjab
Patiala, June 17
The Central Government has agreed in principle to release 149 MW of power, which constitutes Madhya Pradesh's share in the Rajasthan atomic power station, to Punjab, besides giving the state an additional 106 MW from the unallocated Central pool.
DIG-level BSF officers to meet Pak Rangers tomorrow
Jalandhar, June 17
As part of the confidence building measures being adopted by India and Pakistan, DIG-level officers of the Border Security Force will meet their Pakistani counterparts in the Wagah conference hall on the Pakistan side on June 19 after three years to deliberate upon several issues, including the expeditious release of detainees on either side.
Delay in registering case upsets Congress leader
Bathinda, June 17
Even as Mr Mohan Lal Jhumba, general secretary, District Congress Committee, Bathinda and a close confidant of Chief Minister, Punjab, was beaten up at his house here allegedly by some persons belonging to Gidderbaha town on June 14, Mr Inder Singh Sahni, acting president, DCC, expressed his resentment over the delay being caused by the district police authorities in registering a criminal case against the accused.
Cops deployed at theatre screening 'Girlfriend'
Jalandhar, June 17
The district administration today directed the district police to provide adequate security at the Lal Rattan theatre here, where the controversial film "Girlfriend" will be screened from tomorrow.
Reward for giving clues to kidnapped trader
Ferozepore, June 17
The police has announced a reward for Rs 1 lakh for providing information about the whereabouts of the local businessman, Mr Darshan Lal Arora, who was allegedly kidnapped by his business rivals on June 6 or giving clues about the three absconding culprits whose name has been given in the FIR registered in this connection.
Vedanti, others lay stone for divan hall
Mastuana Sahib (Sangrur), June 17
Giani Joginder Singh Vedanti, Jathedar, Akal Takht, Giani Tarlochan Singh, Jathedar, Takht Sri Kesgarh Sahib, Giani Balwant Singh Nandgarh, Jathedar, Takht Sri Damdama Sahib, and two other priests laid the fondation stone for a divan hall, to be built at a cost of Rs 1 crore in a year, at Gurdwara Gursagar Mastuana Sahib here today.
Police panel for NGO projects
Muktsar, June 17
A Punjab Police State Apex Committee for NGO projects has been constituted recently. The Punjab DGP, Mr A.A. Siddiqui, and the ADGP, Mr D.R. Bhatti, have been nominated as its patron and its chairman, respectively.
Green Muktsar plan from this monsoon
Muktsar, June 17
The district administration has made a comprehensive plan to make Muktsar green in connection with Guru Angad Dev's fifth birth centenary. This has been stated by Deputy Commissioner Buta Ram Banga in a press note issued here today.
No electricity in village for a week
Moga, June 17
Unscheduled power cuts have made life miserable for residents of urban as well as rural areas. There were long unscheduled power cuts in the town during the day and at night yesterday.
Recruitment of 444 employees okayed
Chandigarh, June 17
The Punjab Council of Ministers today approved the recruitment of 444 teachers and other employees in aided private schools in the state. These employees were recruited between May 13, 2002, and January 29 last year, according to an official press note.


Three Benches in consumer panel sought
Patiala, June 17
The Punjab State Consumer Redressal Commission has requested the state government to create three more Benches in the state commission so that it is able to clear pending complaints.


Auction of 'shamlat' land fetches 1.21 cr
Ropar, June 17
The auctions of "shamlat" land in the district in the presence of the District Development and Panchayat Officer and the Block Development and Panchayat Officers concerned this year have shown good results. This was stated by the Deputy Commissioner, Ms Seema Jain, here today. She said the district administration had formed a committee for the auction of "shamlat" land of village panchayats. The information regarding the auction was published in newspapers.


JE caught taking bribe
Muktsar, June 17
Surinder Pal Singh, Junior Engineer, Punjab State Electricity Board posted at Guru Har Sahai, was today caught taking bribe from Mr Gursewak Singh, for giving him a "kundi" connection for paddy cultivation.
Man commits suicide
Patiala, June 17
Lakshmi Narain (31), a resident of Sirhind Bazar locality of the city, allegedly committed suicide at around 11 here last night. Lakshmi Narain, who was married to Meenu Sharma and had three children, went through a divorce nearly eight months back. Three of his children were living with him as he and his wife had strained relations. Since the past few days, Meenu was pressurising Lakshmi to give her the custody of the children.


Sarvjot Singh tops in Sikh religion examination
Fatehgarh Sahib, June 17
Sarvjot Singh (Roll No 4226), a resident of Mohali, has topped in the Sikh religion examination, 2004, for admissions to the Sikh minority engineering and polytechnic colleges run by the Shiromani Gurdwara Parbandhak Committee.


Thapar, Helping Hands tie-up for underprivileged
Patiala, June 17
Sixteen-year-old Jatinder Kaur's father expired four years back. Her mother ekes out a living by doing odd tailoring jobs. Jatinder had expressed a desire study computers during summer holidays after completing Class X studies. And her mother had promised to let her do so if she could manage the money for the fees.
JET result declared
Amritsar, June 17
Gaurav Aggarwal of Ludhiana has topped the joint entrance test held on June 13. The result was declared by the Punjab State Board of Technical Education and Industrial Training, Chandigarh.
PMET on July 25
Phillaur, June 17
The Pre-medical entrance test for admission to MBBS, BDS, BAMS and BHMS courses in government and private medical colleges in the state will be conducted by the Baba Farid University of Medical Sciences, Faridkot, on July 25. This was stated by the Punjab Medical Education Minister, Mr Santokh Singh, here today.