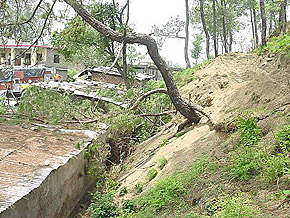 Pine trees being bulldozed to pave way for the plot of a senior police officer in Hamirpur town on Saturday. — Photo by Chander Shekhar Sharma
Link Paonta Sahib by rail: gurdwara delegation
Chandigarh, June 20
The Parbandhak Committee of the historic Gurdwara Paonta Sahib has sought personal intervention of the Prime Minister, Dr Manmohan Singh, for immediate start of work on the proposed Yamunanagar-Paonta Sahib rail link project, which has been languishing for more than two decades now.
Human error led to mishaps: minister
Sundernagar, June 20
Transport Minister G.S. Bali yesterday said human error was the cause behind the two accidents which claimed 46 lives and in which 44 persons were injured on 15th June in Kinnaur and Mandi districts.
Cut use of chemicals in farms: Dutch expert
Shimla, June 20
Aged plantations, indiscriminate use of insecticides and pesticides, contaminated soil and unscientific spraying technique are the main reasons for the low productivity of the apple orchards in the hill state, according to Mr Frits Rip, horticulture adviser from Holland. He is touring the state under the Netherland Management Cooperation Programme.
Pratibha promises to generate jobs
Mandi, June 20
Ms Pratibha Singh, MP and wife of the Chief Minister, who is currently on a week-long tour of Mandi and Kulu districts on her thanks giving mission after her victory in the Lok Sabha elections, has said her top priority would be to ensure how maximum jobs in public and private sectors could be generated for the unemployed youths.
Potato farmers seek better price
Palampur, June 20
The Kangra Valley Potatoes Growers Association today called upon the state government to announce the support price for potatoes on a par with apples so that growers could be saved from exploitation of middlemen.
Chamba association seeks fixing of cable rates
Chamba, June 20
The Chamba Welfare Association has demanded the rates of cable operators here be fixed. In a press note issued here today, Mr M.C. Marwaha, president of the association, demanded the opening of a waiting room in the Deputy Commissioner's office for the people coming from remote places of the district for official work.
'Geographical indications vital for products'
Shimla, June 20
Geographical Indications (GIs) could be as important as patents for an ancient country like India, which has a host of traditional items and natural products which qualify for protection under the GIs Act, said Mr R. Saha, Advisor, Technology Information, Forecasting and Assessment Council (TIFAC), Government of India.
Research scholars decry MoU
Solan, June 20
Lamenting that the memorandum of understanding (MoU) signed by the state government with the Centre on fiscal reforms had adversely affected the future of about 100 unemployed research scholars of Dr Y.S. Parmar University of Horticulture and Forestry, Nauni, the scholars have demanded an immediate rollback of the decision.
150 alcoholics benefit from workshop
Dharamsala, June 20
The first convention of Alcoholics Anonymous titled `Convention in the clouds' concluded today in McLeodganj. More than 150 recovering alcoholics, including women, took part in the convention from across the country, Pakistan and the USA.
Panchayat leader hurt in attack
Palampur, June 20
Mr Surjit Kumar, vice-president of Boda Panchayat, was seriously injured when four persons allegedly attacked him in his shop last night. He received multiple injuries and was admitted to the local Civil Hospital.
Paswan's assurance on NFL depot
Mandi, June 20
The Union Chemicals, Fertilizers, Steel and Coal Minister, Mr Ram Vilas Paswan, has assured Balh valley farmers that he would open a depot of the National Fertilizers Ltd at Sundernagar soon.
Failed students want 'golden chance'
Kangra, June 20
Students of class XII, who failed to clear their only compartment paper, in their last chance of the board examination in March, this year, have demanded that the state board of school education may grant them a 'golden chance' on the Polytechnic college pattern.
2 killed, 1 hurt in mishaps
Mandi, June 20
Two persons, including a six-year-old girl, were killed and another was injured in two accidents in the district yesterday. Ram Pyari (6), a student of Primary School, Chindhi, was crushed to death by a speeding tractor.
Rare snake draws big crowd
Kumarhatti, June 20
A green snake caught in Dharmapur, near here, today attracted a number of people who lined up to see this rarely seen reptile.
Man beats wife to death
Hamirpur, June 20
Surinder Mohan of Galol village in the district beat up his wife Sushila Kumari to death with an iron rod at his residence on Friday night. The couple got married in February, 2002. Their baby is one and a half years old.
Rain, storm lash Mandi
Mandi, June 20
The Mandi region was lashed by a high-velocity hurricane followed by a torrential rain this evening, devastating the mango crop, disrupting traffic, telecommunications, power supply, uprooting trees and twisting telephone and electric posts in part of the region.