M A I N N E W S
No new taxes in Punjab Budget
Tribune News Service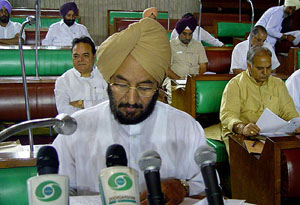 The Punjab Finance Minister, Mr Lal Singh, addresses the Budget session at the Punjab Vidhan Sabha in Chandigarh on Monday. — Tribune photo by Pankaj Sharma
Chandigarh, June 21
Though the Punjab Finance Minister, Mr Lal Singh, today presented a Rs 505.59 crore deficit Budget, (2004-05) to the Vidhan Sabha, he neither proposed new taxes nor announced any concessions except for a small segment of freedom fighters.
The revenue deficit was Rs 3442.46 crore and the fiscal deficit Rs 6117.28 crore in the Rs 29,830.10 crore Budget.
The state's Annual Plan (2004-05) was pegged at Rs 3503.81 crore.


Highlights
Pension for freedom fighters hiked
VAT from April 1,2005
Low sales tax:GSDP
Brakes on reforms
Deficit uncontrolled
Slight fiscal improvement
Slow economic growth
Annual Plan: Rs 3,500 crore
Mr Lal Singh, who briefed the media after the presentation of the Budget, did not give any assurance that no new taxes would be levied at a later date. The impression was that the budget had been prepared with an eye on the upcoming three Assembly byelections and that new taxes would follow thereafter. He maintained that through ''better tax administration, compliance and computerisation'' at least Rs 1,000 crore more would be raised by way of sales tax collection. Mr Lal Singh said: ''This was the estimated theft of sales tax in the state annually''.
A perusal of the ''Budget at a glance'' document shows that the, in the ''bird's eye view of the revenue deficit is Rs 3,442.46 crore in 2004-05 (Budget estimates), an improvement over 2001-02 (actual), when it was Rs 3,781.19 crore or Rs 3,753.94 crore in 2002-03 (actual). The revised estimates for 2003-04 showed the revenue deficit of Rs 3,539.38 crore.
The fiscal deficit for 2004-05 (Budget estimates) is Rs 6,117.28 crore against Rs 4,958.97 crore in 2001-02 (actual), Rs 4,410.23 crore in 2002-03 (actual) and Rs 5,868.58 crore in 2003-04 (revised estimates).
Salaries, pensions and interest as a percentage of the net revenue receipts are expected to be down to 83.95 per cent in 2004-05 from 118.23 in 2001-02 (actual), 108.03 per cent in 2002-03 (actual) and 91.25 per cent in 2003-04 (revised estimate).
Experts said an examination of the ''consolidated statement of receipts and expenditure" in the same document showed that ''inflated'' figures, based on mere assumptions, were printed to show a ''fiscal improvement''. While the revenue receipts were believed to have been fudged by at least Rs 2,500 crore, revenue expenditure was suppressed by at least Rs 1,000 crore. If that be so, the revenue deficit should be at least Rs 6,000 crore.
In the ''capital receipts column'' — public account (net) has been put at Rs 3,396.26 crore against Rs 597.49 crore in 2002-03 (actual) and Rs 1,123.37 crore in 2003-04 (revised estimates). Similarly, there are inflated figures in respect of Provident Fund (net) Rs 1,179.60 crore, reserve fund (net) Rs 299.54 crore, deposits and advances (net-budgeted) Rs 1,299.53 crore and suspense and miscellaneous (net) Rs 600 crore.
The focus, Mr Lal Singh told the House, would be on diversification of agriculture, industrial revival, employment generation, welfare of the Scheduled Castes, backward classes, urban renewal and devolution of funds and functions to panchayati raj institutions, infrastructure and quality health delivery system and education. Despite an ''improvement'' in the state's fiscal, a high debt stock and low sales tax ratio vis-a-vis gross state domestic product remained a cause of concern.
The Finance Minister as also the Principal Secretary, (Finance), Mr B.R. Bajaj, stressed on the ''judicious management of public debt'' and success of the ''debt swap'' scheme. Punjab had swapped a costly debt of Rs 3,400 crore, carrying a coupon rate of 13.5 per cent and above with a low cost debt in the past two years. The expected debt swap in the current year, the two said, was for over Rs 2,800 crore. This scheme had helped Punjab reduce the interest burden by Rs 217 crore in the past two years while in the current year the liability will go down by Rs 179 crore. The cumulative savings of the state would amount to Rs 6,051 crore during the tenure of these loans.
For 6,600-odd freedom fighters, the Finance Minister announced an enhancement in their pension from Rs 2,000 to Rs 2,500 per month.
About the Plan Resource Committee recommendations on mopping up annually Rs 2,555 crore as additional resource revenue, Mr Lal Singh said: ''The same has been sent to different departments for discussions and the final decision would be taken by the Council of Ministers.
He pointed out that Punjab was ready to introduce VAT— value added tax — along with the rest of the states from April 1, 2005.
The Finance Minister said quick estimates showed the gross state domestic product at constant prices 1993-94 had increased from Rs 42,284 crore in 2001-02 to Rs 43,043 crore in 2003-04, indicating a growth rate of 1.80 per cent as compared to 1.39 per cent in 2001-02.
Though the refrain of the budget speech was that the Congress had inherited empty coffers and the previous SAD-BJP government was blamed for leaving the state almost bankrupt, there was little to cheer or show by way of concrete steps actually taken or proposed to be taken by the present government to improve its fiscal economy.