PUNJAB
HARYANA
JAMMU & KASHMIR
HIMACHAL
REGIONAL BRIEFS
NATION
OPINIONS
MAILBAG
BUSINESS
SPORTS
WORLD

Tuesday, June 22, 2004, Chandigarh, India
Updated at 3:00 am (IST)

Natwar strikes a chord with Kasuri
Qingdao (East China), June 21
Striking a positive note in the first high-level political contact, External Affairs Minister K. Natwar Singh and his Pakistani counterpart Khurshid Mehmood Kasuri today discussed Jammu and Kashmir and all other aspects of bilateral ties during talks described as "warm and productive".

Foreign Minister K. Natwar Singh (right) and his Pakistani counterpart Khurshid Mehmood Kasuri during a walk in a hotel garden after their lunch meeting in Qingdao, in east China's Shandong province on Monday. The two discussed Kashmir and the nuclear issue in their first meeting since the Indian elections. — AP/PTI photo
CAST YOUR VOTE
Should the BJP Parliamentary Board have axed CM Modi?

SCIENCE & TECHNOLOGY
EDUCATION
HEALTH & FITNESS
FORUM
JOBS & CAREERS
SPORTS
WOMEN
TRIBUNE CLASSIFIEDS
BRIDES WANTED
GROOMS WANTED
OTHERS
HOW TO PLACE ADVTS
In Education Today
Natwar's busy day out in China

Editorial: Investment in peace


In video: India says talks with Pakistan warm, seeks deeper ties with China. (28k, 56k)

Special to The Tribune
India, Pak nuclear capabilities ensure stability
News analysis by K. Subrahmanyam, noted commentator on Security Affairs
THE two-day meeting between experts of India and Pakistan has concluded with a joint declaration that is truly astounding and genuinely confidence inspiring. The deliberations and this unprecedented declaration have completely belied the numerous worldwide Cassandric prophecies.

No new taxes in Punjab Budget
Chandigarh, June 21
Though the Punjab Finance Minister, Mr Lal Singh, today presented a Rs 505.59 crore deficit Budget, (2004-05) to the Vidhan Sabha, he neither proposed new taxes nor announced any concessions except for a small segment of freedom fighters.





THE TRIBUNE MAGAZINES
On Sundays

On Saturdays

Best Bakery case adjourned to July 17
Mumbai, June 21
With legal representatives of Maharashtra and Gujarat continuing their wrangles before a special court, the trial of the Best Bakery case has now been adjourned to July 17.
Advocate Manjula Rao who has been appointed public prosecutor by the Maharashtra Government in Best Bakery case of Gujarat comes out from the trial court at Sewri in Mumbai on Monday. — PTI photo
Tehelka tapes original, says expert
New Delhi, June 21
The Tehelka tapes on corruption in defence deals, which led to the resignation of then Defence Minister Mr George Fernandes, three years back, are "original" and have not been "over-dubbed", a London-based expert today told the Commission of Inquiry going into the expose.


Tehelka MD seeks compensation
Centre to talk to NSCN (I-M)
New Delhi, June 21
The Centre's special representative, Mr K Padmanabhaiah, will resume talks with the Naga insurgent group NSCN (I-M) as part of the commitment of the Manmohan Singh Government to carry forward the Naga peace process.


PWG responds positively to ceasefire


Depicting Sikh history through stained glass
Chandigarh, June 21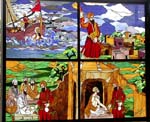 For the first time in India, an important episode of Sikh history has been captured on imported Italian stained glass which has been installed at the Makhan Shah Lobana Centre in Sector 30-A, Chandigarh, thanks to a talented local artist, Ms Ravi Chawla.

Indo-Pak moratorium on N-tests
June 21, 2004
Indo-Pak nuclear CBM talks on right track
June 20, 2004
Modi may go
June 19, 2004
Gujarat to be discussed in Mumbai: Vajpayee
June 18, 2004
24 dead, 60 hurt in rail mishap
June 17, 2004
Petrol, diesel, LPG to cost more
June 16, 2004
BJP rallies behind Modi, ignores Vajpayee
June 15, 2004
India to join G-20 fight for farm subsidies
June 14, 2004
Ultras target tourists
June 13, 2004
Govt may review stand on troops for Iraq
June 12, 2004
President's Address passed without debate
June 11, 2004