FORUM
Q: Should power be given free to farmers?
Make power affordable, not free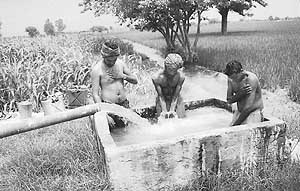 Any free service directly impacts the financial health of the supplier. As most state electricity boards (SEBs) are already incurring huge financial losses mainly due high transmission and distribution losses, a huge interest burden due to delay in implementing power projects and political interference, free power will lead to the collapse the service.
The lack of proper metering in the agriculture sector encourages the SEBs to pass on their inefficiencies to the agriculture account.
The failure of the state government in giving promised compensation against free supply results in bad financial health, besides erratic and costly power supply.
Free power makes farmers complacent and negligent in terms of judicious use of water. Why do they need free power at all when the government regularly fixes the support prices for various products based on the cost of various inputs, including power.
Paid power will bring in a regular flow of funds to the SEBs. The government should instead give farmers hassle-free, reasonably priced, regular power supply.
— VIMAL K. AGGARWAL, Chandigarh
Charge slab rates
Farmers should be charged according to their placement in the following three categories:
1. Having more than 50 acre
2. 20-50 acre.
3. Less than 20 acre. Minimum rates should be applied to this category and higher to the others.
This will allow a proper balance. If free power is allowed to farmers, a day will come when the power will be available for only a few hours in a day and every house would have its own generator set.
— ASHISH SHARMA, Mehatpur, Una


Free power is no charity
I am in Canada and I have been interacting with farmers and dairy owners. The federal and provincial governments here help their farmers to an extent that will shock the economists in India.
Either the farmer in Punjab should have full control to set the price of his produce after calculating all the input costs, a reasonable income on the investment and the cost of labour, or if the price is to be decided by the government through price commissions and middlemen, the supply of free farm inputs is nothing but a meagre compensation.
This is in no way a charity to the farmers. After all, it is the farmer who feeds a billion people and the not the economists or the persons opposing farm subsidies.
— HARINDER S. CHATRATH, via e-mail
Rise above populist measures
It was the Akali Dal government led by Mr Prakash Singh Badal that first gave free power to farmers. The affluent farmers, who owned farmhouses, grievously misused it. Free power was never the demand of the Punjab peasantry. It was a populist measure announced by shortsighted politicians that brought on a virtual chaos in the power sector. The power supply became erratic and did more harm than good to the peasants. Rather, the peasants need regular power supply. Even otherwise there is a lot of pilferage in the power sector. Power supply at concession is understandable if agriculture is to be given a fillip. However, it is bound to be counterproductive in the long run. It is time that our politicians rose above the populist rhetoric.
— D. R. CHAUDHRY, Dharmshala
Small farmers still don't benefit
No, providing free power to farmers will be a discrimination, as the farmers who do not have electric motor pumps will not benefit. The small-land-holding farmers use diesel-pump sets or pay to farmers who have surplus water.
If diversification has to be encouraged, free electricity should not be given at all. Small farmers, with land holding up to five acres, should be given free seed, fertilisers, etc. and also encouraged to do group farming.
— INDERJIT SINGH, Ropar
Supply too low, bills unjustified
Because agriculture is no longer profitable, the support prices of farm produce are not justified; these are way too low. Electricity should be given free to farmers.
The Punjab State Electricity Board charges a flat rate from farmers every month, but gives the power supply maximum for eight hours, that too in the paddy season for three months. For the remaining nine months, only one-to-three-hour power supply is given. It is not justified to charge farmers for a nominal supply.
— RAJ SINGH, Nanak Sar, Faridkot
Wastage will increase
If power is given free to farmers, they will not care to switch it off soon even after their job is finished; thus, it will result in wastage. Rather, to help farmers, power should be given to them at subsidised rates. It will keep a check on power consumption and it will also help to boost production.
— PREM K. GUPTA, Kurukshetra
Developing nation can't afford
Having a large chunk of her population dependent on agriculture, India can only benefit from free power, but in India, a developing country, neither the economy nor the resources is in a good shape. Giving free power can never be a good step in a developing country.
It will be at the cost of more power cuts and overcharging rest of the population. It will give relaxation to farmers, but put more stress on the economy. In India, free power brings mounting economic losses and also huge political gains.
— RAVINEET SINGH, Ludhiana
Punish all defaulters
I am also a farmer in Patiala district. I say that power should not to be given free to farmers. It will be wrong. Power should be cheap for all, but not free, even for the PSEB employees and other VIPs. Take the strictest of actions against those who never pay their power bills.
— VISHAV DEEP SINGH, on e-mail
Give proper incentives
Instead of giving free power to farmers, give them more incentives for achieving higher productivity and adopting area-specific crop diversification.
Ensuring a regular and uninterrupted power supply, even at a cost, is a better goodwill gesture than offering them free power that is supplied occasionally and irregularly.
— R. P. S. Chopra, SAS Nagar
Cut losses, not free power
Free power to farmers is the first positive step towards economic progress and sustainable development. Higher tariffs will only further push the farmers against the wall without improving the ailing state electricity boards. Free power will increase the farm output, against which the SEB losses can be discounted. With no storage and marketing infrastructure, the least a farmer needs is some breathing space on the input front. However, this has to be supplemented by efficient utilisation of thermal plants, curb on wasteful expenditure, tackling power theft and cutting transmission and distribution losses. By reducing the loss to about 7 per cent, we can save 30 billion units and generate 2,000 MW of power.
— ANUSHA SINGH, Ambala Cantt
Reduce the price, instead
There should be no free power supply to farmers because it is not beneficial to all farmers. The farmers who have much land get maximum benefit and the farmer who have low land have no benefit from it. In my view the government should give power supply to farmers at economical price rather then free.
— ANIL KUMAR, Sunam
It'll be good in the long run
If power is given free of cost, our agriculture sector will flourish. There will be increase in production, thereby, reduction in prices of various farm products.
As major products like wheat and rice will be produced more, these can also be exported, which will lead to an increase in the national income.
— GAGANDEEP KAUR, Ludhiana
We must learn to pay
We, as a nation, must learn to pay for the services we use. Anything given free loses its value and sanctity and leads to indiscriminate use and wastage. If at all some relief is to be given to marginal farmers, the quantum of free power and/or the land holdings must be specified. Even then it should be subsidised power and not free power. Why should the farmers possessing hundreds of acres get free power. The Centre bar political parties to promise and extend such sops to woo voters. Give 24-hours supply and not free power.
— JAGDISH KAUR, Shimla
Only during natural calamities
Free power should not be used a political gimmick, as it will put a great burden on the state exchequer and hit power reforms.
Although farmers are getting power at a subsidised rate, free power is not the answer to their problems. They need a 24-hour supply and assurance of a remunerative price for their crop.
There is also the need for the farmers' crop to be insured. On the other hand, free power can be given during natural calamities like draught, cyclone, earthquake, etc. or when we have surplus power or if the farmers have less holdings.
— MAHABIR NARWAL, Kurukshetra University
Rather improve inputs
What the farmers need is availability of quality seed and planting material and other inputs. They need access to information and knowledge to efficiently manage their resources.
What they need is an assured and a reasonable return on their produce. What they need is quality power: timely and with proper voltage, at a reasonable price. What they do not require is charity.
Unfortunately, Green Revolution notwithstanding, India's knowledge generation and extension systems have declined and their capacity to meet the emerging challenges of the 21st century is questionable.
The agricultural extension system, going by Planning Commission's own admission, has collapsed.
Farming has rightly been identified as a priority sector by the new government. However, translating promises into actionable agenda will require a vision, a road map and lot of innovations. Good news is that first step has been taken.
— I. P. ABROL, New Delhi
This will lower water table
Nothing should be for free. Free electric supply leads to wastage of electricity and undue pumping of water. This would further lower water table. Instead of giving free electricity, new incentives should be considered. The required funds should be realised by imposing cess over the MSP. Since the farmers are not getting the due value for their produce, agricultural production cost has gone up, as the norms of purchase agencies are improving day by day.
— DALJEET SIDHU, Ludhiana
Free power is a luxury
Free power to farmers economically unviable and causes a heavy loss of revenue to the state. As a result, the development work in the state is adversely affected. Farmers today are not what they were 20 years back.
Most of them are well off due to cash crop and irrigation canals. They can well afford to pay for the power they use. It may be subsidised for the poor farmers after due scrutiny.
Free power is generally promised by the politicians to win votes. After the elections, it generally leads to many farmers avoiding power bills and quite a few villages living on free power. Let's be realistic and not play to the galleries. Free power is a luxury that we cannot afford.
— MADHU SINGH, Ambala Cantt



Next week
More response on "Should power be given free to farmers?"