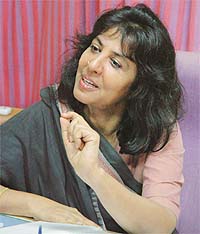 "Let me fly, don't root me"
She has many firsts to her credit. The latest feather in her cap is her appointment as DGP of Uttaranchal, making her the first policewoman to reach this peak. Ashwini Bhatnagar traces the udaan of Kanchan Chaudhry Bhattacharya, a hardcore achiever who has an air of softness around her and who knows that the path of integrity is an arduous one.

This is one udaan that is still in full flight. Three decades have gone by but she has continued to soar to areas where few have been to before. And, every moment of the journey has been a 'joyous' one. Kanchan Chaudhry Bhattacharya is happy. As she talks, her eyes light up and her gestures become animated.
Everybody's Troy boy
In what could be the biggest role of his career, Brad Pitt stars in director Wolfgang Petersen's epic drama, Troy. Featuring an all-star cast, including the legendary Peter O'Toole, Julie Christie, Diane Kruger and Rose Byrne, Troy tells the story of war and the men who waged it. Forty -year-old Pitt, who has been named the "sexiest man alive" twice, plays the great warrior Achilles in Troy. He talks to Honie Stevens about the making of the blockbuster, the inputs required to build up his character and his blissful marriage to Jennifer Aniston.